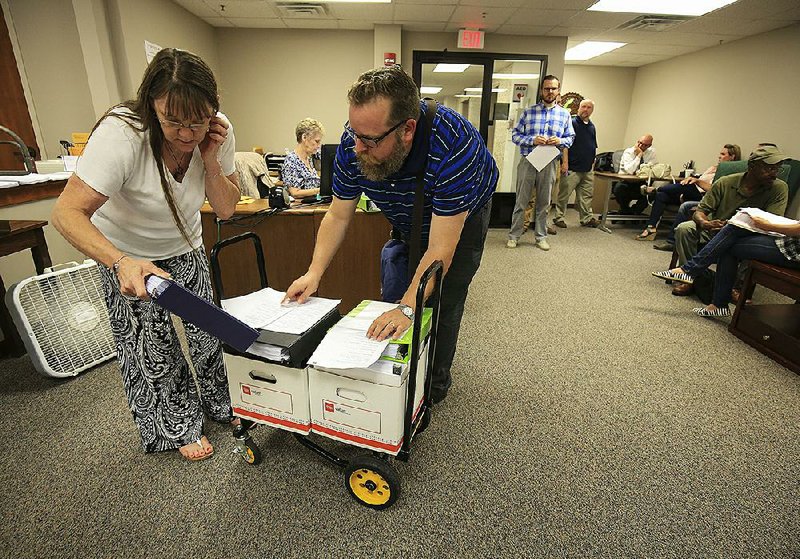 Attorney Dan Roda turns in applications for medical-marijuana business clients to Maggie Costly of Alcoholic Beverage Control on Monday, which was the deadline to submit applications to grow and sell medical marijuana. A state commission will decide the recipients by year's end. ( Staton Breidenthal)
Equipped with camping chairs and boxes of paperwork, entrepreneurs aiming to beat the deadline to apply for the state's first medical marijuana business licenses began lining up outside government offices in Little Rock before sunrise Monday.
By the end of the day, more than 200 applications had been received, according to the Department of Finance and Administration, in addition to the 100 that had already accumulated since filing opened June 30.
About 200 of the applications were submitted for the 32 dispensary licenses Arkansas plans to grant to sell medical pot, while 100 applicants sought one of just five licenses to cultivate the drug, said Scott Hardin, a department spokesman.
Hardin said a final tally was expected to be completed this morning.
It will be up to the five members of the Arkansas Medical Marijuana Commission -- with the help of the administration of the state Alcoholic Beverage Control -- to sift through thousands of pages of applications, score each along a predetermined rubric and announce the recipients by year's end.
By 10 a.m. Monday, alcohol division offices on the fifth floor of the finance department's offices in Little Rock were swarmed with applicants who huddled and spilled into the hallways.
By the close of business at 4:30 p.m., the crowd was even larger and being shuttled into a conference room where filers waited to be seen by Alcoholic Beverage Control staff members. The department's cashier's office stayed open an extra hour to process checks, and agency staff members were preparing to stay even later to receive all the applicants who were through the doors before the deadline.
"We're going to stay as long as it takes," said Mary Robin Casteel, the director of Alcoholic Beverage Control.
[EMAIL UPDATES: Get free breaking news alerts, daily newsletters with top headlines delivered to your inbox]
One aspiring cultivator, Olly Neal of Marianna, pointed across the street to the Justice Building, where he served for 11 years as a judge on the Arkansas Court of Appeals.
On the ground next to Neal, 76, was a box bearing the light-blue flowery emblem of his proposed business, Delta Cannabinoid. Neal said he'd become interested in medical marijuana over the past six years after being prescribed hydrocodone for rheumatoid arthritis, though he said he hardly ever takes each of the three pills a day recommended by his doctor.
With Neal were two men who said they had experience in Colorado's marijuana industry but who declined to offer their names.
"We thought we'd come in, drop off a check and our application, and we're on our way," Neal said about three hours after arriving at the offices around dawn. "I'm not put out by it, it's a new process."
As Neal spoke to a reporter, 10 state staff members crisscrossed the floor, helping unload carts full of legal boxes and calling out numbers for applicants to be seen.
One group hauled a stack of binders containing its application out of a laundry bag.
Applications for both dispensaries and cultivators came in averaging 1,000 pages, according to Hardin. The shortest was about 400 pages, he said, while the longest topped 3,000 pages. The state did not accept applications online.
"Everyone was expecting a busy day, but when we saw people had stayed overnight, it was an indication of what was to come," Hardin said.
"Tomorrow starts the real work," he added.
The next step in the process will be "depersonalizing" each application, Hardin said, so the commissioners can grade each bid without knowing who's behind it.
The application period for the state's limited number of cultivator and dispensary licenses opened on June 30, though several of the business hopefuls who spoke to the Arkansas Democrat-Gazette said they had been preparing their bids for much longer.
After voters passed the Arkansas Medical Marijuana Amendment, or Issue 6, in November, the Medical Marijuana Commission formed and began holding public meetings to set requirements for ownership and to design an application. Separately, lawmakers added some rules of their own.
For example, the Legislature passed a law earlier this year requiring that licenses for dispensaries or cultivation centers only be issued to a person, rather than a business or corporation. Further, Arkansans must hold a 60 percent ownership stake in each business, the Medical Marijuana Commission decided.
The commission set application fees of $15,000 for a cultivation center and $7,500 for dispensaries, though losing bids will get half of their money back. Successful bids will have to put up more money to receive their licenses.
Before the start of the application period, the commission released an answer sheet to common questions. Agency staff members helped answer questions during the application period, Hardin said, and checked to make sure each paper bid was complete, resulting in wait times of several hours Monday.
"Every time we called the state they answered every question we came up with," said Morgan Wiles, 33, as he and his partners made the final check of their 1,500 pages of applications to bring both a cultivation center and dispensary to Garland County.
But Randall Bynum, a Little Rock attorney representing the partners of the Acanza Health Group, based in the capital, said it was frustrating at times having to submit questions via email yet not have all of them answered.
Among those who submitted applications are two Jonesboro-area pharmacists under the name Health Central Arkansas, according to a news release. David Eddington and Mike Soo want to open a "high-end" dispensary in Jonesboro as well as a cultivation center in Monroe County, the release said.
The University of Arkansas System Division of Agriculture Research and Extension chose not to submit a bid to cultivate marijuana. In Louisiana, state lawmakers in 2015 approved a plan to make two universities the state's only licensed producers of marijuana.
Mary Hightower, the UA Agriculture Division's communications director, said growing marijuana remains prohibited under federal law. She said an exception allows researchers to register with the federal Drug Enforcement Administration if approved, after a review by the federal Department of Health and Human Services. But she said no UA Agriculture Division researchers will be applying for such an exemption.
While the cultivation centers may go anywhere in the state, the commission will require dispensary stores to be evenly located across the state. The commissioners have also decided to give "bonus points" for some added criteria, such as economic impact to an area.
Several communities have already passed ordinances to keep the medical marijuana business out. As the application deadline came to a close, the Family Council, the chief opponent of last year's vote to legalize medical marijuana, said in a news release it would help other cities and counties pass similar prohibitions.
"Many of those who voted to legalize marijuana still want marijuana properly regulated," Family Council President Jerry Cox said in a statement. "They don't want marijuana stores on Main Street, and they don't want drug users wandering around parks and playgrounds. They want to protect their communities from the effects of marijuana, and we are here to help them do that."
Hardin said the commission would not consider local ordinances in its scoring. Instead, it would rely on entrepreneurs to navigate local laws with their officials.
One applicant from Little Rock, 45-year-old Salman Hashmi, said the toughest part of the application process was finding a location for his planned dispensary that was not within 1,500 feet of a church or school, as prohibited by the law.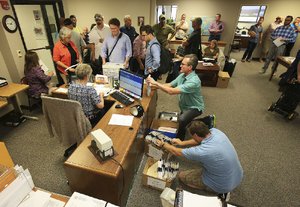 Photo by Staton Breidenthal
The Alcoholic Beverage Control office in Little Rock is shown in this file photo.
"It's the Bible Belt, there's a church on every corner," said Hashmi, who ended up proposing a site in Pulaski County outside the city limits.
A complete list of the applicants for the Arkansas' medical marijuana licenses would not be made public at least for a few weeks, Hardin said, when the bids are sent to the commission for review.
"It's just down to today, the pressure's on," said Wiles, the applicant from Garland County.
Information for this article was contributed by Jaime Adame of the Arkansas Democrat-Gazette and Emma Pettit of Arkansas Online.
A Section on 09/19/2017
Print Headline: 300 now seeking Rx pot licenses; Final day draws applicant flurry
Sponsor Content