A high school senior stands in front of a crowd of eighth-graders, sporting a pregnancy belt that rounds out her stomach; a weight strapped on her back represents the burden of household chores.
Her "partner," another senior, wears a McDonald's hat, representing his minimum-wage job. He carries credit card, doctor and other monthly bills, a reminder of how much it costs -- in money and in missed opportunities -- to raise a child.
Mena High School seniors organized this school demonstration to encourage younger students to abstain from having sex until marriage.
The presentation included a video about sexually transmitted diseases. Students also spit chewed-up Hershey kisses into a cup to show how much saliva is exchanged during a kiss.
The middle-schoolers then signed abstinence pledges and went back to class.
"They scare you. They literally terrify you," said Jordan Reuter, a 2013 Mena graduate.
Nearly 85 percent of Arkansas' 262 public school districts teach some form of abstinence; 34 districts say they don't teach sex education, according to responses to an Arkansas Democrat-Gazette survey.
As a result, students' ideas about sex and sexual health can vary among districts and often are based on rumors.
Arkansas also has one of the highest rates of teen pregnancies in the nation, but the correlation between those rates and abstinence programs is disputed.
There is no statewide sex education requirement, and the state Department of Education's standards for school districts that do offer courses as part of health and physical education classes stress abstinence as the most effective method of birth control and sexual disease prevention.
[DOCUMENT: Read Arkansas Department of Education's health and physical education standards]
The standards include discussion of the use of contraceptives and of child sexual abuse and date rape.
To determine the landscape of sex education in Arkansas, the Democrat-Gazette sent a questionnaire to all public school districts in the state in June and July, asking what type of sex education curriculum each uses.
Most districts answered the newspaper's survey by submitting a canned response that was provided by the Arkansas Public School Resource Center in a July 20 memo to all superintendents. Districts were advised to send the memo to the newspaper if they did not have sex education programs.
[DOCUMENT: Read memo sent to state superintendents by Arkansas Public School Resource Center]
The Education Department standards don't include topics related to abortion or sexual orientation, although officials are rewriting the guidelines and plan to present revisions to the state Board of Education in January, department spokesman Kim Friedman said in an email.
Kathleen Courtney, a public school program adviser with the Education Department, said she hopes the board will approve a more comprehensive approach to sex education. She promoted this to educators in a July seminar at the 2017 School Health Conference in Benton.
"Our kids are like little bunny rabbits, and they're uneducated bunny rabbits," Courtney said.
In 2015, 3,677 Arkansas teens became mothers, or 38 out of every 1,000 teenagers. The U.S. teen birthrate that year was 22 of every 1,000, according to the annual Kids Count report released in June by the Annie E. Casey Foundation.
The nation has seen a steady decrease in teen births, dropping from an average of nearly 60 per 1,000 in 1990, according to the U.S. Department of Health and Human Services' Office of Adolescent Health.
Arkansas also has seen a declining trend in teen births, but the state's rate of teen pregnancies remains much higher than the national rate.
Arkansas also reports high numbers of sexually transmitted infections. Reported cases of gonorrhea and syphilis in the state were nearly 1.5 times higher than the national average, according to Centers for Disease Control and Prevention data.
[MAP: Teen birth rates, STIs in Arkansas]
About half of those infections occur in people ages 15-24, American Sexual Health Association figures show.
During the July educators seminar, Courtney presented a picture of a "Clap Tree" that Arkansas students had drawn, which depicts how a case of gonorrhea traveled through their high school. One student, labeled "A", had given it to "T", and the line zigzagged across the page, showing that at least 15 students had intercourse with someone who could be infected.
"I want kids to be abstinent," Courtney said. "They're having sex anyway."
An administrator told Courtney that it's difficult getting educators to actually teach sex education, even though the topic is approved by the Education Department. The topic makes some health teachers, who often double as coaches and physical education teachers, uncomfortable, seminar attendees said.
Courtney said the solution is more practice discussing the topic.
"Once you get more comfortable with the training and get the penis and vagina out of the way, then we can start talking about good decision-making," she said.
WAFFLES AND SPAGHETTI
Fifteen school districts told the Democrat-Gazette that they used abstinence-only education, which differs from abstinence-focused programs.
Yellville-Summit School District uses an abstinence curriculum called "Sex and You: Concepts of Sexual Health," paired with health class instruction that addresses human reproductive anatomy and a "Safe Dates" program that teaches teens about abusive relationships.
"Sex and You" educates students about how to develop relationships and uses food items to portray the differences between boys and girls.
The program says that men are "innately protective and secure like a box in a waffle" and think about one thing at a time. Women can "talk on the phone and plan their grocery list while painting their nails." This example shows their ability to think about multiple things at once -- like noodles on a plate of spaghetti, program materials say.
The six-week program also includes a strongly encouraged virginity pledge, a piece of paper that students sign agreeing to wait to have sex until they are married. Fourteen school districts reported using virginity pledges.
[DOCUMENT: Read a sample virginity pledge]
Strong-Huttig School District plans to start using virginity pledges this year.
Mena's Jordan Reuter remembers signing a virginity pledge, but said she couldn't keep track of the little paper card. Soon after, she met Ty Venable and quickly developed a crush on the football star, who had a nice smile and was old enough to drive her on dates in his '92 Chevy.
They dated on and off throughout high school, and Reuter got pregnant during her senior year.
"So they just gave you a card, and they were like 'Sex is bad, don't do it,'" she said. "And you had to sign it, and I probably lost it within like a month or so."
Keith Newsom, a middle-school health teacher and basketball coach at Mountain Home, said he asks students to make their own virginity pledges. But the superintendent, responding to the newspaper's survey and a follow-up phone call, said no students were asked to sign the pledges.
Newsom said he has been teaching for 30 years and begins lessons by making students understand that their virginity is "precious." He does this by presenting girls with a diamond ring, letting them hold it and asking them what it would take for them to give it away.
He said he does the same activity with the boys, finding something "equally as valuable." He could not think of a specific example.
[BUBBLE CHART: Sex education for charter schools]
"Most of them make the commitment [to abstinence], and I ask them why," Newsom said. "They say 'Because I see the benefit, and I see the risks.'"
Newsom said that since attending the Health Department seminar, he now tries to expand what he teaches, beyond the abstinence-only program that Mountain Home School District reported in its survey response, to include discussion of contraceptives.
"I'm not just going to take abstinence and cram it down their throats," he said. "I think part of education is gathering information and making your own decisions."
Researchers from the University of Arkansas, Fayetteville released a 2016 study indicating that college students who received abstinence-only education were less comfortable talking with sexual partners about birth control and sexually transmitted infections.
The study called abstinence-only education "at best, ineffective and at worst, damaging."
A 2015 study by the same researchers showed that despite abstinence-focused education in Southern states like Arkansas, Alabama and Oklahoma, more teens in those states reported having sex than did their national peers.
The 2015 Arkansas Youth Risk Behavior Survey showed that 70 percent of teens had intercourse by the end of their senior years; about half of those students used condoms.
Abstinence-only education programs in Arkansas rarely address sexual orientation, according to that survey's results.
This is a problem in sex education programs across the country, said Chitra Panjabi, president of the Sexuality Information and Education Council of the United States. The council is an advocacy group based in Washington, D.C.
"One of the things we've seen with abstinence-only curriculum is that it's not inclusive of LGBTQ [lesbian, gay, bisexual, transgender and queer] students, which is really damaging," Panjabi said.
At the Benton Education Department seminar, Courtney encouraged teachers to talk more about sexual orientation and gender identity issues. To illustrate the difference between sex education and gender education, she showed a slide of a bright green figure shaped like a gingerbread cookie that was labeled the "Genderbread Person."
The cartoon included a diagram that showed gender identity as in the brain, sex in the genitals, expression as the body as a whole and attraction in the heart.
"We have to try and understand it," Courtney said.
THE 'BEST SOULMATE'
Many schools, including Mena High School, recently added discussion on contraception in abstinence-focused programs to combat the state's high rates of teen births and sexually transmitted infections.
Many of these programs also ask students to sign virginity pledges, similar to the one Reuter signed when she was 13.
Reuter, now 22, graduated from high school in 2013 and found out she was pregnant the week before commencement. Although she and her boyfriend used contraception, she said she was not on birth control pills because of a stigma that shrouded them.
"I think it needs to be more accepted for teenage girls [to take birth control pills], especially because condoms don't always work," Reuter said. "I'm proof of that."
Christina Mullinax, a Planned Parenthood organizer, said she has heard of many cases in which Arkansas teens asked their parents for advice about sex and access to birth control, but were denied.
"The first person that they want to go to is their parents for information about sexuality," Mullinax said. "Some [parents] are not comfortable. Some did not get sex ed themselves and maybe are as confused as their kids."
Several of Reuter's classmates were pregnant or already had children before graduation, but her pregnancy was more public because she was the reigning Miss Polk County and had to resign her title.
"It was bad," she said. "For a little while, I didn't even go to Wal-Mart."
Peers made fun of Reuter on social media; someone created an Instagram account featuring a caricature of a pregnant pageant queen.
She decided to keep her baby, despite the ridicule.
[MAP: Sex education by school district]
Like Reuter, most teenagers who have babies are older, usually 18 or 19, according to state Office of Adolescent Health data.
Ananda Martin, program director for the Arkansas Abstinence-Only Education Program, is a proponent of beginning children's sex education well before they reach that age. Martin's program, Choosing the Best, begins when children are in the sixth grade.
Martin's program has grade-level curriculum for students from sixth to 12th grades and is used in 20 counties at 51 schools.
Officials have proposed adding the program in Desha and Woodruff counties next year.
The program initially uses no slides to show sexually transmitted infections, although presenters may use props, such as bubble wrap, to demonstrate the effects of some infections, Martin said.
Each year's discussion builds on the last, leading up to senior year when high-schoolers participate in a program called "Choosing the Best Soulmate" to learn about different personality traits and types that might be compatible with their own.
Students are also taught about all methods of contraception.
"I don't look at our program as abstinence-only," Martin said. "It gives all the facts of birth control. It does fit the federal guidelines of abstinence-only, but this program is as far from abstinence-only as you can get."
In the U.S., schools can get federal dollars when they teach certain approved abstinence-only sex education programs. There are eight guidelines that determine whether a program classifies as abstinence-only.
Affiliated programs such as Reality Check, Prevention Education Programs and Prim-N-Proper are used in northwest and some central Arkansas counties.
BANANAS AND CUCUMBERS
Hot Spring County, which has one of the highest teen birthrates in the state, is trying to change how officials there address sex education.
The county applied for a grant to open a school-based health center for the Malvern School District that would offer information about sexual health.
Arkansas law requires schools that teach sex education through a health clinic to include "instruction in sexual abstinence" and that no money be used for abortion referrals.
Terri Bryant, school health coordinator and improvement director for the Malvern School District, said she has seen an increase in students willing to ask questions about sex since the clinic opened.
Contraceptives are available through the clinic, although students have to request them, Bryant said.
Malvern is one of seven districts in Arkansas that teach students how to properly use condoms, demonstrating by putting one on a banana or a cucumber.
Sex education in schools, like Malvern, that take comprehensive approaches to sex education involve extensive talks about sexual assault.
State law requires that schools teach students about sexual abuse and how to report it, especially when the victim is a child. But many schools reported that they did not teach about rape or rape culture, the idea of a society in which rape is "normalized."
At the Malvern district, students are taught about sexual consent through a role-playing skit between two teenage characters named Ann and Paul. Ann and Paul are on a date when Paul starts pressuring Ann to have intercourse.
The skit teaches female students how to say "no," Bryant said.
"It teaches Ann what to say that's not too offensive but lets Paul know 'I'm not going to have sex with you,'" she said.
Educators at the Malvern district have written a sex education policy, although it is not official until approved by the School Board.
Strong-Huttig, Wynne, El Dorado, Jonesboro and Fort Smith school districts all have policies that address health education, which includes sex education.
All of these policies, except the one at the Jonesboro School District, advocate for abstinence-based education.
Advocates across the state are working to encourage school boards to write policies regarding sex education that require the district to stick to a comprehensive program.
One group based in Hot Springs began its advocacy work in April 2016 when founders saw a community-based report detailing problems with youths, particularly teen pregnancy.
Denise Mariom, chairman of Project Hope, Teen Pregnancy Prevention Project, said the group is fighting an uphill battle in a school district that uses abstinence-plus education.
"We realized after our very first meeting that we would not make any headway on teen pregnancy because there was so much resistance among adults in the community to even discussing it," Mariom said.
A similar group in Northwest Arkansas, the Arkansas Coalition for Healthy Youth, is working to gather stories of students who did not receive adequate sex education, co-founder Jeremy Stark said.
The hope is that these stories will persuade school board members and local educators to abandon the abstinence-plus program the Fayetteville School District uses.
"We think if a curriculum was to be proposed, we would want it to be much more expansive than what most people think of as sexual education. It should cover more than just sex," Stark said.
SEX AND COLLEGE
In 2015, the state Legislature passed Act 943, requiring all of Arkansas' 33 public higher education institutions to implement sex education.
The Arkansas Department of Higher Education submitted an action plan to the Legislature based on a similar bill from Mississippi that was passed in 2014, which included several suggestions for colleges such as including information about sex and contraceptives in orientation packets or incorporating such information into relevant classes, like anatomy.
Each institution is free to decide how to implement the curriculum of its choice, although the action plan set eight goals that could be used as a checklist, said Angela Lasiter, a program specialist for the Arkansas Department of Higher Education.
"These are not 15- or 16-year-olds," Lasiter said. "These are young adults, and a lot of them are celebrating freedom for the first time from their parents or grandparents, and a lot of them get in over their heads with the amount of freedom that they have."
One reason to prevent teen pregnancy is so more college students finish school, Lasiter added.
When Reuter, the Mena graduate, decided to keep her baby, she canceled plans to attend the University of Arkansas, Fayetteville, a decision she says was worth it because it kept her new family together.
Reuter moved in with Venable and enrolled in cosmetology school. The two are now engaged and plan to get married on a Florida beach during a family vacation.
She was 18 when she gave birth to now 3-year-old daughter, Timrie. Timrie is an outgoing little girl who proudly shows everyone she meets that she can hop on one foot.
The year after Reuter had Timrie, she had a son, Tatan, who is now 2 years old. Tatan was also a surprise for the young couple.
Many Arkansas teens get pregnant because they believe myths about birth control or sex, Lasiter said.
A few of the most common myths are that all birth control makes users gain weight or that certain sexual positions eliminate the risk of pregnancy.
"Every school that we've ever talked to, every student that we've ever talked to, it has come up: 'I wish I had known this in high school' or 'I wish I had this type of teaching,'" she said.
Reuter uses her high school experience to teach her 17-year-old brother to make different choices than she did. She laughs when she explains that the best reminder to make good decisions is to have him take care of her children for a day.
"That was definitely a good lesson for him," Reuter said. "I don't think that he'll have kids anytime soon."
Reuter also said she wants to make sure Timrie waits longer than she did to have children.
A LOOK AT THE DATA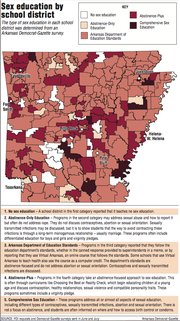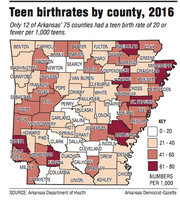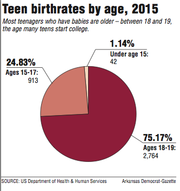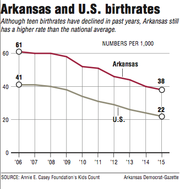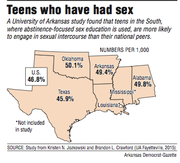 "I hope to use my experience to encourage her to be smarter with her choices and to be careful," she said. "She can always be who she wants to be."
SundayMonday on 09/24/2017