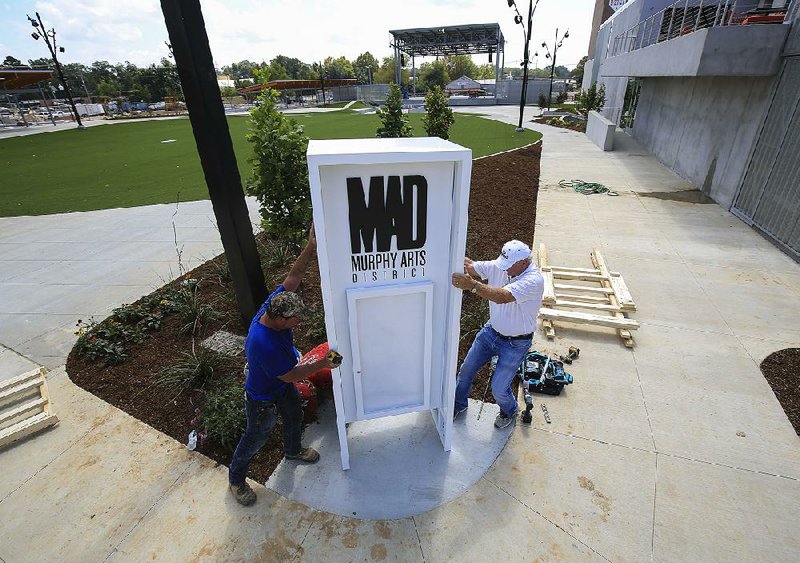 Craig Garrett (left) and Bob Whitehouse work Thursday to install the sign for the new amphitheater in the Murphy Arts District in downtown El Dorado. ( Staton Breidenthal)
EL DORADO -- A week and a day until opening day, walking into the offices of the Murphy Arts District -- tucked just off El Dorado's storied Main Street -- is like stepping into the swirling tunnel of a tornado.
Paper is everywhere, on the walls, on every surface, stacked on the floor, spilling over cabinets and towering on desktops.
Colorful posters are pasted to every available space.
"MAD is the New Happy"
"Going MAD in El Dorado"
"MAD MAD MAD"
People are lined up in front of a frazzled woman distributing clipboards -- one in each hand -- to people in the eager crowd. Others are sitting on chairs or on the floor filling out applications for temporary work.
[INTERACTIVE: 360° photos offer interactive views of new Murphy Arts District]
Dozens of employees pass one another coming and going as they rush from one office to the next, showing graphic design proofs or architectural drawings. Others sit in bright-red chairs at a room-length, tall table, their fingers flying across computer keyboards.
Phones ring incessantly.
"30 seconds!" a deep voice booms.
The flurry of noise and activity abruptly silences as employees gather around the long table and look toward the speaker, Dan Smith, the vice president and general manager of the organization.
His lips purse in a hard line and he looks over the top of his wire-rimmed glasses at the people who have not yet made it to the table. He then pointedly glances at the clock on the wall.
It's 9 a.m., the precise start time for the "Ops Meeting."
The group had exactly eight days, weekends included, to pull off perhaps the biggest event this small south-Arkansas town of just more than 18,000 people has seen -- outside of the 1921 oil well eruption, of course.
The grand opening of the first phase of the $100 million Murphy Arts District will be marked Wednesday with a ribbon-cutting by local and state officials.
The party, which will include the 30th annual MusicFest, will continue for the next four days with more than 30 musical acts -- ranging from country music star Brad Paisley to rapper Ludacris -- along with a downtown full of festival fare and activities like Kids World, the Miss Music Fest Pageant, zip lining, and food and craft vendors.
Organizers expect 30,000 people from the region, from Little Rock to Ruston, La., to converge on the quintessential Southern town this week, a rich payoff for a wildly ambitious plan hatched about five years ago to transform El Dorado into an arts and entertainment capital.
About $60 million in, most of the first phase of the six-block project -- an 8,000-capacity outdoor amphitheater, a farm-to-table upscale restaurant with a cabaret stage and a 2,500-seat indoor concert venue -- will be complete and in use by opening day.
The children's plays-cape and splash pad will be finished shortly afterward. Phase II, which will begin in the coming months, will see the revival of the 1920s-era Rialto theater as a venue for plays, musical acts and movies, and the opening of an art gallery.
They are building it. But will they come?
THE PRESSURE'S ON
Outside, the six-block radius is one continuous construction zone. Cranes tower overhead. A wheelbarrow with cement in it leans against a bank building. A sea of hard hats bob along the streets and in and out of buildings.
Yellow signs guide vehicles through a maze of detours as the city streets are gutted down to their rock base in preparation for new asphalt.
Lumber is carried into the new Griffin Restaurant even as employees congregate for a training session.
"The streets will be paved by Friday," Terry Stewart, the chairman of the board and chief executive officer, promises at the Ops Meeting inside.
Smith nods and points a turquoise pen to a man to his left.
"Everybody gets a key today," he says, then aims the pen toward a man in a chef's jacket.
"The Ben E. Keith truck. Make sure you keep the diesel in it and keep it running," Smith snaps.
"We've got 2,000 chairs coming in tomorrow," a man standing against the south wall says, then jerks a thumb toward the front door. "I'm worried about Washington Street right now. It's blocked."
"I don't know how in the h*** we're going to indicate row and seat numbers," Austin Barrow, president and chief operating officer, quips.
Beverage Manager Sherrie Brown elicits cheers when she announces that "the beer is all here." Sighs come when someone says there is a problem with the CO2 mechanism needed to pump the beer.
The team managers are aware that they're pushing the envelope, but Smith says he has no doubt everything will be done by opening day.
"OK. Let's rock-and-roll," Smith says, then lets out a shrill whistle. "We're two minutes over!"
Progress and innovation are in El Dorado's bones. The town has a history of getting things done.
Its spirit of entrepreneurship began in 1843 when Matthew Rainey ventured to the farming area and promptly set up a retail store. Rainey soon named his new hometown El Dorado, a Spanish word to denote a place of fabulous wealth and opportunity.
And that's exactly what spewed into the El Dorado sky on Jan. 10, 1921, when physician and oil speculator Samuel T. Busey struck oil. The oil boom came to Arkansas and El Dorado was its center, sending the population soaring from 3,800 to nearly 30,000 by 1925.
Businesses and industries cropped up, producing thousands of jobs and creating the El Dorado downtown.
Murphy Oil Corp. was born, and the Charles H. Murphy family would grow to be a generous benefactor to the town for generation after generation.
Even through wars, the Great Depression and the plateau of the oil boom, the city took its hits, faced the struggles head-on and kept fighting.
Today, a drive through town from U.S. 167 features a handful of industries like Murphy Oil Corp., Deltic Timber and the Great Lakes Chemical Corp. The main drag is packed with chain restaurants and stores, along with numerous mom-and-pop shops. A sparkling new Hobby Lobby boasts its grand opening. An empty store front is a rare sight.
Arts and recreation can be found at the city's many facilities like the South Arkansas Arts Center, the El Dorado Boys and Girls Club, and the South Arkansas Symphony.
A turn down Main Street to the square around the Union County Courthouse is like stepping back in time. The award-winning downtown features dozens of quaint shops and restaurants. Trees line the streets, and green plants spill from pots onto the sidewalks.
It's a point of pride for El Dorado-born Barrow.
"It was built in the 1920s," Barrow says of the downtown square. "It still exists. It's still vibrant. That's very, very rare in the South in general. Most of the towns of this size are crumbling."
A COMMUNITY EFFORT
Ask any one person who was at the heart of the idea to turn El Dorado into an arts and entertainment district and he is quick to give the credit to someone else. Ask when the idea was first born and the answers are just as varied.
"Five years ago."
"It was about 14 years ago that they started talking about it."
"No, it started four years ago."
Just through the front door of La Bella Gourmet Gifts & Delicatessen, owner Jim Robinson shaves off pieces of different fudge flavors and places them on wax paper on top of a glass case in front of him.
"Try this one," he says, pointing to his newest creation. "It's Pina Colada. I made 90 pounds the other day. I was just playing around, trying out different flavors."
Robinson has spent three decades in downtown El Dorado. His store offers everything from wheels of cheese and homemade jams to a display of various hardware. Lattice marks the transformation to a diner in the back of the store.
He says he's excited about the festival and what it will mean to his downtown neighbors.
"I think it's great. We started talking about this about 12 years ago," Robinson says, then abruptly points to a table in the diner. "There's the man you need to talk to."
Don Hale -- owner of Diamond Agency, an El Dorado-based marketing and public relations firm that contracts with the city -- quickly clarifies that the idea for the arts district was born from a conference five years ago in which international tourism consultant Roger Brooks spoke.
Brooks, president of Roger Brooks International based in Tukwila, Wash., was hired by the El Dorado Advertising and Promotion Commission to chair a series of public meetings asking citizens to share their vision for the town.
Community leaders wanted an answer to El Dorado's declining population. A 2010 census had shown that the city had lost more than 6,400 residents over the past 50 years to a population of 18,884. The latest population estimate by the U.S. Census Bureau shows that on July 1, 2016, El Dorado's population had dipped to 18,339.
"Everything that he evaluated for El Dorado came back to our downtown," Hale says. "He said, 'Your foundation is your downtown.' He came up with several ideas, and one was this entertainment venue."
Hale's lunch partner, Terry Norman, leans back in his chair and chuckles when Hale points to him across the table and refers to him as his "focus group." An El Dorado native and owner of the trucking firm Nortran, Inc., Norman touts the community's long-proven strength and resiliency.
In 2007, in an attempt to retain city citizens and attract more, Murphy Oil unveiled the "El Dorado Promise." The company dedicated $50 million to pay for college for every El Dorado High School graduate for at least 20 years. Nearly one year later, residents passed a 1 percent tax to build a new, state-of-the-art high school and to fund future economic-development ventures.
Nearly $10 million for the Murphy Arts District came from the 1 percent tax. Gov. Asa Hutchinson added $5 million from state funding, and other donations poured in from numerous individuals and organizations such as Murphy Oil, Murphy USA, Deltic Timber Corp., the Walton Foundation and the Murphy Foundation.
"I'm incredibly proud of our community and excited that something of this arts district's caliber is right here in El Dorado," Norman says. "Our town has been able to say 'Look, we're going to be responsible for ourselves. We're going to create something here and make it happen. We're not going to wait on someone else to do it.'"
FROM CONCEPTION
Barrow, the president of the Murphy Arts District, leans back in his chair, chuckles and jabs his pointer finger in his chest.
"I was employee No. 1," he says, grimacing in self-deprecation. "I was hired in 2011."
Barrow grew up in El Dorado playing sports at the Boys and Girls Club and riding his bike home from theater and dance practice at the local arts center. After graduating with a theater degree from Louisiana Tech, Barrow traversed the country experiencing the theater and arts world on both coasts.
"Growing up here in El Dorado, what I realized was that I wasn't ever really going to be able to move back here. In fact, I was dead set on that idea," Barrow says. "That was a typical mindset of kids of that era. And it's probably really a typical mindset of kids this era because, outside of the major five or six companies, three or four industrial plants, if you can't see yourself in that environment, what are you going to do?"
Barrow was teaching drama and theater, as well as running the fine arts division at a private Georgia college, when he got the call from Edwin Alderson asking Barrow to join him, Claiborne Deming, Madison Murphy and Knox White for lunch.
"They kind of had this short version of a plan, and they said, 'What do you think?'" Barrow says, chuckling. "I told them they were all crazy."
But Barrow began thinking about how the Crystal Bridges Museum of American Art in Bentonville changed the surrounding landscape and how the bike-trail system in Fayetteville multiplied the businesses there.
"It's not simple math to figure out how investing $100 million dollars in an arts and entertainment district can turn around to economic development and job growth and population growth," he says. "That's not easy math. That's long algebra."
Since that day, the Murphy Arts District group has grown to about 65 full-time employees and a handful of nationally known executives. Stewart was brought out of retirement after a career as president of Marvel Comics and the Rock and Roll Hall of Fame. Chief Marketing Officer Bob Tarren was the head of marketing and communications for the Virginia Museum of Fine Arts and attended Woodstock -- the real one.
After Phase II of the Murphy Arts District is completed, Barrow says they will take a step back to evaluate.
"We'll turn back the dials, figure out what's going to work and not going to work," he says.
They'll also take time to improve a flaw in the plan: highway signage pointing the way to El Dorado's downtown. About 60 miles of the 80-mile portion of U.S. 167 from Little Rock to El Dorado was widened to four lanes. Orange construction barrels and road equipment dot the remaining 20 miles. Construction on I̶n̶t̶e̶r̶s̶t̶a̶t̶e̶ ̶2̶0̶ U.S. 167* from El Dorado to Ruston, La., is complete.
"One of the complaints I had when I first got to town is that if you're coming north on I-67 towards El Dorado, the very first thing we tell you is how to get to the airport to get out of town or where to turn to go to Little Rock to get out of town. We never told you that we existed," Barrow says.
And what's next for El Dorado? Barrow says big ideas are floating through the community, including a bike trail connecting the city to Ruston and maybe a water park.
"El Dorado has a really beautiful, storied history of doing some absolutely amazing things," Barrow says. "People are beginning to get excited about the possibility of thinking big. They are realizing that we can actually create these things for ourselves if we want."
A Section on 09/24/2017
*CORRECTION: Construction on U.S. 167 from El Dorado to Ruston, La., is complete. The highway was misidentified in a previous version of this story.
Print Headline: Arts-district debut this week; city astir
Sponsor Content