SPRINGDALE — Monarch butterflies soon will arrive at the Springdale Municipal Airport.
These monarchs are made of vinyl and aluminum siding and will be part of a 54-by-20-foot 3-D piece of art on the airport's tower set to be unveiled Saturday. Festivities will begin at noon. The art will be permanent, said Kelly Hale Syer, executive director of the Downtown Springdale Alliance.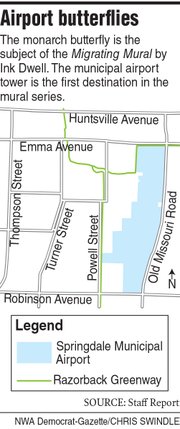 Unveiling
Kaleidoscope, Ink Dwell's latest creation in its Migrating Mural series, will be unveiled noon Saturday at the Springdale Municipal Airport. The public is invited to attend.
Source: Staff report
Vibrant murals and art are a growing presence in Northwest Arkansas cities. Spring-dale leaders hope the butterfly art will usher a wave of public art into their city.
The monarch is the subject of the Migrating Mural by Ink Dwell, a San Francisco-based art studio. The airport tower is the first destination in the mural series. Jane Kim, mural artist and Ink Dwell co-founder, described the installation as a celebration of both public art and the natural world.
"It's meant to bring people together and instill a sense of pride and wonder," Kim said of the work named Kaleidoscope. "Springdale is an important flyway for monarchs as they travel to their wintering grounds in Mexico, and the Migrating Mural is meant to serve as a monument to these butterflies and their importance in Northwest Arkansas."
The Migrating Mural is a multiyear campaign across North America. Monarch art will be created in Orlando, Fla., in early 2018, in Ogden, Utah, in summer 2018 and in Pacific Grove, Calif., in the fall. Every site will have a different piece of public art, said Thayer Walker, Ink Dwell co-founder.
The monarch butterfly has declined 80 percent over the past 20 years, according to www.biologicaldiversity.org. The nonprofit group Monarch Watch cites habitat loss, overuse of herbicides, intensive logging and agriculture and heavy rain in the past few years in Mexico as a few of the reasons.
"The purpose of the campaign is to highlight wildlife along migration corridors that they share with people," Walker said. "These are beloved, beautiful and very important animals, and we're seeing their populations threatened greatly."
Mike Abb, creative director for Runway NWA, a Bentonville-based group focused on community enrichment, brought the Migrating Mural to the attention of the airport and the Downtown Spring-dale Alliance. He noted the airport is near the Razorback Greenway and Jones Elementary School.
"So why not do this migrating mural on a tower? We hit a bunch of birds with one stone," Abb said. "It was basically the ability to do some programming that was aviation related next to the trail, as well as art and nature conservancy."
The Walton Family Foundation gave Springdale $45,000 for two art projects, including $25,000 for the Migrating Mural and the remainder for the Marshallese community to create Marshallese-inspired designs on the basketball courts at The Jones Center. One of the designs is finished and the other will soon be completed, Syer said.
The mural will be unconventional. The monarchs will come off the tower as if they are in flight. Kim started her process by painting a 6-by-3-foot image of what the mural will be. The painting was photographed and digitized. The digital image was then blown up by fabricator Amp Sign and Banner, Walker said.
"They are taking the digital image and creating vinyl and aluminum cutouts. Those cutouts will be mounted on the tower," Walker said. "This is a technique you use to take a 6-foot painting and turn it into a 50-foot installation."
The monarchs will be installed during the week before the unveiling, Walker said.
MORE LOCAL COLOR
Art is an emerging presence in downtown Spring-dale, Syer said.
"We are actually in the very earliest stages at looking at the potential for an art district in downtown Spring-dale," she said.
Kat Gause owns J&J Dis 'n Dat, an urban style clothing boutique at 124 W. Emma Ave. Gause wants more public art downtown.
"That would bring culture and awareness to downtown Emma," she said. "It will show a broad range of diversity."
Joy Parker, the owner of Cellar Door Antiques a few spaces down at 132 W. Emma Ave., agrees.
"It would bring life to the downtown and showcase the talent of a lot of local artists," Parker said. "We're probably going to have somebody paint a mural on the back of our building."
Public art hasn't been an orchestrated city campaign, but there have been artistic flourishes. Emily Chase, an artist and Johnson resident, painted a mural of the sea featuring a sea monster, whales, dolphins, fish and a ship on the back wall of Springdale Aquatic Center three years ago. The Parks and Recreation Department partnered with Team Spring-dale, a nonprofit group, to sponsor the mural.
Syer noted a large art piece made up of combined Parson Hill Elementary School student art on the outside wall of First Security Bank, 100 W. Emma Ave., overlooking the Razorback Greenway. She said the students designed the piece with a "learning and growing" theme.
Maser, an Irish mural painter who has created wall art across Europe and the United States, brought his talent to The Jones Center in 2013 and created an exterior 100-foot mural representing people supporting each other.
Leaders are looking for a plan for where the murals go and to make sure it's appropriate for downtown — very positive, bright and engaging, Syer said.
Fayetteville has an array of public art. Molly Rawn, Experience Fayetteville's executive director, noted five public murals paid for by the Advertising and Promotion Commission. They include Enjoy Local by Jason Jones at the Fayetteville Town Center Plaza and the Green Candy art series, which features four murals, a sculpture and a crochet piece in locations across the city.
Fayetteville recently commissioned a mural on the Tsa La Gi Trail, commemorating the Trail of Tears.
Shelli Kerr, Bentonville's planning services manager, said her city's public art ranges from outdoor sculptures to murals, and much of it designed to enhance biking culture. The project Tunnel Vision is artwork either attached to or painted on tunnel walls on the greenway or trails that connect to it.
"We thought it would be a great opportunity to provide a palette for murals and public art, and we thought it would be a great opportunity to enhance the trail system," Kerr said.
Sculptures include bike towers made of bicycle parts, one off of South Walton Boulevard near Krispy Kreme and the other at Lake Bella Vista.
There are four murals in various biking/pedestrian tunnels, and three more will be created over the next six to eight months, Kerr said.
Public art became an official Bentonville policy in 2007 after Crystal Bridges Museum of American Art was announced.
"Once Crystal Bridges was open, there was a feeling of urgency to really build off of what Crystal Bridges had created and expand it through the community," she said.
THE UNEXPECTED ART BOOM
The Unexpected Project launched in Fort Smith three years ago, enlivening the city with sublime colors and designs painted in massive dimensions.
The Unexpected, a week-long outdoor art event, is paid for by businesses, private organizations and individuals, said Claire Kolberg, its director. World-renowned artists are brought to Fort Smith, and building facades become canvases.
About 30 pieces of art, including indoor and outdoor murals, have been created during Unexpected events, Kolberg said.
Maser also created a mural for The Unexpected, painting a vibrant depiction of Gen. William O. Darby on the exterior wall of Army Surplus in the downtown area. Darby was born in Fort Smith and is best known for his organization of the First Ranger Battalion during World War II, according to the Encyclopedia of Arkansas History and Culture.
Fort Smith Mayor Sandy Sanders said the The Unexpected pieces have enriched the city. Sanders noted Afar, an international travel magazine, recognized Fort Smith as one of "8 Surprising Cities with Amazing Street Art" alongside Kiev, Ukraine; San Miguel de Allende, Mexico; Perth, Australia; and Montreal.
"Hundreds of people come downtown to watch the muralists at work and volunteer to help them," Sanders said. "There are people just like me who brought friends and family downtown just to take a look at the murals."
The Unexpected came to Fayetteville last year, creating a mural on the side of the Old Mountain Inn at Center Street and College Avenue. The mural depicts an owl and a dreamcatcher in a black and white crosshatch style, Kolberg said.
Art helps bring awareness to social issues and makes the space it exists in vibrant, she said.
"It's all about creating the kind of space you want to live in."