SAN JUAN, Puerto Rico -- Supermarkets are gradually reopening in hurricane-ravaged Puerto Rico, but many customers went home disappointed after standing in long lines at groceries that still lacked drinking water or perishable foods because of the lingering blackout.
President Donald Trump announced that he'll visit Puerto Rico and the U.S. Virgin Islands next week, saying in a tweet that Tuesday is the earliest he can visit without disrupting relief and recovery operations. His administration has been criticized for the pace of its response to widespread damage on the Caribbean island that is home to more than 3.4 million U.S. citizens.
Most food stores and restaurants remain closed, largely because power has been out for most of the island since Hurricane Maria struck Sept. 20 and because few businesses have generators or enough diesel to power them. The shops that were open had long lines outside and vast empty shelves where they once held milk, meat and other perishables. Drinking water was nowhere to be found.
Mercedes Caro shook her head in frustration as she emerged from the SuperMax in the Condado neighborhood of San Juan with a loaf of white bread, cheese and bananas.
"There is no water and practically no food," she said. "Not even spaghetti."
Maria Perez waited outside a Pueblo supermarket in a nearby part of San Juan, hoping to buy some coffee, sugar and maybe a little meat to cook with a gas stove that has enough propane for about another week.
"We are in a crisis," Perez said. "Puerto Rico is destroyed."
Ahead of Trump's announcement of a visit, Rep. Luis Gutierrez, D-Ill., urged his colleagues to do more to focus on the crisis in Puerto Rico and expressed frustration at the lack of action by the government.
[PRESIDENT TRUMP: Timeline, appointments, executive orders + guide to actions in first 200 days]
"What I fear is that the federal government is not stepping up as fully and as quickly as we must," Gutierrez said early Tuesday, urging lawmakers to quickly provide more resources to the island. "This emergency cannot just be treated by Congress, the president, FEMA and the other agencies as just another storm."
Officials have said they face numerous logistical challenges, including damage to airports and ports. But the Federal Emergency Management Agency says its response has been robust, including the deployment of 10,000 federal workers.
Later, Trump pushed back against the notion that the administration wasn't acting quickly enough to help, saying supplies could be delivered by truck to Texas and Florida after recent hurricanes, but that Puerto Rico is unique because of its location.
"The difference is this is an island sitting in the middle of an ocean and it's a big ocean, it's a very big ocean," Trump said after a White House meeting with lawmakers about the tax plan he's rolling out this week. "We're doing a good job."
He also defended the response by FEMA, saying the administration has shipped "massive amounts" of food, water and other supplies to Puerto Rico.
"We are continuing to do it on an hourly basis, but that island was hit as hard as you can hit," he said.
In a tweet, he thanked Carmen Yulin Cruz, the mayor of San Juan, for complimenting the relief effort.
Criticism of Trump has come from Democratic politicians, celebrities and others, focusing in part on the heavy attention he has put in recent days on his opposition to NFL players who kneel during the national anthem.
"At the same time that he was doing all of that, we had American citizens in Puerto Rico who are in a desperate condition," Hillary Clinton, the Democratic presidential nominee Trump defeated last year, said Monday in a radio interview. "He has not said one word about them, about other American citizens in the U.S. Virgin Islands. I'm not sure he knows that Puerto Ricans are American citizens."
Rep. Nydia Velazquez, D-N.Y., said she had been concerned that Trump's continued tweets about NFL players showed he didn't grasp the severity of the crisis in Puerto Rico. She warned that if he didn't start taking it seriously, "this is going to be your Katrina," referring to criticism of President George W. Bush over the slow federal response to Hurricane Katrina in 2005.
Republicans also chimed in.
"The crisis for these Americans needs more attention -- and more urgency from the executive branch," tweeted Sen. Ben Sasse of Nebraska, a frequent Trump critic.
At the White House, Trump said the NFL issue had not been a distraction.
"I wasn't preoccupied with the NFL," Trump said. "I was ashamed of what was taking place."
He also insisted that "Puerto Rico is very important to me."
"The people are fantastic people," he said. "I grew up in New York, so I know many people from Puerto Rico. I know many Puerto Ricans. And these are great people, and we have to help them."
Since Maria hit a U.S. territory already mired in financial crisis, Trump agreed Tuesday to waive the usual requirement that state governments pay a fourth of the cost of disaster aid. Puerto Rico Gov. Ricardo Rossello said he's "confident the president understands the magnitude of the situation."
Trump had planned to visit Puerto Rico and the Virgin Islands earlier this month, after Hurricane Irma lashed the island, but the trip was delayed after Hurricane Maria formed and became a threat to the region.
LIMITED OPENINGS
The fact that some stores and restaurants have reopened for the first time since the Category 4 Hurricane Maria roared across the island is welcome in a place where nearly everyone has no power and more than half the people don't have water.
Rossello and other Puerto Rican officials said some ports have been cleared by the Coast Guard to resume accepting ships, which should allow businesses to restock. But the situation remains far from normal.
SuperMax opened on a reduced schedule for several stores in the San Juan area as well as in the hard-hit towns of Caguas and Dorado. Walgreens has reopened about half of its 120 locations in Puerto Rico on a limited basis. Wal-Mart says it has a "handful" of its 48 stores and Sam's Clubs open, but the process has been slowed by the power failure, port closures and the near total collapse of communications.
Supermarket chain Econo opened 80 percent of its 63 stores across the island Tuesday, though the hours would depend on the availability of diesel for generators, the chain said.
Two Medinia supermarkets opened in the coastal town of Loiza. But manager David Guzman said he had to impose restrictions on cooking gas and other products that were running low and might not be restocked soon. "We are restricting so we can give something to everyone, to extend what we have left," he said.
Stores are still packed with dozens of brands of shampoo and other consumer products, but most people ignored those aisles to purchase the basics, using cash sparingly because that, too, is in short supply and credit-card transactions aren't being processed at all places.
Some shoppers were aware that others on the island have it worse. Caro wept as she talked about her four grandchildren in Rincon, the western town that has been largely cut off from aid shipments as well as contact with the outside world. "Not knowing is so hard," she said.
The storm continued to pose a threat to people in other areas. In North Carolina's Outer Banks on Tuesday, thousands of visitors abandoned their beach vacations as high surf from a weakening Tropical Storm Maria pushed through dunes and under homes.
More than 10,000 visitors were told to leave the North Carolina barrier islands of Hatteras and Ocracoke, meaning the evacuation orders didn't apply to residents. They are now resigning themselves to economic losses as well as more flood damage after repeated poundings by tropical weather.
Maria is likely to erode more than half the dunes along North Carolina's 300-mile coast, scientists said. Beaches in Maryland and Virginia could fare worse, with two-thirds seeing erosion and the ocean washing over a third of their dunes, according to the U.S. Geological Survey.
Maria's top sustained winds dropped Tuesday to near 70 mph, ending a nine-day run as a hurricane.
Information for this article was contributed by Ben Fox, Ben Finley, Matthew Daly, Laurie Kellman, Darlene Superville and Chris Gillette of The Associated Press; by John Wagner of The Washington Post; and by Michael D. Shear of The New York Times.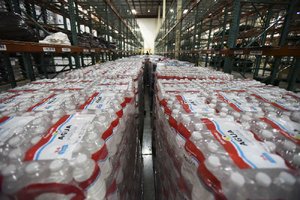 Photo by AP/CARLOS GIUSTI
Packages of bottled water are ready for delivery Tuesday at a Federal Emergency Management Agency warehouse in San Juan, Puerto Rico. Despite criticism and mounting shortages on the island, FEMA officials say the response has been robust, including the deployment of 10,000 federal workers.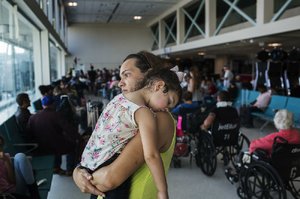 Photo by The New York Times/KIRSTEN LUCE
Jennifer Martinez of Dallas waits for her flight Tuesday with her daughter Alanah Maldonado, 2, at the airport in San Juan, Puerto Rico. Martinez, who was visiting her son when Hurricane Maria struck, said she didn't want to leave him but wanted to get her daughter back home.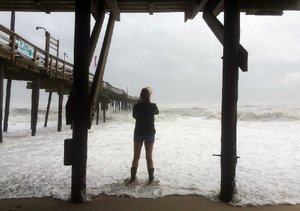 Photo by AP/BEN FINLEY
A woman watches the waves Tuesday as Hurricane Maria churns near North Carolina's Outer Banks. More than 10,000 visitors were told to leave the barrier islands of Hatteras and Ocracoke as high surf pushed through dunes and under homes.
A Section on 09/27/2017