The first ballots of Arkansas' spring primary began their route to military and out-of-the-country voters Friday, as the secretary of state's office said it was moving forward with its normal electoral tasks absent a judge's order not to.
A lawsuit in Pulaski County Circuit Court seeks to block the enforcement of Arkansas' new voter-identification law during the primaries, set to be one of the first elections in which voters will be required to show photo IDs or swear to their identities.
Last week, attorneys for Secretary of State Mark Martin's office wrote a letter to the circuit judge, Alice Gray, reminding her that "the Preferential Primary Election begins on April 6, 2018, with the mandatory delivery of live ballots to military voters out of jurisdiction and overseas citizens voting by absentee ballot."
Also last week, Martin's office sought to get the Arkansas Supreme Court involved to hurry the case up, but the justices declined to do so earlier this week.
In a reply to Martin's office, Gray responded curtly that she was "aware" of the deadlines and planned to issue an order "several days" ahead of Friday.
As of 5 p.m. Friday, no such order had been issued.
"We were proceeding with the processes we are required to do by law," said Martin's spokesman, Chris Powell. Powell did not know how many ballots were sent out Friday.
Under Arkansas Code Annotated 7-5-401(2):
"(2) Upon the receipt of the absentee ballots, the county clerk shall begin delivering ballots to absentee voters as soon as practicable and, no later than forty-six (46) days before the applicable election, shall deliver ballots to those absentee voters who made timely application under:
"(A) Section 7-5-406; or
"(B) The Uniformed and Overseas Citizens Absentee Voting Act, 42 U.S.C. § 1973ff, et seq., as existing on January 1, 2011."
Arkansas Code Annotated 7-5-406 addresses how voters in the military or out of the country would request absentee ballots from county clerks and how county clerks would send them. The secretary of state's office establishes the procedure for this, according to that law.
Meanwhile, neither a lawyer for the Pulaski County poll worker who is suing Martin's office nor counsel for the state Board of Election Commissioners expressed concern that Gray had yet to rule.
"It's about counting the ballots, not sending them," said Jeff Priebe, one of the lawyers representing poll worker Barry Haas.
Under the voter-identification law, Act 633 of 2017, voters who fail to show identification at the polls (or a copy of that ID if voting absentee) can sign a sworn statement that they are who they say they are, and then vote provisionally. County election commissioners can then determine if reasons exist to invalidate provisional ballots.
In court filings, Priebe pointed to instances of provisional ballots not being counted in a recent special election for a Russellville-area state House seat. By seeking a preliminary injunction in Haas' lawsuit, Priebe says they hope to prevent that from happening once the ballots are counted after the May 22 primary.
Opponents of the law say it adds unconstitutional requirements to voting and could disenfranchise some voters, especially the poor and elderly. A previous iteration of the voter-ID law was struck down by the Arkansas Supreme Court in 2014.
In a letter to Gray, Martin's attorney, A.J. Kelly, wrote that Act 633 "directly affects the instructions to be delivered to some of those voters concerning requirements for returning their ballots."
In her response last week to Kelly, Gray noted that Martin's office had failed to request a hearing earlier than the one that was held March 12, and the judge wrote that she was "diligently" working on the case.
After Martin's office appealed to the Supreme Court, asking justices to intervene, Gray was forced to respond through her own attorney, David Couch.
"The action at the Supreme Court distracted her and she had to deal with that," Couch said Friday. "It may have delayed her."
The Supreme Court issued its own ruling on Thursday, declining to get involved.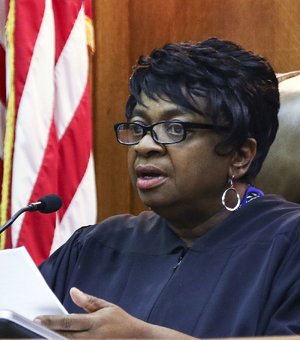 Photo by Mitchell PE Masilun
Pulaski County Circuit Judge Alice Gray is shown in her courtroom at the Pulaski County Circuit Court Thursday, June 29 2017.
A Section on 04/07/2018