It is weird to run into Beirut, a surprisingly intelligent and grown-up espionage thriller, in early April. It feels like a November-December prestige release, and one imagines that had the central role been filled by a bona fide movie star/actor like George Clooney instead of still aspirant (and likely to be forever circumscribed as Don Draper) Jon Hamm there might be award buzz surrounding the project.
Brad Anderson's film -- with a script by Tony Gilroy, master plotter of procedural thrillers who wrote Michael Clayton -- may be too smart and allusive for the sort of audience that's likely to stumble into it. Is the mere mention of Munich really enough to bring to minds of casual moviegoers the PLO-led terrorist attack at the 1972 Olympic games? Certainly it is if you lived through the events, but that happened before most people were born.
Beirut
89 Cast: Jon Hamm, Rosamund Pike, Mark Pellegrino, Dean Norris, Larry Pine, Shea Whigham
Director: Brad Anderson
Rating: R, for language, some violence and a brief nude image
Running time: 1 hour, 49 minutes
That's not a complaint -- Gilroy and Anderson are to be commended for giving us credit -- but I'm sure the marketing department had fits trying to decide how to position the movie. (There has been controversy over the main trailer for the film, which some people believe promotes the idea of a white savior facing off against faceless evil Arabs. While I haven't seen the trailer, I didn't get that impression from the movie itself.)
Set against the backdrop of the Lebanese Civil War, Beirut is probably best received by those with at least a cursory interest in the politics of the Middle East. Rampage it is not.
But it is fascinating, opening in the titular city in 1972, where Mason Skiles (Hamm) is a dashing up-and-coming deputy cultural attache assigned to the American embassy. He's hosting a dinner party, which allows us to eavesdrop on his patter -- his concern that the influx of Palestinian refugees into Lebanon might have dire consequences for the Israelis "next door," and prescience about the growing tensions between Lebanese Christians and Muslims -- and absorb the essential happiness of his situation. He married well, and he and his wife have adopted Karim, a 13-year-old Palestinian youth. Life in the diplomatic corps is good, and it's clear that Skiles -- with a motor that runs somewhat faster and warmer than laconic Draper's -- loves it all -- the city, his family, his vantage point on history.
So all that has to be swept away by a rough but not entirely incredible gesture by the Mossad.
Flash forward a decade later, and Skiles is a ruined man; a car-sleeping drunk who, through the sheer dint of his talent, has hung on to a job as a labor negotiator operating out of Boston. He still has skills, but no real hope or society outside the anonymous bars he seeks out every night.
Then there's an incident back in Beirut and his name gets mentioned. A man is dispatched to the bar where Skiles is loitering. He's requested to return. He reluctantly agrees.
Arriving in the city we quickly understand that this is no longer the Paris of the Middle East but, like Skiles, a ravaged husk. "You missed quite the civil war," an old friend tells him, though the war is far from over. Skiles' old house has been reduced to dust by Israeli missiles. And he discovers that he has been called back because another old colleague has been kidnapped for ransom. It appears that he asked that Skiles negotiate for his life.
Naturally, those in place don't believe he's up to it -- he doesn't quite believe he's up to it himself. But it's not a cup he can refuse. So the CIA station chief (Shea Whigham, in yet another great character turn), the White House man in country (Breaking Bad's Dean Norris, in shades and a wig) and the avuncular, competent U.S. ambassador (the old master Larry Pine) seek to keep him on a short leash. The only one who believes Skiles might have a chance is Sandy Crowder (Rosamund Pike), the CIA minder (she mockingly adopts Skiles' characterization of her as "the skirt") assigned to shadow him.
As you might expect, Hamm and Pike are quite comfortable with Gilroy's keen dialogue. What you might not is that Hamm is surprisingly good in quiet moments, lending Skiles a real sense of tragedy. This is not a movie where any of the characters change in dramatic ways, and it's not about the ultimate redemption of Mason Skiles. Through the film he remains shattered, fragile, underestimated and gifted.
While our familiarity with Hamm's regular handsomeness might work against him -- he doesn't have the magnetic presence of the heavyweight class of movie stars -- he does have the remarkable ability to think on screen. There's an intelligence that plays across his face, even in the amber-lighted bars that Skiles forlornly inhabits.
All around, Beirut is a professional job, from Anderson's restrained direction to Bjorn Charpentier's whiskey-toned (and nearly monochromatic) cinematography to the intriguing Moroccan locations. In fact, relative to other elements, Gilroy's script, which dates to 1991, might be the weakest link. (The beginning feels overreaching; the ending has a superfluous twist that could have been harmlessly elided.)
But this is a smart and substantive film, well worth the attention of fans of John le Carre and Graham Greene.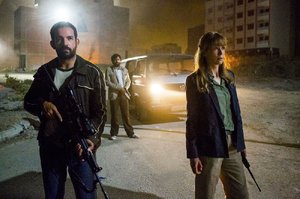 C.I.A. assets Jassim (Ben Affan) and Sandy Crowder (Rosamund Pike) have to deal with the kidnapping of one of their colleagues by a radical faction of the Palestine Liberation Organization in the period espionage drama Beirut.
MovieStyle on 04/13/2018