WASHINGTON -- State Rep. Clarke Tucker is the Democrat with the best chance of unseating Republican U.S. Rep. French Hill, the head of the Democratic Congressional Campaign Committee told reporters Friday.
The Washington-based organization encouraged the Little Rock lawmaker to enter the race and is portraying him as the strongest of the four candidates in the May 22 Democratic primary.
"I clearly ... admire and think very highly of Clarke. I think he's in a strong place because of his roots, because of his story, because of his record of service and his ability to connect with his community," said U.S. Rep. Ben Ray Lujan, a lawmaker from New Mexico and the group's chairman.
Tucker, a graduate of Harvard University and the University of Arkansas School of Law, is also a cancer survivor, Lujan noted.
The 37-year-old attorney underwent surgery in August after being diagnosed with bladder cancer. After undergoing treatment, the husband and father of two announced that he is now cancer-free.
"Clarke has an amazing story to tell. Not just with his service to our communities, but with his recent trials and tribulations," Lujan said. As a result, he will "have a real story that people understand [about] the challenges that you have when you need access to affordable health care."
The Democratic officials say they'll be highlighting Hill's opposition to the Patient Protection and Affordable Care Act and his efforts to replace and repeal the law, which is often referred to as Obamacare.
The Tucker and Hill campaigns declined Friday to comment on Lujan's remarks, which were made during a question-and-answer session.
But Tucker's opponents in the primary had something to say.
Jonathan Dunkley, one of the other Democrats hoping to unseat Hill, said he's not surprised that the organization favors Tucker.
"This is what the DCCC does," he said. "Sometimes they're successful; most of the time they aren't."
His focus is on the people of central Arkansas, he said.
"We are the candidate that is most in tune with the issues that impact everyday voters here in the district, and Clarke Tucker's an establishment candidate," he said.
Paul Spencer, who is also seeking the nomination, said he hasn't sought support from the group Lujan leads.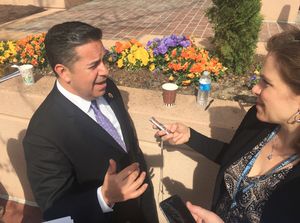 Photo by Frank E. Lockwood
U.S. Rep. Ray Ben Lujan, D-NM, answers a reporter's question in Washington D.C. on Friday. Lujan chairs the DCCC.
"We never really had a great opinion of the DCCC anyway," he said. "We have kind of a scoreboard up in our office that has the DCCC's losses and wins. Unfortunately, the loss side is full and the win side is rather empty."
Gwen Combs, the other Democrat running, criticized the organization for its role in the campaign.
"It's frustrating that the DCCC isn't embracing candidates and voters who are not part of the establishment elite. It doesn't seem very democratic," she said in an email. "We should be fighting for inclusiveness and diversity -- not more of the same. ... It's time to stop playing favorites and start letting voters choose for themselves."
In a written statement, National Republican Congressional Committee spokesman Maddie Anderson also criticized Washington Democratic officials for trying to influence the outcome of the May 22 primary.
"This overt move by the DCCC to coronate one candidate in a Democrat primary is unsurprising -- they've been meddling in primaries in districts all across the country. It's a shame that the national party thinks their opinion is more important than the opinions of the actual voters," she said.
"I guess at the end of the day, Nancy Pelosi likes to pick her politicians," Anderson said, referring to the House minority leader from California.
Tucker has said he won't back a Pelosi bid for leadership if he's elected. The winner of the race will serve a two-year term.
Hill has represented the 2nd Congressional District, which includes Little Rock and much of central Arkansas, since 2015. The district hasn't sent a Democrat to Congress since U.S. Rep. Vic Snyder retired in 2011.
Lujan said Arkansas' 2nd Congressional District is one of 104 Republican seats the committee is targeting in 2018.
"We're going to keep a close eye on all these districts. We are not going to concede one inch," Lujan told journalists during an hourlong question-and-answer session at DCCC headquarters.
The organization, which describes itself as "the official campaign arm of the Democrats in the House of Representatives," helps to recruit candidates and to raise money.
Democrats won't be emphasizing President Donald Trump in these battleground races, he said.
"People out there are tired [of] talking about the president. The president will talk about himself more than anyone else will, but we don't need to do it as Democrats," Lujan said. "We're going to be talking about real issues that families are facing every day and how we're going to be able to fight to make things better."
Democrats have been the minority party in the U.S. House of Representatives since the 2010 midterm elections. They hold 193 of the 435 seats and would need to have 218 seats to regain control.
Metro on 04/14/2018