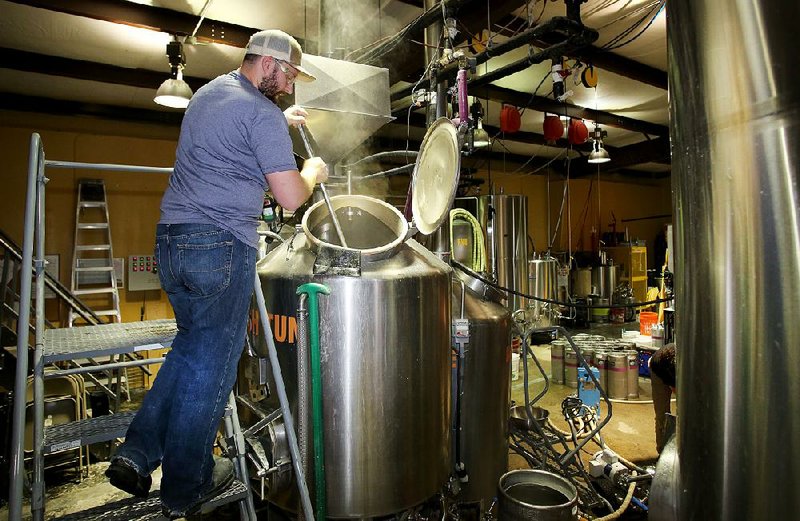 Chris Courtney, a brewer at Fossil Cove in Fayetteville, stirs a mash last week at the company's Birch Avenue base. The brewery is moving some of its operation about a half block away to Poplar Street. ( David Gottschalk)
FAYETTEVILLE -- Fossil Cove Brewing Co. is leasing space just around the corner from its taproom and brewery and plans to use the new location to produce more beer by early summer.
Owner and brew master Ben Mills said in a recent interview that he scrapped the idea of building at a different location when the opportunity arose to lease the property at 535 W. Poplar, which once housed a restaurant. The added space will allow Fossil Cove to meet current production demand and allow for expansion to new markets.
Fossil Cove's brewing and taproom operation is in a 3,500-square-foot building on Birch Avenue. Most of the brewing hardware will be moved to the new 7,500-square-foot space, and more equipment will be added as well. Mills said the move will allow the brewery to increase production by about 40 percent.
And with the new location just steps away from the existing taproom and brewery, Mills said visitors to the taproom can simply stroll over to the production brewery for tours.
"People want to see your equipment," Mills said. "Craft brew customers are curious."
Mills said Fossil Cove distributes its beer primarily to bars, restaurants and retailers in Washington County, but with the added capacity he anticipates extending the brewery's reach along the I-49 corridor to Bentonville. Eventually he hopes to see his beer in Siloam Springs and Eureka Springs.
Fossil Cove operates under a small brewery permit. According to data provided by the state Alcoholic Beverage Control Division, the brewery produced 1,403 barrels or 43,493 gallons of beer in 2016. There are 31 gallons in a barrel of beer.
Lost Forty Brewing in Little Rock is the state's largest brewery by production. Working under a microbrewery restaurant permit, it produced 9,298 barrels, or 288,223 gallons of beer in 2016. Core Brewing and Distilling of Springdale is the state's second-largest, operating under both small-brewery and microbrewery restaurant permits, it reported producing 4,240 barrels or 131,453 gallons for the same period. Ozark Beer Co. in Rogers was third. Working under a small-brewery permit, it produced 3,039 barrels or 94,209 gallons of beer in 2016.
Statewide, Arkansas' commercial brewers produced 28,543 barrels of beer in 2016, according to Alcoholic Beverage Control records. The state has 26 active small-brewery permits and 17 microbrewery restaurant permits. The Brewers Association, a trade group supporting craft breweries, said Arkansas ranked 38th in the nation in the number of craft breweries and 41st for breweries per capita for those over 21 years of age.
In 2017 the total value of craft beer sold in the U.S. stood at $26 billion, according to data from the Brewers Association. That represents an 8 percent growth over 2016. For 2017, total beer sales were down 1 percent but craft beer saw a 5 percent volume increase for the period and represented 12.7 percent of all beer production.
U.S. craft breweries produced 25.4 million barrels of beer in 2017, up from 24.5 million in 2016 and 15.5 million in 2013. There were 6,266 craft breweries in operation in 2017 employing a little over 135,000 workers, according to the association.
Bart Watson, chief economist for the Brewers Association, said while there really is not a typical way a small brewery expands, Fossil Cove's expansion plans have advantages, including capitalizing on established logistics and brand familiarity by not shifting its location.
"They know the lay of the land," Watson said.
Mills said the addition of the production brewery will open up much needed space at the Fossil Cove taproom, which can become crowded during peak hours. Plans are to add seating and to do some renovation to make the space more accommodating.
"It gives us some breathing room," Mills said.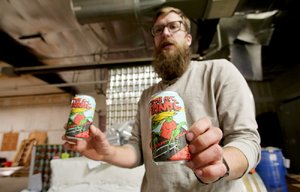 Photo by David Gottschalk
Andrew Blann, manager at Fossil Cove Brewery, displays the new can for the Birch Ave Blonde ale.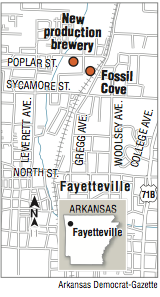 Photo by Arkansas Democrat-Gazette
A map showing the location of Fossil Cove's new production brewery
SundayMonday Business on 04/15/2018
Print Headline: Fossil Cove moving brewery gear; Space opened up, and Fayetteville beer-maker hopped to it
Sponsor Content