Sitting on state Capitol steps Saturday, Gary Nicholson racked his 12-gauge shotgun to show why he believes the firearm is superior for self-defense.
"For a lot of people," Nicholson said as the slide snapped forward, "that sound should scare them."
Nicholson was one of more than 300 people who attended a rally to support the Second Amendment to the U.S. Constitution in Little Rock. He wished there were more people attending, but he said media outlets had not adequately promoted the event.
The rally was put on by the Hiwaymen, an organization that describes itself as a patriot group that advocates for Confederate history, and the Arkansas Freedom Crew. Members of the Hiwaymen were in Charlottesville, Va., last year during the Unite the Right rally that turned deadly, though organizer James Del Brock reportedly said the group isn't linked to white supremacist ideology.
The gun-rights demonstration was one of many planned across the United States to counter a recent wave of student-led protests against gun violence.
Saturday's rally came less than three weeks after more than a million people marched in Washington, New York and other cities to demand tougher gun laws after a February school shooting in Parkland, Fla., that killed 17 people.
A group called the National Constitutional Coalition of Patriotic Americans spread word of the gatherings on social media. Coalition co-founder David Clayton said organizers had permits for rallies Saturday in 45 states.
He encouraged supporters to take unloaded rifles in states where it's legal.
Unloaded weapons are not prohibited on state Capitol grounds in Arkansas, a spokesman for the secretary of state's office said.
The legality of open-carry, a long-standing issue in Arkansas, was clarified by Gov. Asa Hutchinson in December.
In a letter to the Arkansas State Police and prosecutors, Hutchinson said a 2013 law allows for the open carry of a firearm as long as there is no intent to use the weapon unlawfully.
Though he had the option, Harry Pratt, a former junior high teacher, decided to leave his gun at home before driving to the rally.
"Either you're serious about it, in which case it's going to be loaded, or you're not serious about it, in which case you need to leave it at home, locked up," Pratt said. "It's just the way I was raised."
Bill Burns, a speaker at the Little Rock rally, referred to the outpouring of protests he's witnessed after the Parkland shooting.
Guns and law-abiding gun owners are seeing undue blame for that tragedy, Burns said, adding that a firearm can only do three things.
"It will function [or] it will fail to function. And left to its own demise, it will rust," Burns said.
Burns became more energetic as he spoke, which finally crescendoed into shouts of approval and applause when he told the crowd, "I'll be damned if Americans across the country are going to willingly walk into concentration camps and give up their liberties."
Though a number of people spoke throughout the afternoon, some gun-rights supporters addressed the crowd when they felt moved to speak. Aside from impending or hypothetical gun legislation, criticism was lobbed at "the left" and its agenda, mainstream media outlets, secular teaching in public schools, terrorism and Europe.
A couple of men waved flags that merged the stripes of the American flag with the Southern cross of the Confederate flag. Several people held signs such as "Gun Control = More Crime" and "Make Guns Great Again," a variation on President Donald Trump's slogan, "Make America Great Again."
Two speakers, Caleb Bryan and Timothy Beck, emphasized that not all young people are on board with the reinvigorated cries for gun restrictions.
A lot of people are "drinking the Kool-Aid," said Beck, who graduated from high school last year and is working as a mechanic.
"The problem is that I'm not particularly fond of Kool-Aid," he said. "It's full of sugar and quite frankly tastes like crap."
Bryan, 22, said that if legislators do not continue to preserve the right to bear arms, "we'll vote them out."
"Washington, D.C., does not regulate and restrict us," Bryan told the crowd. "We regulate and restrict them."
Mark Schultz of North Little Rock surveyed the crowd as it began to thin, roughly two hours into the demonstration. He stressed that not all gun-rights advocates can be pigeonholed.
"Some people out here, I don't agree with. There are some people out here who take it way too far," he said.
Still, Schultz added, opponents of gun control are not "bloodthirsty animals roaming the hallway looking to kill people. We're just looking to stay alive."
When asked, Schultz said he has yet to use his gun for self-defense.
"That doesn't mean I won't," he added.
Information for this article was contributed by staff members of The Associated Press.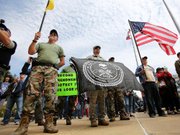 Metro on 04/15/2018