Makers of narcotic painkillers gave millions of dollars to Arkansas doctors between 2013 and 2016. At least 800 state residents died from opioid overdoses during the same period.
Federal data reveal that opioid manufacturers directed $5 million in "general payments" to about three-quarters of the state's doctors for consulting, meals, travel and promotional speaking.
A smaller group -- 1,600 physicians -- received a total of nearly $689,000 specifically to promote opioid products during the four-year period, an analysis of federal data by the Arkansas Democrat-Gazette shows.
Taking money from drug companies doesn't mean a doctor has done anything wrong, yet recent studies assert that these types of payments, even when under $50, affect how physicians prescribe.
Some doctors, health experts and officials interviewed by the newspaper said that accepting money from pharmaceutical companies presents a conflict of interest for physicians.
"So many doctors are more merchants than they are physicians now," said Dr. Janet Cathey, a former* assistant professor at the University of Arkansas for Medical Sciences. "How do doctors get away with it? Your ethical, legitimate doctors won't do this."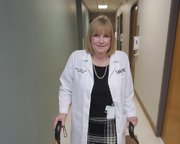 She described some doctors as complicit in the deluge of powerful prescription narcotics in the state, where there were 79 opioid pills for every one of Arkansas' nearly 3 million residents in 2016, according to county-level health records.
Cathey acknowledged that most of the state's nearly 6,100 doctors accept payments from drug companies to promote various medications, not just opioids, but she says that taking money from opioid-makers is especially problematic considering how many Arkansans are affected by the opioid epidemic.
Last year, New Jersey and California capped promotional payments to doctors; Maine banned such contributions.
Other health professionals say doctors aren't so easily influenced.
"Doctors are well aware of the intentions behind the pharmaceutical industry. There is a difference between doctors getting bribes and doctors who believe in a product," said Dr. Marvin Covey, a recently retired pain management specialist and former medical director of Pain Treatment Centers of America, which has eight offices in Arkansas.
"It is a slippery slope, however," Covey added. "Doctors need to be very careful."
Some policymakers say doctors shouldn't bear all the blame for the opioid epidemic that has surged across the United States for at least a decade.
Drug companies took advantage of a change in the guidelines the medical community uses to treat patients with chronic pain, said Dr. Joseph Thompson, president of the Arkansas Center for Health Improvement.
"But I can't say that's the only cause of the epidemic," he said.
Doctors lacked clear guidance on how to best prescribe opioids, and there was a lack of education about the associated risks, the health policy center leader said.
"With the development of increasingly strong drugs, the potential for dependency and addiction went up," he added.
Taking opioids activates certain brain receptors, and after repeated exposure to the drug, pain patients need opioids just to feel normal, Thompson explained.
Pharmacists and drug distributors also bear some responsibility for fueling the state's opioid epidemic, a recently filed lawsuit against the opioid industry alleges.
INFLUENCING DOCTORS
Doctors who took the most money from opioid-makers practiced medicine in counties with the highest opioid prescribing rates.
For instance, Sebastian, Craighead and Independence counties' physicians received more payments from opioid-makers, when adjusted for population, than all counties but one, according to the newspaper's analysis of 2016 federal data.
The number of opioid prescriptions in those counties ranged from 157 to 169 for every 100 residents, data from the federal Centers for Disease and Prevention Control show. The state average prescription rate in 2016 was 115 per 100 residents; the U.S. rate that year was 66 per 100.
Information about what drug companies pay doctors comes from the newspaper's analysis of Open Payments, a data resource compiled by the CDC.
Doctors don't get money only for promoting opioids, the payments database shows. The same firms that make pain pills also produce non-narcotic medications and pay doctors for promotional activities related to those drugs.
Opioid-makers also paid more than $58 million to physicians to conduct research between 2013 and 2016. Only $8,000 in research payments went to opioid-specific projects.
Studies and national news reporting reveal that incentives to doctors from drug companies affect how they prescribe.
[RELATED STORY: State opioid deaths not all tallied ]
Analysis by Harvard University researchers and cable news channel CNN, released last month, found that doctors who write the most opioid prescriptions often receive the most general payments from opioid manufacturers.
Doctors whose opioid prescription volume ranked among the top 5 percent received twice as much money from opioid manufacturers as compared with doctors whose prescription volume fell in the middle, the researchers found. Doctors in the top 1 percent usually received four times as much as a typical doctor.
The Harvard researchers looked at records of almost 400,000 doctors who wrote opioid prescriptions to Medicare patients between 2014 and 2015. Of those physicians, 54 percent received payments from opioid-makers, they found. The study analyzed both the Open Payments database and another federal database that tracks Medicare prescriptions that doctors write.
A 2017 University of North Carolina at Chapel Hill report also found that doctors were between 29 percent and 78 percent more likely to prescribe a drug promoted by a pharmaceutical company. A 2015 study, published last year in the Journal of the American Medical Association, yielded similar results when looking at different medications.
PAIN PRACTICES
The emergence of OxyContin, Purdue Pharma's brand-name oxycodone, and a subsequent flood of other narcotic pain pills prompted an "explosion" in the pain management profession, according to UAMS professor Cathey.
"It became just so lucrative to be a pain doctor," she said.
To Cathey, the issue of over-prescribing became apparent when a car crash left her paralyzed and doctors told her to take an excessive amount of medication to treat the resulting chronic nerve pain.
"We've become such a pill-oriented society," she said. "So of course patients think it's normal to take all these drugs."
Within a few years of OxyContin's 1996 debut, drug companies' direct marketing to doctors jumped tremendously.
The number of times drug company representatives met with doctors rose from an average of four or five times a month through the 1990s to up to 16 visits a month by early 2004, according to a study in the Journal of the American Medical Association and a survey in the New England Journal of Medicine.
Almost 100,000 drug industry representatives tried to influence almost 700,000 physicians at that time, federal Health Resources and Services Administration data show.
Collaboration between an influential hospital accreditor and the opioid industry in 2001 changed how doctors treated pain, further contributing to the rising epidemic, Cathey said.
The Joint Commission, a nonprofit certifying 99 percent of all U.S. health care organizations, including in Arkansas, released new guidelines that counted pain as the fifth vital sign, alongside pulse rate, body temperature, respiration rate and blood pressure.
These "Pain Management Standards" encouraged increased treatment of pain, including heavier use of medication. Essentially, under the standards, a compassionate doctor must try to alleviate the patient's pain; the simplest way to do so was to prescribe a pain pill.
That same year, the Joint Commission collaborated with the National Pharmaceutical Council, made up of several opioid manufacturers and distributors, to publish a report saying that pain was undertreated and that there were "adverse consequences of inadequately managed pain."
The basis for the commission's standards is often attributed to a 1996 article in the New England Journal of Medicine, titled "Assessment of Patients' Pain." The article cites a study that says doctors and nurses too often discounted patients' perceptions of their own pain. The majority of patients surveyed for the study had cancer or chronic diseases like sickle cell anemia or AIDS.
Another 2001 Joint Commission report said that doctors had "inaccurate and exaggerated concerns about addiction, tolerance and risk of death."
Dr. David Baker, the commission's executive vice president, says the 2001 standards should not be blamed for the opioid epidemic.
At the time, doctors failed to address pain, which was a "national and international public health problem," Baker said.
"We needed to have other ways for organizations to improve pain control," he said. "That was an important shift away from the individual physicians and really to the organizations and systems of care."
PROMOTING PILLS
Two lawsuits filed in separate Arkansas courts last month say the shift in how the medical profession viewed pain and its treatment helped push more pain pills into the hands of patients.
The suits also accuse the drug companies of taking advantage of primary care physicians who might not be well-trained in managing pain.
Both suits allege that certain drug companies unleashed the opioid crisis in Arkansas in part by compensating doctors to promote the use of addictive opioids to colleagues.
The paid doctors were part of the drugmakers' "speaker bureaus" that promoted particular drugs during forums attended by other doctors, according to the suits.
"These speakers give the false impression that they are providing unbiased and medically accurate presentations when they are, in fact, presenting a script prepared by manufacturer(s)," both suits say.
The speaker programs were one part of a marketing scheme designed to convincedoctors and patients that opioids can cure chronic pain, without revealing the probability of addiction and related long-term side effects, the suits claim.
Arkansas Attorney General Leslie Rutledge filed the state's suit in Pulaski County Circuit Court on March 29. The complaint targets three companies -- Purdue Pharma, Endo Pharmaceuticals and Johnson & Johnson -- which she said manufacture the most-used opioids in Arkansas.
A coalition of 87 Arkansas counties and cities filed a lawsuit in Crittenden County Circuit Court on March 19 against 52 opioid manufacturers, including Purdue, Endo Pharmaceuticals and Johnson & Johnson. That effort is led by the Association of Arkansas Counties and the Arkansas Municipal League.
Both pharmacists and the opioid distributors who let those pharmacists order large quantities of opioids unchecked also contributed to the health problem, the coalition-led suit asserts.
The suit named pharmacist Christopher Watson, who was sentenced to 10 years in federal prison for conspiracy to unlawfully distribute pain pills last year. FBI agents found that Watson sold tens of thousands of hydrocodone and oxycodone pills after-hours from Perry County Food and Drug, a retail pharmacy owned by Watson's father.
The two lawsuits seek punitive monetary damages. The state's suit also seeks an injunction to stop what it calls deceptive marketing practices.
Opioid-makers named in the suits haven't responded to the newspaper's repeated requests for interviews.
'STEPS TO RESTRICT'
Arkansas doctors receive fewer contributions from drug companies now than they did in the past, said Thompson, the Arkansas Health Improvement Center executive.
Physicians are barred from having certain types of meetings with drug representatives and must disclose conflicts of interest, he said.
Thompson said legislators and regulators "need to intentionally and explicitly create policies" requiring doctors to disclose to the Arkansas State Medical Board when they receive significant contributions from drug companies.
"There have been steps to restrict the pharmaceutical and medical device companies to influence a doctor's prescribing patterns," he said. "It's a lot better than it used to be."
The Open Payments database, which shows contributions drug companies made to individual doctors, was required by the 2010 Physician Payments Sunshine Act, enacted the same year as the Patient Protection and Affordable Care Act. Public records of such payments before 2013 aren't available.
Doctors aren't required to tell patients what payments they receive from drug companies.
The highest-paid Arkansas doctor in the federal database, Dr. Mahmood Ahmad, received more than $156,000 from opioid-makers between 2013 and 2015.
For years, the Arkansas State Medical Board investigated Ahmad for over-prescribing controlled substances, and in 2016, board members voted to revoke his license. That revocation has since been upheld by the Arkansas Court of Appeals.
During the disciplinary hearing, board attorney Kevin O'Dwyer called out Ahmad's "routine reliance" on starting patients with high doses of opioids, improper patient record-keeping, gross negligence and "professional incompetence."
O'Dwyer also cited allegations against the doctor in Alaska, where he had already surrendered his license to practice after regulators found that he had prescribed life-threatening amounts of controlled substances to patients in Anchorage.
Last year, one of Ahmad's former patients, Cheryl Hartsfield, sued Ahmad and others in Pulaski County Circuit Court. The case is pending.
The suit says that Arizona-based Insys Therapeutics Inc. targeted Ahmad to bump up sales of Subsys, a spray made of fentanyl, an opioid 50 to 100 times stronger than morphine.
Corporate emails show that Insys was aware of Ahmad's excessive prescribing, yet the company still paid the Sherwood doctor "speaker fees" in return for prescribing the drug, the suit claims.
Between 2014 and 2015, Ahmad wrote more than 1,450 Subsys prescriptions and collected nearly $150,000 from Insys, the suit states. By comparison, Ahmad had written roughly 50 prescriptions for the opioid spray before establishing a relationship with Insys.
In response, Insys denied that its actions were "deceptive, misleading, false or otherwise unconscionable," according to court documents.
Ahmad now lives in Islamabad, court records indicate.
Medical board records don't show any reported licensing problems for other top-paid Arkansas doctors in the Open Payments database.
UAMS bioethics professor Micah Hester says it's important for doctors to be involved with the development of medicines their patients will eventually use, which means doctors must interact with the pharmaceutical industry.
Conflicts of interest that arise when doctors take money from drug companies can be mitigated, he said.
Physicians should tell patients about their affiliations with drug manufacturers before prescribing, and offer patients alternative treatments, said Hester, who chairs the medical school's Department of Medical Humanities and Bioethics.
Doctors also need to understand how receiving contributions can affect their behavior -- even subconsciously, he said.
"We want intelligent decision-making by doctors, not unconscious bias doing our work," he said. "We want to say we're doing our best by our own determination. We want to be able to control outcomes, not just have them occur."
SundayMonday on 04/15/2018
*CORRECTION: Dr. Janet Cathey is no longer an instructor at the University of Arkansas for Medical Sciences. A previous version of this story incorrectly identified her association with UAMS.