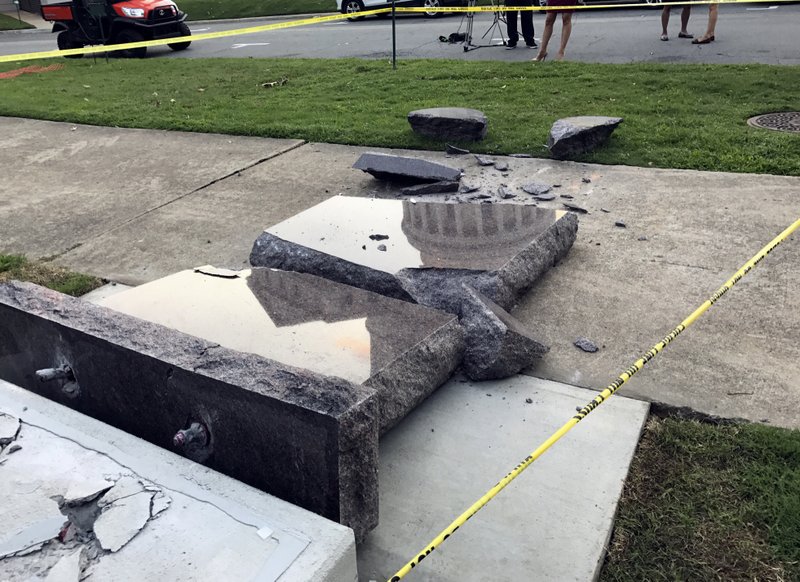 In this June 28 file photo, a Ten Commandments monument outside the state Capitol in Little Rock is blocked off after Michael Tate Reed crashed into it with a vehicle, less than 24 hours after the privately funded monument was installed on the Capitol grounds. A Pulaski County judge on Thursday found Reed unfit to proceed and ordered him to be held by the state hospital for further evaluation. Judge Chris Piazza set a September 2018 hearing on Reed's mental status. (AP Photo/Jill Zeman Bleed, File)
The second version of a Ten Commandments monument at the Arkansas Capitol is expected to go up next week, nearly 10 months after the first was destroyed.
Sen. Jason Rapert, R-Bigelow, announced the plans on an online fundraising page Wednesday night. Chris Powell, a spokesman for Arkansas Secretary of State Mark Martin, confirmed the installation is set for April 26.
"We are happy to have made this all possible for the citizens of Arkansas as they honor one of the historical and moral foundations of American law — the Ten Commandments," Rapert wrote.
The original version was rammed with a car less than 24 hours after it debuted in June.
The accused driver, Michael Tate Reed II of Van Buren, was declared unfit to stand trial in November and committed to the State Hospital.
Less than two weeks after the first monument was smashed, the American History and Heritage Foundation, which Rapert created, had raised roughly $55,000 in donations toward a new one. Funds had surpassed $85,000 by Thursday afternoon.
The new monument will be flanked by four concrete bollards to prevent it from meeting that same fate as the first.
Sponsor Content