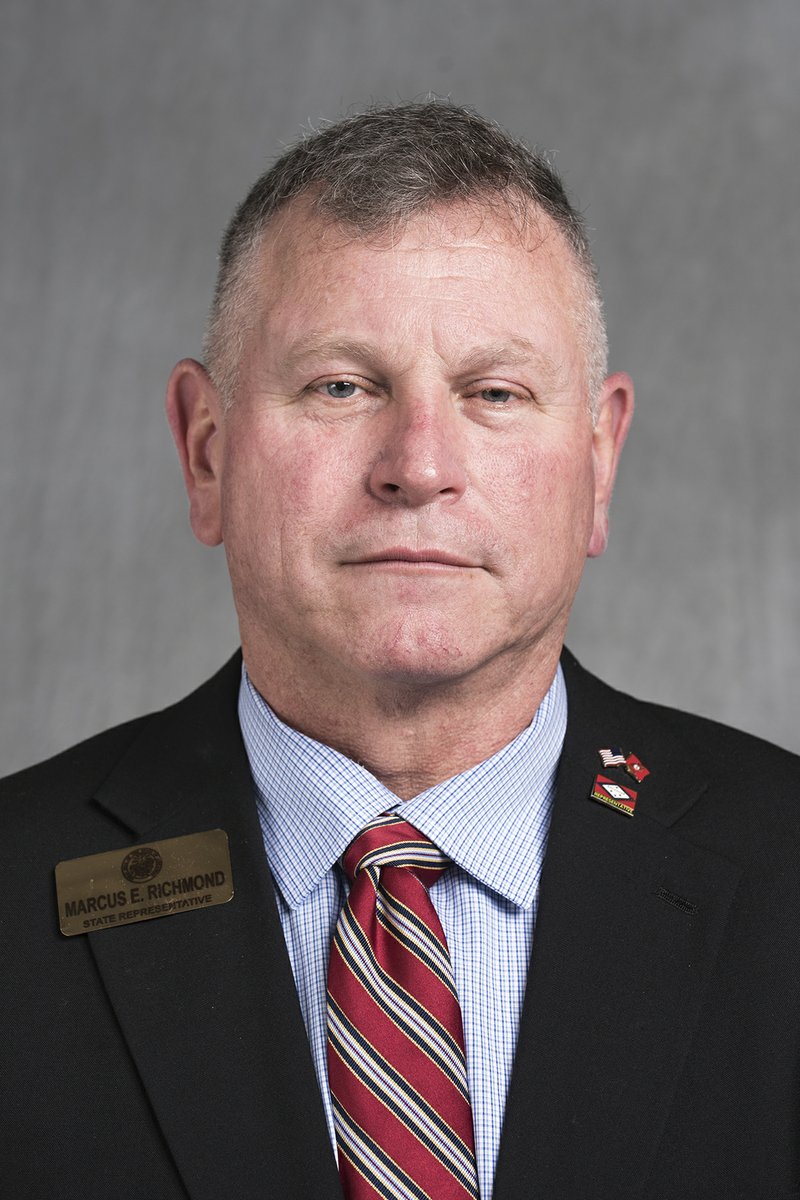 House Republican leader Marcus Richmond of Harvey is shown in this file photo.
A Scott County man wants a Pulaski County circuit judge to rule that state House Republican leader Marcus Richmond is ineligible to run for re-election in a west-central Arkansas House district because he hasn't lived in the district for more than a year.
Michael Forrester of Scott County -- represented by attorney Chris Burks of the state Democratic Party -- filed a lawsuit against Richmond, the Yell County Election Commission and Yell County Clerk Sharon Barnett.
The lawsuit asks a judge to order that the commission not count any votes for Richmond, to annul the certification of Richmond for the ballot and to not accept the name of any replacement candidate for Richmond, as well as to order Barnett not to certify the name of any replacement nominee. The lawsuit has been assigned to Pulaski County Circuit Judge Mary McGowan.
Richmond faces a challenge from Democrat Stele James of Gravelly in House District 21, which includes parts of Garland, Montgomery, Perry, Polk, Sebastian, Scott and Yell counties in the Nov. 6 general election. Richmond was elected without any opposition in 2014 and 2016.
Richmond said he moved into House District 21 in 2013, and "we live in this house that we rent in the district," at 29761 Arkansas 28 West in Gravelly. He said he also owns a home at 34300 Lady Bug Lane that's about 200 yards outside House District 21 that he and his wife use for business purposes and where they have better cellphone service.
"I am legally qualified to hold this office," he said in a telephone interview.
Richmond said James "knows I have this house, and he's the one trying to make an issue out of it.
"I'm not really surprised. It's just desperation," he said.
James said in a telephone interview that the lawsuit filed against Richmond is "news to me.
"I can't say I am to blame for the lawsuit, [but] he doesn't live in the district," James said. "I don't need the lawsuit. I am going to beat him at the polls on Nov. 6."
Richmond said the state Democratic Party also filed the lawsuit to retaliate for a separate lawsuit filed Wednesday by Republican Party of Arkansas Executive Director Sarah Jo Reynolds. In that suit Reynolds asked a judge to rule that Democrat Morgan Wiles doesn't belong on a the ballot because he doesn't live in the House district in south-central Arkansas to which he is seeking election.
That suit has been assigned to Circuit Judge Wendell Griffen and was amended Thursday to add a second plaintiff, Travis Burton of Arkadelphia.
Wiles is challenging state Rep. Richard Womack, R-Arkadelphia, in House District 18, which includes parts of Clark, Dallas, Garland and Hot Spring counties. The lawsuit, filed by Reynolds, states that Wiles doesn't live in House District 18. But Wiles said he has lived at his Mountain Pine residence in House District 18 on and off for seven years.
Article 5, Section 4, of the Arkansas Constitution states that, "No person shall be a Senator or Representative who, at the time of his election, is not ... for one year preceding his election, a resident of the county or district whence he may be chosen," according to the lawsuit.
Burks of the Democrat Party said in a written statement that "District 21 voters have done months worth of research into the long-rumored situation of Marcus Richmond living out-of-district across the Scott County line.
"From the information we've been provided, we believe these facts to be true. The Court is the ultimate arbiter and Mr. Forrester has availed himself of the process," Burks said.
The lawsuit, filed by Forrester, states that Richmond has not been a resident of House District 21, and he and his wife live in the house they own at 34300 Lady Bug Lane in Harvey, which is in House District 74.
Richmond has registered to vote at 10509 S&G Circle Lane in Harvey in Yell County, but Yell County land records show that he does not live in or own the land there, according to the lawsuit. Instead, Sheila and Garry Garner own those properties, where the Richmonds' America's Pet Registry Inc. business is based.
Land records show that there is no residence there in which Richmond lives, or which he owns or pays taxes on as his family residence, the lawsuit said.
Richmond is affiliated with the pet business in Yell County on S&G Circle Lane, but he does not live in the pet business building and instead lives in the Scott County home on which he pays taxes in House District 74, according to the lawsuit.
In response to the lawsuit, state Republican Party Chairman Doyle Webb of Benton said Thursday in a written statement that "Representative Richmond has served House Dist. 21 as their representative for several years.
"He is without a doubt a fellow resident of those he serves so well. We look forward to his re-election to the Arkansas House of Representatives," Webb said in the statement.
The state House of Representatives includes 75 Republicans, 24 Democrats and a vacant seat.
Metro on 04/20/2018
Print Headline: Suit alleges lawmaker up for re-election lives outside district
Sponsor Content