FAYETTEVILLE -- Hiroshi Miyamura wanted to join the U.S. military but was rejected because of his Japanese ancestry.
"During World War II, we were banned following Pearl Harbor," Miyamura told a crowd of about 120 students in the Reserve Officer Training Corps at the University of Arkansas, Fayetteville.
"That changed my life," he said. "I grew up in Gallup, N.M., a town that was full of immigrants, and we all considered ourselves American. We had to prove ourselves when the war broke out, but I was turned down. I was told I was an enemy alien. I could not volunteer or be drafted."
Later, the U.S. government reversed its decision and Miyamura was drafted to fight in the Korean War.
On the night of April 24, 1951, near Taejon-ni, Korea, Company H was under heavy attack when U.S. Army Cpl. Miyamura jumped from his shelter wielding a bayonet and killed 10 of the enemy in hand-to-hand combat. After administering first aid to the wounded, he got behind his machine gun and continued fighting until he ran out of ammunition.
Miyamura ordered the squad to withdraw while he stayed behind to render the gun inoperative. He bayoneted his way to a second gun emplacement and assisted in its operation before running out of ammunition there.
By the time the battle was over, Miyamura had killed more than 50 enemy soldiers and was severely wounded.
For his heroism that night, Miyamura was awarded the Medal of Honor. He was later promoted to staff sergeant.
Miyamura, 92, was one of three Medal of Honor recipients who spoke to the UA students Thursday afternoon in the ROTC building on campus. The others were Army Sgt. First Class Melvin Morris, 76, of Okmulgee, Okla., and Army Lt. Col. Bruce P. Crandall, 80, of Olympia, Wash.
Morris, 76, was a Green Beret in Vietnam. On Sept. 17, 1969, while commanding the Third Company, Third Battalion of the IV Mobile Strike Force near Chi Lang, then-Staff Sgt. Morris led an advance across enemy lines to retrieve a fallen comrade and single-handedly destroyed an enemy force that had pinned his battalion from a series of bunkers, according to his Medal of Honor citation.
"Staff Sgt. Morris was shot three times as he ran back toward friendly lines with the American casualties, but did not stop until he reached safety," according to the citation.
"Being a Green Beret we have a motto: We leave no brother behind," Morris told the students.
He quickly adjusted his comment to also include female soldiers.
"We all live together, and so we don't leave our brothers and sisters behind," he said. "We do whatever it takes. And I say brothers and sisters because we're here together now."
Morris told students they will be the leaders of tomorrow. He also had advice for them when in battle.
"I tell everybody, when you don't pay attention or you fall asleep, that one minute that you sleep probably cost somebody his life," he said.
Morris said he had a brother in the Korean War and an uncle in World War II.
"I always knew they were always proud," he said. "They looked good in uniform. They carried themselves well. ... When I grew up, there were no jobs and I was in and out of school."
Morris said the military was the obvious choice for him.
"It was just something I wanted to do," he said. "You get that calling, and I had it."
As an Army major, Crandall was a flight commander in Vietnam.
On Nov. 14, 1965, his flight of 16 helicopters was lifting troops for a search and destroy mission from Plei Me, Vietnam, to a landing zone in the Ia Drang Valley, according to his Medal of Honor citation.
On the fourth troop lift, they began to take on enemy fire. By the time the aircraft had refueled and returned for the next troop lift, the enemy had targeted the landing zone.
Crandall's unarmed helicopter came under such intense fire that the ground commander ordered the second flight of eight aircraft to abort its mission.
"As Major Crandall flew back to Plei Me, his base of operations, he determined that the ground commander of the besieged infantry battalion desperately needed more ammunition," according to the citation.
Crandall adjusted his base of operations to shorten the flight distance to deliver ammunition and evacuate wounded soldiers. He recruited volunteers to help the wounded.
"Despite the fact that the landing zone was still under relentless enemy fire, Major Crandall landed and proceeded to supervise the loading of seriously wounded soldiers aboard his aircraft," according to the citation.
Other pilots followed suit.
"After his first medical evacuation, Major Crandall continued to fly into and out of the landing zone throughout the day and into the evening," according to the citation. He completed 22 flights that day.
Crandall drew several laughs from the UA students Thursday.
Crandall said he wanted to be a baseball player. His batting average was twice as high as his high school grade-point average. He said he joined the Army because they had some good baseball teams but later tore a rotator cuff.
Crandall told students if they didn't want to do a job, just do it badly and they wouldn't be asked to do that job again.
"I painted part of a room once," he said. "I got it all over the sofa and the table. I haven't had to paint another damn room. I've used that throughout my career. It works. ...
"I know it's not a good way for your career to go, but what the hell."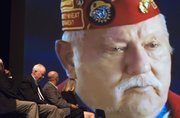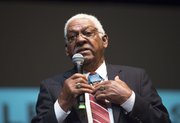 Metro on 04/20/2018