PINE BLUFF -- Mayor Shirley Washington wants people to stop dumping on her city.
The problem is literal; Washington brought in city code enforcers to a town-hall-style meeting last month to speak to residents about the practice. They showed a photo of a trailer piled high with dirty mattresses that had been thrown into a ditch instead of being properly disposed of. A special crew gathered on a weekend to make a dent in cleaning up the large pieces of garbage people had tossed.
"We have a dumping crisis in Pine Bluff, and it's causing our city to look really bad," code enforcer Patrick Lockett said, urging residents to report instances of illegal trash disposal.
The problem is also figurative; Pine Bluff has gained a reputation as a bad place to live over recent years, Washington said.
"As we move forward, one of our primary goals is going to be to change our image," she said.
Jefferson County has seen nearly a 20 percent drop in population since 1990 -- from 85,487 to 69,115. Pine Bluff is the largest city in the county, which also includes Altheimer, Sherrill, White Hall, Humphrey, Redfield and Wabbaseka.
The Census Bureau estimated Pine Bluff's population was 43,841 in 2016. The city dipped below 50,000 residents in 2010, the first time its population had gone below that milestone since 1960. The population loss reduced the funds the city received from the state and affected its ability to obtain federal funds, the Arkansas Democrat-Gazette previously reported.
A part of the population loss and corresponding economic decline in Pine Bluff comes from its dependence on manufacturing, which has been in a slump nationwide, said Mervin Jebaraj, director of the Center for Business and Economic Research at the University of Arkansas, Fayetteville.
Arkansas as a whole lost 2,937 manufacturing jobs between 2016 and 2017. Most of these jobs were in the industrial machinery sector, according to a report from Manufacturer's News Inc., an Illinois-based group that tracks industry across the nation.
The Pine Bluff Chemical Agent Disposal Factory laid off 1,100 workers in 2010. Tyson Foods Inc. laid off 800 in 1991, close to the start of the population decline.
Tyson and Evergreen Packaging -- both industrial employers -- are two of the largest employers in Pine Bluff.
The Arkansas Department of Correction in Jefferson County also is a major employer, according to the Arkansas Economic Development Commission.
The Southeast Arkansas Community Corrections Center, a facility with about 350 nonviolent female prisoners, moved in 2016 from Pine Bluff to West Memphis. The 138 employees who worked there were told they could relocate if they wanted to keep their jobs.
There were 1,361 employers in Jefferson County in 2015, but just over 23 percent of the people living there were living in poverty, according to census estimates.
Lockett, who has lived in Pine Bluff his whole life, said he stayed after finishing high school because job opportunities were plentiful
"People are going to move where work is, and if we don't have it, people aren't going to stay," he said of the city's decline. "They have to pay the bills."
Progress will likely be slow until the city gains a stronger base of employment, Jebaraj said. The fastest growing regions in the state have technology and retail-based businesses.
"It's easier to invest in your region when you're economically prosperous," he added.
New businesses are trickling into the area, said Caleb McMahon, economic development director for the Economic Development Board of Jefferson County.
"The economy here is moving in the right direction," McMahon said. "It's been going in the wrong way for so long that you see the repercussions for years after."
Western Foods, based in California, will start operations at a Pine Bluff plant in June and employ 50 people. Stacked Logistics plans to expand and add about 32 jobs, he said.
McMahon said he hopes to fill these and future jobs with a trained workforce.
County officials have spent the past six months organizing and planning to become an ACT Work Ready Community in efforts to draw in more businesses. Gov. Asa Hutchinson lauded Jefferson, Grant and Arkansas counties at a ceremony earlier this month as they launched efforts to meet the ACT criteria.
These certificates are based on skills in math, graphic literacy and knowledge of workplace documents. Mississippi County already has the classification.
"It's a great thing for our county," said newly appointed County Judge Booker Clemons. "It's a great challenge for all of us to get workers ready. That's what we're going to do is put all resources together to get workers ready to work."
'IF PINE BLUFF THRIVES'
About 50 counties in Arkansas have lost population since 2010. Most of these, especially those in the Delta, have economies that rely on manufacturing or agriculture, Jebaraj said.
"Those regions haven't been able to compete in the economy as it is today," he said.
Census counts can affect federal funding doled out to a region and the amount of government representation it gets. Washington said she is not convinced the 2017 numbers are accurate and said the city is already working to make sure every household is counted during the full census in 2020.
She's already holding pre-census meetings with city officials and community leaders to make sure every house is identified. She's reached out to census workers to see what the city can do to ensure high participation in the survey.
Pam Willdrot, a demographer at the Arkansas Economic Development Institute, said miscounts with the census are possible in areas like Pine Bluff with spotty Internet service and low broadband connectivity.
"The census wants to use the Internet as their primary way of getting responses," Willdrot said. "Now what's the problem with that? Arkansas is 43.8 percent live in rural areas. Typically, 48 percent of the rural areas are without broadband. That's a big deal."
The census is conducted via a combination of telephone, personal visits, mail and online questionnaires, according to the Census Bureau's website.
Washington hopes that by ensuring an accurate count, Pine Bluff's population will prove larger than previously thought, and people will see that it is not a bad place to live.
"I think that our population will reverse itself," Washington said. "If Pine Bluff thrives, southeast Arkansas will thrive again."
GO FORWARD
Last summer, Pine Bluff voters approved a five-eighth-cent sales tax to fund Go Forward Pine Bluff, a group that works to improve the city through initiatives focused in government infrastructure, education, economic development and quality of life.
The Go Forward Pine Bluff office overlooks the Simmons Bank headquarters on one side and the concrete remains of a crumbled building on the other. Main Street, recently reopened in efforts to help bring more traffic downtown, runs alongside both.
The group's educational alliance, composed of representatives from local schools including the University of Arkansas at Pine Bluff, is working to create learning plans for students. The Pine Bluff School District has high teacher turnover, said Ryan Watley, CEO of Go Forward Pine Bluff.
The group is working to renovate and repurpose crumbling downtown buildings. They're planning festivals and events for tourists. A mapping project for biking and jogging trails is underway to encourage more people to use the amenities.
"Without that investment, you see decay and decline on things," Watley said. "We still have outstanding people here. We still have the capacity to be great."
With the help of the mayor and the city, Watley's group is planting community gardens to help with aesthetic appeal and to unify the community, Watley said.
The city is also working on improving parks; Pine Bluff has 22, and larger parks will get renovations first. The city also opened an all-inclusive playground April 6. Mayor Washington said she hopes to launch a dog park called "Bark Park" in the coming months.
Pine Bluff's first aquatic center with a pool for children should open by the middle of next year, Washington added.
The mayor is also working in a time window that closes in May to apply for federal help to build more affordable housing in Pine Bluff, she said. She's working with the Department of Housing and Urban Development and Habitat for Humanity to apply for grants. The hope is that if companies want to move into Jefferson County, there will be places for workers to live.
"People really don't know what Pine Bluff has to offer," Washington said. "When renovations are finished, we're going to be the diamond of the Delta. I believe that."
George Barnes Sr., who has been a pastor at Galilee Missionary Baptist in Pine Bluff for 20 years, said he has felt the effects of people out of the town. He said blight has increased noticeably, but he is hopeful cleaning up the city will help alleviate that and draw in new business.
"They [city officials] have a tremendous job before them," Barnes said. "It's going to be slow."
The town-hall-style meeting at which code enforcers asked residents to call in reports of people dumping their trash beside the road was the first in a planned series of public meetings in which city officials will be available to answer questions and explain projects, Washington said.
About 142 people came to the March event, which zeroed in on issues related to the outdoors, including plans to plant new flowers around city hall, clean up abandoned cars and houses and increase neighborhood watch participation.
The neighborhood watch program is part of an effort to decrease crime in Pine Bluff, Washington said.
Pine Bluff police reported 2,315 crimes against people, a category that includes rape, murder and assault among other crimes in 2016, according to the Arkansas Crime Information Center. That's the third highest rate in the state at 52.6 per 1,000 people.
Little Rock's rate was slightly higher, at 53.3 per 1,000. Fort Smith reported about 30 crimes per 1,000 people.
At the town-hall-style meeting in March, Debra Davis, Neighborhood Watch coordinator for the Pine Bluff Police Department, said crime rates are decreasing, and will drop faster with citizen participation.
Bill Ray -- chairman of his neighborhood watch group; there are 14 in the city -- said he thinks the town-hall-style session was the start of Pine Bluff pulling together to make things better. He grew up in Pine Bluff, moved away for his career, but came back in 2006.
"People have to want to [help]," he said, his wife Norma nodding in agreement beside him.
"If they don't want to, it's just not going to happen."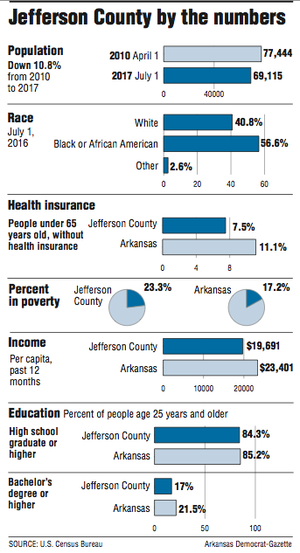 Photo by SOURCE: U.S. Census Bureau / Arkansas Democrat-Gazette
Graphs showing Jefferson County by the numbers
A Section on 04/23/2018