Satanists and Christians gathered on the state Capitol's damp lawn Thursday for the unveiling of a Ten Commandments monument for the second time in less than year.
A crowd of several dozen pastors, lawmakers and supporters heralded the monument's installation as a celebration of the state's and nation's heritage.
The Satanists joined sign-holding protesters opposing the monument's installation on government property. The Satanic Temple, American Civil Liberties Union and others promised to file lawsuits to seek removal of the monument.
This iteration of the Ten Commandments mirrors the version erected last June, except this one is surrounded by four 3-foot-tall concrete bollards.
Last year's monolith was destroyed within 24 hours of going up when a man rammed it with his vehicle. Michael Reed of Van Buren is accused of driving the vehicle. He was found mentally unfit to stand trial in November and committed to the State Hospital.
State Sen. Jason Rapert, R-Conway, drafted the 2015 legislation authorizing the monument's placement; he's also the president of the American History and Heritage Foundation, which purchased the monument.
"The sole reason that we donated this monument to the state of Arkansas is because the Ten Commandments are an important component to the foundation of the laws and the legal system of the United States of America and of the state of Arkansas," Rapert told the group gathered Thursday.
"Passive acknowledgments of the role played by the Ten Commandments in our nation's heritage are common throughout America, and the Supreme Court ruled in 2004 that such monuments are constitutional."
In split decisions in 2005, the U.S. Supreme Court ruled that a Texas display was constitutional, but a Kentucky display was unconstitutional.
Lucien Greaves, co-founder and spokesman for the Satanic Temple of Salem, Mass., said he was confident that a judge will order the monument's removal.
After Rapert's legislation cleared the General Assembly three years ago, Greaves' group also tried to erect a statue -- a 10-foot-tall bronze Baphomet, a goat-headed, angel-winged god, to represent religious pluralism. That effort stalled after lawmakers passed a measure requiring legislative approval for new monuments before they're heard by the Capitol Arts and Grounds Commission.
The ACLU of Arkansas on Thursday said, "Politicians are exploiting their power to advance their personal religious beliefs -- and violating the Constitution. We'll see them in court."
Little Rock attorney Gerry Schulze also said he plans to sue the state on behalf of several residents, including Anne Orsi, an Arkansas Society of Freethinkers board member.
Rapert said Thursday that he was confident the monolith would withstand any legal challenges. He pointed to a section of the Ten Commandments monument legislation that allows Arkansas Attorney General Leslie Rutledge to have Texas-based First Liberty Institute represent the state in any litigation, which Rapert said would be done for free.
At one point during Thursday's ceremony, Greaves tried to interject to rebut Rapert's answer to a question, but he was drowned out by applause from monument supporters.
"This gentleman is obviously trying to interrupt; he's not a part of this," Rapert said. "As a matter of fact, this gentleman has actually opposed the monument and literally went over and apparently stood on that truck in the middle of the night here in Little Rock and posted a picture of it, which is really a criminal trespass."
Greaves laughed, saying he hadn't done anything illegal.
Rapert said his foundation received more than 800 donations to replace the broken monument, totaling more than $85,000. The excess money, he said, would go toward helping other cities and states to erect similar displays.
Greaves, pausing between taking photos with his supporters and the new monument, ran through a list of court cases he said deems such displays unconstitutional.
"This will come down," he said.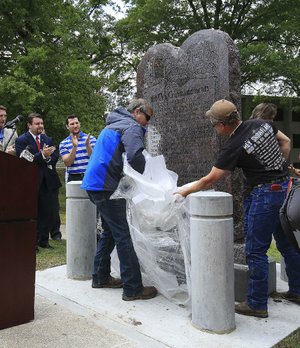 Photo by Staton Breidenthal
State Sen. Jason Rapert (left) and others applaud Thursday as the newly installed Ten Commandments monument, authorized under legislation Rapert drafted, is unveiled on the state Capitol grounds. The monument replaces one erected in June that was smashed by a man who rammed it with his vehicle. The new monolith is protected by concrete bollards.
Metro on 04/27/2018