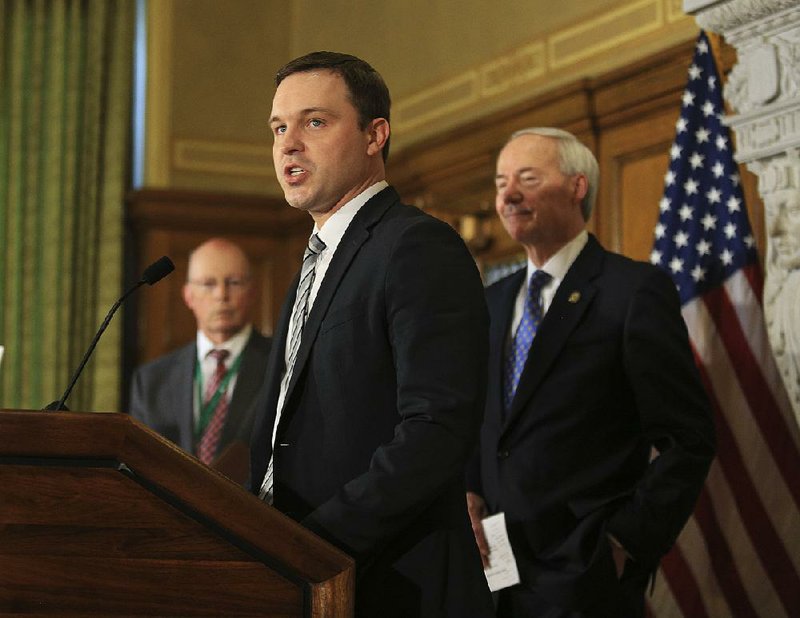 Jared Henderson, then the executive director of Teach for America in Arkansas, (center) is shown with Gov. Asa Hutchinson (right) and Little Rock School District Superintendent Baker Kurrus in this file photo. ( Staton Breidenthal)
Democratic gubernatorial candidate Jared Henderson said Thursday that he wants to boost the state's minimum teacher salary of $31,800 a year by 10 percent, starting in the 2019-2020 school year, and then by 3.6 percent in each of the subsequent nine years.
Under Henderson's 10-year plan, the state's minimum teacher salary would increase to $34,980 in its first year and ultimately rise to $48,090 a year during the 10th year.
Henderson said his plan would make Arkansas the best state in the nation to be a public schoolteacher.
That means making teachers in Arkansas the highest paid in the nation, adjusted for the cost of living in 10 years; empowering them to make big impacts in the highest-need subjects and areas; and reducing bureaucracy and management that buries them in paperwork and doesn't trust and respect them, he said.
"While there are a lot of things that the next governor needs to get right to unlock the potential of this state, the single biggest thing that we need to get right is to make teaching one of our absolute most respected, healthy and desirable professions," Henderson said while surrounded by a group of teachers at a news conference at his campaign headquarters in downtown Little Rock.
"If we do that, we can unlock an entire new wave of prosperity and opportunity for everyone in this state that deserves it," said the candidate, who is the former Arkansas state director for the nonprofit Teach for America group.
Henderson and Libertarian candidate Mark West are challenging Republican Gov. Asa Hutchinson in the Nov. 6 general election.
In response to Henderson's plan, Hutchinson's campaign spokesman, Jamie Barker, said in a written statement, "Mr. Henderson is yet another out of touch liberal who wants to base increased spending on speculation and abandoning our commitment to public safety.
"The governor's [previously announced] plan to increase starting teacher pay to the highest in the region while also making our income tax rates competitive is building on what he has accomplished in his first term when we raised teacher pay twice & cut taxes for over 90% of working class Arkansans," Barker said.
In 2015 and 2017, the Republican-controlled Legislature enacted Hutchinson's plans to cut individual income tax rates for people with taxable incomes of up to $75,000 a year. The state projects these plans collectively will reduce revenue by about $150 million a year. The governor has proposed next reducing the top individual income tax rate from 6.9 percent to 6 percent, which would cut revenue by about $180 million a year.
Henderson said his plan to boost the minimum teacher salary by 10 percent in the first year would cost roughly $80 million.
"It's about half of the governor's proposed tax cut for the wealthiest Arkansans," Henderson said. "So over the next few years, the resources are there to do this. It's how we are going to use them."
Henderson said the cost of his 10-year plan would be about about $870 million, including about $540 million for "the true pay raise" and about $340 million to keep up with inflation in the 10th year of the plan.
Six weeks ago, the governor proposed increasing the minimum teacher salary from $31,800 to $36,000 a year if elected to a second term.
On June 29, Hutchinson said his proposal would give the state the highest pay for teachers in the region. His administration arrived at the figure by comparing salaries in surrounding states and beyond.
But Henderson said Thursday, "Our governor, just a few weeks ago on the debate stage in Eureka Springs at the end of June, he mentioned a 13 percent pay raise for teachers to raise the minimum salary.
"To my knowledge, there has not been a single sentence attached to that statement about how or when it would happen. We can do better than that. We must do better than that," the Democratic candidate said.
Barker replied, "Raising teacher pay will require action from the General Assembly and the governor" in the 2019 regular session starting Jan. 14.
"The governor has been very clear that he plans to make this raise a priority in his second term and the first raise for teachers should be passed as part of next year's budget. The full increase in minimum pay will be done over 4 years," he said in a written statement.
Hutchinson spokesman J.R. Davis said state officials are still working on a cost estimate for the governor's teacher pay proposal.
Henderson said his teacher policy plan also would:
• Offer financial incentives and loan forgiveness to attract top leaders to classrooms in high-need subjects and school districts.
• Partner with local school districts to bolster wraparound services, including empowering counselors to do their jobs that they trained for and making sure there are good mental health professionals and social workers in the public schools.
• Reduce administrative burdens for teachers who have been buried in new tests and new teacher evaluation systems that have separated them from students, drained them of emotional energy and told them that they are not respected and trusted.
• Protect the Arkansas Teacher Retirement System.
• Ensure teachers are paying "a fair cost" for their health insurance coverage.
• Recognize master teachers for their expertise and provide more opportunities for them to be board certified and serve in the highest-need areas.
• Award governor's innovation prizes to identify best practices in education and replicate them.
"I applaud Jared's ambitious plan to substantially increase teacher pay in the state of Arkansas," West, the Libertarian candidate, said in a written statement. "Most Arkansans would agree that teachers are a vital resource in driving our state's economic future."
But West said Henderson's proposal "will do little to combat the widening pay gap that has emerged between teachers in NWA and the Delta region while also doing little to address the reality that many districts struggle to pay their teachers due to accumulated liabilities brought on by aging and under-utilized facilities in many rural school districts, many of which remain debt-strapped."
Metro on 08/10/2018
*CORRECTION : Democratic gubernatorial candidate Jared Henderson is proposing a 10-year plan to boost teacher salaries that would start in the 2019-20 school year. A previous version of this article incorrectly reported the first school year in which the plan would become effective.
Print Headline: Henderson outlines teacher salary plan
Sponsor Content