BEDMINSTER, N.J. -- President Donald Trump on Saturday condemned "all types of racism and acts of violence" one year after the deadly white-nationalist rally in Charlottesville, Va., calling for the nation to "come together."
Taking to Twitter, Trump decried the "senseless death and division" spawned by what he called the "riots in Charlottesville."
"I condemn all types of racism and acts of violence," Trump wrote. "Peace to ALL Americans!"
Saturday marked the anniversary of a nighttime march by torch-toting white supremacists through the University of Virginia's campus a day ahead of a larger rally in Charlottesville's downtown.
One year ago today, hundreds of white nationalists -- including neo-Nazis, skinheads and Ku Klux Klan members -- descended on Charlottesville in part to protest the city's decision to remove a monument to Confederate Gen. Robert E. Lee from a park.
Fighting broke out between attendees and counterprotesters that day. Authorities eventually forced the crowds to disperse, but a car later barreled into peaceful counterprotesters, killing 32-year-old Heather Heyer. Police said the suspect identified himself as a Nazi.
The day's death toll rose to three when a state police helicopter that had been monitoring the event and assisting with the governor's motorcade crashed, killing two troopers.
Events marking the anniversary of the rally and the violence were expected today in both Charlottesville and Washington, D.C., where Jason Kessler, the primary organizer of last summer's rally, has obtained a permit for a "white civil rights" rally called "Unite the Right 2." Trump will remain in Bedminster, N.J., during the rally near the White House, and had not directly addressed the rally as of Saturday night.
Remembrances in Charlottesville through Saturday evening were peaceful, with marches, vigils and other community events under a heavy police presence.
As many businesses in a popular downtown shopping district began to open Saturday, law enforcement officers outnumbered visitors. Concrete barriers and metal fences had been erected, and police were searching bags at two checkpoints where people could enter or leave.
"It's nice that they're here to protect us," said Lara Mitchell, 66, a sales associate at a shop that sells artwork, jewelry and other items. "It feels good that they're here in front of our store. Last year was a whole different story. It looked like a war zone last year compared to what it is today."
Among the remembrance events scheduled for Saturday was a "morning of reflection and renewal" at the University of Virginia that featured musical performances, a poetry reading and an address from university President James Ryan.
Ryan recalled how a group of students and community members faced off against the white-supremacist marchers near a statue of Thomas Jefferson on campus, calling it a "remarkable moment of courage and bravery."
By midafternoon, the city said hundreds of people had passed through the downtown checkpoints. Police arrested three men in or near the secured perimeter for trespassing, possessing prohibited items and being drunk in public, the city said in a news release.
Gov. Ralph Northam and the city both declared states of emergency earlier in the week, citing the "potential impacts of events" during the anniversary weekend. The state's declaration allocates $2 million in state funds and authorizes the Virginia National Guard to assist in security efforts.
Police officers wore riot gear for a "Rally for Justice" at the University of Virginia, which led to a tense few minutes of shouting late Saturday from students angry at the heavy security presence on campus.
Demonstrators at the university chanted, "Why are you in riot gear? We don't see no riot here."
More than 200 protesters then marched to another part of campus. Many in the crowd then broke away and shouted at officers in riot gear forming a line, but most of the demonstrators left after a few minutes.
Wes Bellamy, a member of the Charlottesville City Council, said he told the police commander that the students were upset by the officers' tactics, calling the riot gear "over the top."
Lisa Woolfork, a University of Virginia professor and Black Lives Matter Charlottesville organizer, said it was a "huge, overwhelming show of force to compensate for last year's inaction." An independent investigation of the rally violence, led by a former federal prosecutor, found the chaos last year stemmed from a passive response by law enforcement officials, as well as poor preparation and coordination between state and city police.
"Last year, I was afraid of the Nazis. This year, I'm afraid of the police," Woolfork said. "This is not making anyone that I know feel safe."
But others said Saturday that they were comforted by the security measures.
Kyle Rodland, who took his young sons to get ice cream downtown, said he felt much safer than last year, when he left town with his family and stayed with his parents after seeing people armed with long rifles walking around outside his home.
Heyer's mother, Susan Bro, said she has been dreading the anniversary of her daughter's death for months. The man accused in the car attack is charged in state court with murder and also faces hate-crime charges in federal court.
Bro likened losing a child to standing in shallow water as waves roll continually in.
"You let the wave wash over, and you don't chase it. You let it go and you're OK until the next one comes," she said last week. "But today, I feel like high tide is in."
CRITICISM, SUPPORT
Sen. Mark Warner, D-Va., said in a statement Saturday that Trump shares responsibility for the violence in Charlottesville.
"These purveyors of hate and bigotry were emboldened to take their message public by a President who has refused to categorically and unequivocally condemn their message and actions in clear terms," Warner wrote.
Mitt Romney, the Republican presidential nominee in 2012, now running for the U.S. Senate from Utah, said in an essay published Friday that he disagreed with Trump's declaration last year that many "fine people" had taken part on the white-nationalist side of the Charlottesville event.
"I'm not talking about the neo-Nazis and the white nationalists -- because they should be condemned totally," Trump said last year. "But you had many people in that group other than neo-Nazis and white nationalists. OK? And the press has treated them absolutely unfairly."
Romney, in his essay, referred to the white nationalist side as a "hate brigade."
"People who knowingly march under the Nazi banner have disqualified themselves as 'good people,'" Romney wrote.
The criticisms of Trump came after a week in which the president questioned the intelligence of NBA star LeBron James and CNN anchor Don Lemon, both of whom are black. He also reignited his crusade against black football players protesting police brutality, and been accused of racial bias by former White House adviser and reality star Omarosa Manigault Newman, who is black.
On Saturday, the president briefly addressed a reporter's question about the accusations in Manigault Newman's memoir, leaning over and cupping his hand around his mouth as if to whisper.
"Lowlife," Trump said. "She's a lowlife."
Trump allies argue that he is merely swinging back at opponents.
"He's not, in my view, a racist by any stretch of the imagination," said Sen. Lindsey Graham, R-S.C., who was critical of Trump during the 2016 campaign but has since become a staunch ally. "I have never heard him make a single racist statement. Not even close."
Graham, who spent considerable time at Bedminster over the past week, added: "It is how you react to him. It is not the color of your skin, it is not the content of your character. It is what you say about him."
Trump, several current and former aides said, does not use racial slurs in private or make comments that demean minority groups among his aides. Instead, they said, he brags about the record-low black unemployment rate and talks about what he is doing for black Americans.
And on Friday, Trump gave a nod to one prominent black supporter, the rapper Kanye West, tweeting that he is "willing to tell the TRUTH."
Trump's comment about Manigault Newman came near the end of a "Bikers for Trump" event at his New Jersey golf club, where the president was continuing an extended working vacation away from Washington. Motorcyclists arrived for what had been billed as an outdoor photo-op with Trump, but pouring rain sent them inside a clubhouse ballroom, where Trump signed autographs and posed for selfies.
Trump thanked the group of motorcyclists, saying they'd been with him since the beginning and calling their motorcycles "the most beautiful bikes anyone's ever seen."
At one point, Trump returned to the podium to poll those in the crowd on their views of the media covering the event, prompting boos and jeers. One joked that the press pool should be thrown out in the rain.
The White House had said about 180 bikers would be attending the event, including military veterans and members of law enforcement agencies, as well as members of the New Jersey chapter of Bikers for Trump, whose members frequently attended Trump's campaign rallies, sometimes facing off with anti-Trump protesters.
Trump later tweeted of the motorcyclists, "Quite a scene - great people who truly love our Country!"
Information for this article was contributed by Anne Gearan, Seung Min Kim and Josh Dawsey of The Washington Post; and by Michael Kunzelman and Sarah Rankin of The Associated Press.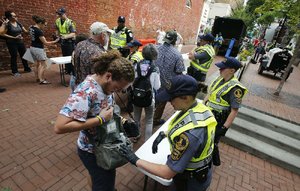 Photo by AP/STEVE HELBER
Virginia State Police officers inspect bags Saturday at one of two checkpoints in downtown Charlottesville.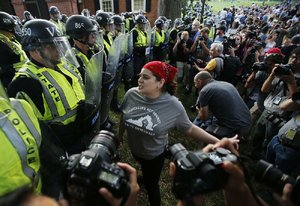 Photo by AP/STEVE HELBER
A protester confronts state police officers Saturday during a rally at the University of Virginia in Charlottesville. "Why are you in riot gear? We don't see no riot here," demonstrators chanted.
A Section on 08/12/2018