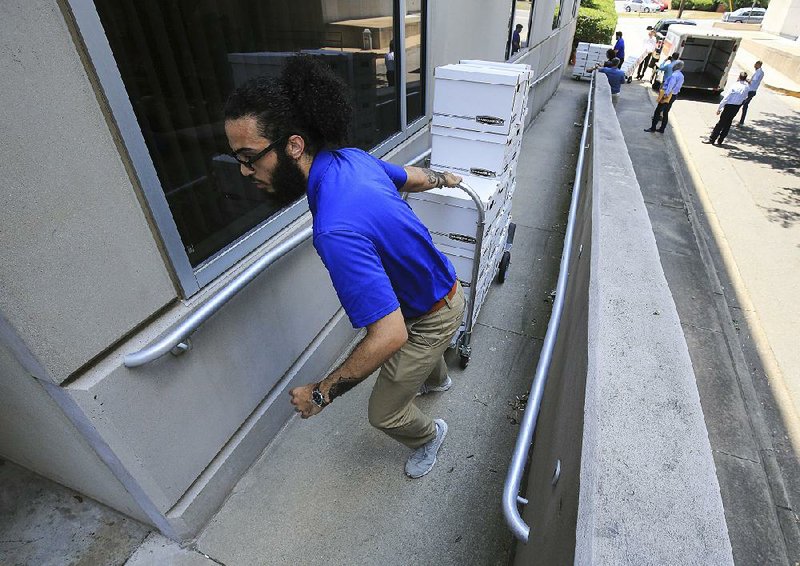 Jonas Crank unloads boxes of casino amendment petitions Friday outside the secretary of state's office. ( Arkansas Democrat-Gazette / Staton Breidenthal)
State government would receive $36 million less in tax revenue in each of the next two fiscal years if voters approve a proposed constitutional amendment that would allow the state to license four casinos, according to estimates by the state Department of Finance and Administration.
In the third fiscal year after approval, revenue would be $14 million less, according to the estimate.
The amendment would allow enhanced gambling operations at Oaklawn Racing and Gaming in Hot Springs and Southland Gaming and Racing in West Memphis, and allow two new casinos in Jefferson and Pope counties.
The department attributes the projected revenue drop to two factors: Oaklawn and Southland would be taxed at a lower rate, and it's assumed that the new casinos around Pine Bluff and Russellville wouldn't open until fiscal 2022.
But an official for the sponsors of the proposed constitutional amendment said the projections are flawed because they don't factor in growth of Oaklawn and Southland as full-fledged casinos and wrongly assume that it would take two years rather than one year to open the new casinos.
The proposed constitutional amendment, promoted by the Driving Arkansas Forward and Arkansas Jobs Coalition committees, hasn't qualified thus far for the Nov. 6 general election ballot.
The committees have until Aug. 24 to collect more signatures of registered voters. On July 25, the secretary of state's office gave the committees more time because they were about 15,000 signatures short. This year, amendment proposals need 84,859 valid signatures to get on the ballot.
The proposal would require the state Racing Commission to issue licenses to Southland Racing Corp. at or adjacent to Southland Gaming and Racing; Oaklawn Jockey Club Inc., at or adjacent to Oaklawn Racing and Gaming; an applicant in Pope County within 2 miles of Russellville; and an applicant in Jefferson County within 2 miles of Pine Bluff.
State law now permits Oaklawn and Southland to offer so-called electronic games of skill, so the proposal would allow them to become full-fledged casinos. So far, neither has taken a position on the proposal.
FINANCIAL IMPACT
Paul Gehring, an assistant revenue commissioner for the finance department, and Alex Gray, an attorney for the ballot committees, disagreed about the revenue projections Tuesday during a meeting of the Tax Reform and Relief Legislative Task Force.
The finance department "began compiling this revenue impact report as soon as the ballot language was approved by the Attorney General's Office at the end of May," and it's done that with other proposals and legislation that could have a financial impact on revenue under revenue commissioner Walter Anger, Scott Hardin, a spokesman for the finance department, said afterward in an email.
The department produced a similar report on a competing casino proposal that won't be on the ballot.
Sen. Keith Ingram, D-West Memphis, who serves on the 16-member tax-overhaul task force, said Wednesday in an interview that he requested information from the finance department about the potential financial impact of the proposal a few months ago.
"I thought it was prudent to look at the changes in the tax structure," he said. "I wanted to make sure the impact was going to be a positive and not a negative."
One of Ingram's Senate colleagues, Hot Springs Republican Bill Sample, also recently raised questions about the amendment sponsors estimating that the casinos would raise about $120 million a year in tax revenue.
"I think it's the biggest hoax they put out there because they can't deliver anything that they are promising," Sample said in an interview two weeks ago.
Nate Steel, counsel for the Driving Arkansas Forward and Arkansas Jobs Coalition committees, said, "Our conservative estimates are based on actual revenues from electronic games of skill and feasibility studies of full-scale casino gaming in two new locations.
"Just as Oaklawn and Southland have generated significant tourism and tax revenues in Hot Springs and West Memphis, this proposal will build upon that while stimulating that kind of economic growth in other areas of the state. No matter the estimate, keeping every tax dollar we can in Arkansas is better than losing the millions and millions out-of-state casinos currently take away from us," Steel said in a written statement.
Ingram said he wants to study the proposal closer before taking a stand on it. But Sample said he opposes it because "it is not going to bring in any more dollars."
With casinos in Hot Springs and West Memphis and the surrounding states of Louisiana, Missouri, Mississippi and Oklahoma, there "are only so many recreational dollars to go around that this is going to dilute it so much that nobody is going to benefit from it," Sample said.
Under the proposal, a casino's net gambling receipts would be subject to a tax of 13 percent on the first $150 million and 20 percent of receipts above that amount.
Fifty-five percent of the tax receipts would go to the state general revenue fund and 17.5 percent to the Racing Commission for purses for live horse and greyhound racing.
Eight percent of the receipts would go to the county in which the casino is located, and 19.5 percent would go to the city or town where the casino sits, or to the county if the casino is not in a city or town. If approved by voters, the proposed amendment would become effective on or after Nov. 14.
The sponsors estimate the proposal would raise about $66 million a year in state general revenue, about $33 million a year for the cities and counties where the casinos are located and about $21 million a year for purse support at Oaklawn and Southland.
Steel said the Driving Arkansas Forward committee is focused on highways, but since the certified version of the amendment does not dedicate the revenue, "we think it is perfectly fair to inform the voters" of what revenue could and likely will be used for, and the two top identified issues by state leaders are highways and income taxes.
PROJECTIONS DISPUTE
Gehring, the assistant revenue commissioner, said the department assumed that the casinos in Jefferson and Pope counties wouldn't open "until at least 18 to 24 months down the road" and the casinos at the racetracks in Crittenden and Garland counties would begin operations on July 1, 2019.
"We are providing a revenue impact for [fiscal] 2020 and 2021 of a $36 million loss to general revenue, a $9 million gain to the Arkansas Racing Commission purse and award fund, a $2.3 million net gain to the counties and $4.7 million net gain to the cities," he told the task force.
If the four casinos are in full operation starting in fiscal 2022, "we are estimating the revenue impact to be a $14.5 million net loss to state [general revenue], a $15.9 million gain to the Arkansas Racing Commission purse and award fund, a $5.5 million net gain to counties and a $12.3 million net gain to the cities," he said.
The state collected $64.3 million in state general revenue from Oaklawn and Southland through electronic games of skill in fiscal 2018 based on 18 percent of net wagering revenue at each facility, Hardin said.
The revenue from those taxes has grown significantly over the years. In fiscal 2007, the state collected $2.6 million in general revenue from this tax, and that grew to $27.4 million by fiscal 2012 and more than doubled by fiscal 2018, according to finance department figures.
The finance department projects that under the amendment, Southland and Oaklawn collectively would pay $51.5 million a year in net casino gaming receipts taxes in fiscal 2020 and fiscal 2021, and $28.3 million of those taxes would go each year to state general revenue.
The finance department projects the four casinos would pay $90.7 million in taxes in fiscal 2022, and that $49.8 million would go to general revenue.
In fiscal 2022, the department projects net casino gaming receipts totaling $643.8 million, including $222.4 million at Southland, $177.9 million in Pope County, $135.3 million at Oaklawn and $108.2 million in Jefferson County.
Oaklawn spokesman Jennifer Hoyt said Wednesday that Oaklawn does not have a comment at this time about the estimates. Southland President and General Manager David Wolf could not be reached for comment by telephone Wednesday, Thursday or Friday.
Gray, counsel for the ballot committees, told lawmakers that the finance department's projections included "no recognition of the 2,000 jobs that will be developed as a result of this and any subsequent income tax recognized off those jobs."
He said he provided lawmakers a page of an economic feasibility study for the Pine Bluff casino prepared by Minnesota-based casino consultant Klas Robinson for the Downstream Development Authority of the Quapaw Tribe, which owns the Downstream Resort Casino near Joplin, Mo.
"These projections are based on a $300 million casino and our issue with DF&A's analysis is that there is no rhyme or reason as to what type of facility they are contemplating," Gray said. The study projects $197 million in net casino gaming receipts in Pine Bluff during its first year of operation and nearly $240 million by the fifth year, he said.
Gray said the construction of the $250 million casino near Joplin took 10 months and 26 days, so the new Arkansas casinos would be operating within a year of receiving licenses.
The finance department's analysis also does not contemplate the benefits of expanding gambling at Oaklawn and Southland, and "just simply uses what happened in fiscal year 2018 and just assumes that is just going to be continued and be the exact same from year to year, despite the fact that expanded gaming will provide additional revenue opportunities," Gray said.
Hardin said Thursday in a written statement that "our numbers are a static analysis of the Electronic Games of Skill (net wagering revenue taxation). We did not undertake a dynamic scoring in the creation of this revenue impact report just as we don't utilize a dynamic scoring of other proposals discussed in committee."
POPE COUNTY CASINO
Meanwhile, a group called Citizens for a Better Pope County on Tuesday turned in 5,696 signatures for a proposed ballot initiative for the Nov. 6 general election, said Chief Deputy County Clerk Pam Ennis.
The initiative would bar the county judge from submitting a letter of support or the Quorum Court from passing a resolution on behalf of an applicant seeking a license for a casino in Pope County without a local election to grant authority for such a letter or resolution.
Ennis said 3,051 valid signatures of registered voters are required to qualify the proposed initiative for the general election ballot and her office has until Friday to determine whether that threshold has been met.
Sen. Breanne Davis, R-Russellville, said Friday that she signed the petition because "I think Pope County should get to decide" whether a casino is located there.
"I think it's a local control issue," she said. Davis said she opposes allowing a casino there because "I don't think it's the best fit for Pope County."
Meanwhile, Republican Gov. Asa Hutchinson plans to wait until the secretary of state decides whether the proposed casino amendment will be on the ballot before he takes a stance on it, said his spokesman, J.R. Davis.
Democratic gubernatorial candidate Jared Henderson also intends to wait until the ballot measure is certified before taking a position on it, said Henderson spokesman Abby Anderson.
Libertarian candidate Mark West said, "As of right now, I'm opposed to the measure because it is an extremely anti-liberty measure when one could simply remove the big government elements and just allow casinos to operate in our state in communities that choose to welcome them."
SundayMonday on 08/12/2018
Print Headline: State says casinos amendment to cut 3-year tax revenue
Sponsor Content