Slight and filthy, Never Goin' Back is the sort of teenage sex comedy/buddy film that's likely to be remembered by a certain generational cohorts' remarkably naturalistic depiction of the way they were. It's going to be like Richard Linklater's Dazed and Confused, a movie that, despite flaws that become more obvious with each viewing, seems to precisely encapsulate a romantic style of living stoned, broke and rowdy that even trust-fund kids might identify.
Jessie (Camila Morrone) and Angela (Maia Mitchell) are teenage best friends, high school dropouts, hedonists and waitresses at the Buttermilk Cafe in some anonymous suburb of Dallas. They live together, watch porn together and make out in a none-too-serious fashion, while seemingly giving no thought to anything but the moment they're in. Except Angela has plans -- they're going to Galveston to celebrate Jessie's 17th birthday! So, for the next few days, they've got to pick up some extra shifts (or otherwise come up with some cash) and avoid paying rent in order to finance the weekend where they plan to "kiss some ... dolphins, smoke some ... ganja, and eat some ... doughnuts."
Never Goin' Back
87 Cast: Maia Mitchell, Camila Morrone, Joel Allen, Kyle Mooney
Director: Augustine Frizzell
Rating: R, for crude sexual content and language throughout, drug use and brief nudity
Running time: 1 hour, 25 minutes
But their plan gets complicated quickly by drunkenness, stupor, a night in juvenile detention and general irresponsibility.
That's basically all the plot there is, but the movie itself is a blast, propelled by a high-energy soundtrack (Zhora's "Lights" serves as a signature motif for our heroes), a down-market cinematography that never makes the strip malls, sad apartments and dingy diner milieu pretty, and most of all by the remarkable chemistry of its adorable leads, who ought to be teamed together whenever possible. (Netflix, are you listening? Give these women -- and I'm including first-time writer-director Augustine Frizzell -- a half-hour series. The world needs more Jessie and Angela.)
While admittedly the movie won't be to all tastes -- the reviews will be polarized, and no one would want their daughters taking Jessie and Angela as role models -- there's nothing I didn't love about this movie, and that includes its general take on men as irrelevant and annoying. Men show up in this movie to do stupid and boorish things like steal TVs and botch holdups. They just get in Jessie and Angela's way.
And to some degree they get in the way of Frizzell's movie, which suffers from a cluttered third act that seeks to compensate for a relatively uneventful first hour by cramming in a lot of plotty bits. Still, you don't often see these characters on screen -- young, financially embarrassed but unashamed women determined to seek their hedonistic bliss while taking neither guff nor notes from the menfolk.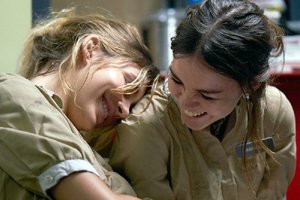 Jessie (Camila Morrone) and Angela (Maia Mitchell) are high school drop-outs and best friends with modest plans in Augustine Frizzell's stoner comedy Never Goin' Back.
MovieStyle on 08/24/2018