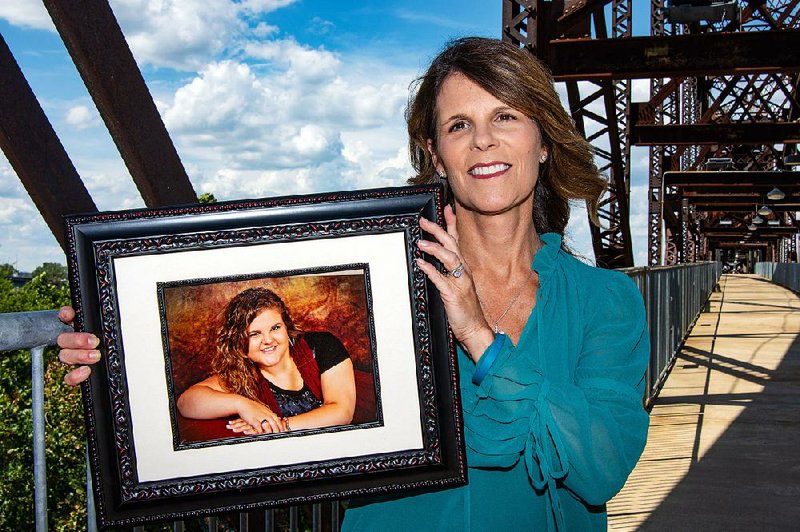 Sherri Fryar — with the Ovarian Cancer Coalition — stands on the bridge next to the Clinton Presidential Center, one of several bridges that will be illuminated with teal lights Sept. 7 on Teal Light Night. She is holding a photograph of her daughter, Taryn Claassen, who died of ovarian cancer in October. ( Cary Jenkins)
Ovarian cancer is called the silent killer because many of its symptoms can easily be mistaken for something else. Taryn Claassen was a junior at the University of Arkansas when she began experiencing pain in her hip, says her mother, Sherri Fryar.
"She actually had just started back for her junior year and was working in the costume room in the theater," Fryar says. "She was on her feet a lot and walking the hills to and from class. She just thought she had something wrong with her hip."
When the pain was so bad that Claassen hurt whether she was lying down, standing or sitting, Fryar told her to have her roommate take her to the emergency room. The doctor called Fryar two hours later and told her to come to Fayetteville -- her daughter had a large mass in her abdomen. At an appointment the next day with a gynecological oncologist, they were told by the doctor he was pretty certain it was ovarian cancer.
The diagnosis was confirmed by a doctor in Little Rock. Immediately, Fryar said she and her daughter became involved in the Arkansas Ovarian Cancer Coalition. "The coalition is completely volunteer run -- no paid staff," Fryar says. "It is made up of people whose lives have been [affected] by ovarian cancer."
Both were active with the coalition's annual fundraiser -- Teal Light Night. The event, the coalition's only fundraiser, is usually held the first weekend in September -- Ovarian Cancer Awareness Month. Teal is the signature color for ovarian cancer -- as pink is for breast cancer -- and stands for Take Early Action and Live.
On Sept. 7, the fundraiser will again be held in the Great Hall of the Clinton Presidential Center overlooking downtown Little Rock, where guests can see the bridges across the Arkansas River lighted with the color teal. The evening will include a buffet of Mexican food and drinks including margaritas, a raffle, silent auction and photo booth. A short program will recognize survivors and honor warriors who died during the year.
All proceeds raised at the event will stay in Arkansas for education, to raise awareness and to honor survivors at events throughout the year. "Last year we created and released a brand new PSA campaign," Fryar says. The public service announcement campaign includes spots on television and radio, print and direct mail statewide.
The coalition also attends health fairs and hosts "Lunch and Learns" -- an informational lunch with a presentation about the cancer's signs and symptoms and what to do when diagnosed. Arkansas has one of the lowest diagnosis rates, but one of the highest death rates from the cancer and the coalition believes it is due to a lack of awareness and education about the cancer.
Most women don't know it can't be diagnosed with a pap smear, she says. Symptoms include pelvic or abdominal pain, back pain, gas, bloating and indigestion, pelvic or abdominal bloating or swelling along with others that can easily be dismissed or mistaken for something else.
"Typically, women aren't diagnosed until they are in the advanced stages. Ninety-five percent of women don't report symptoms because they are so common," Fryar says. The trick is to remember if the symptoms last longer than two weeks and if they are unusual for that person, she says.
Ovarian cancer is the fifth leading cause of cancer-related deaths in women ages 35-74. It used to be considered an older women's disease, but has become more common in younger women, Fryar says. It is estimated that Arkansas will have 190 new cases of ovarian cancer and 150 deaths this year. Nationwide, the 2018 estimated prevalence is 22,240 new cases and 14,000 deaths.
Taryn was diagnosed in September 2013 and died in October 2017. "Basically, she survived exactly four years," says her mother. "She was a really good fighter. She never gave up hope -- even up to the very last minute she kept hope."
For the past three years, Fryar and her husband, Brad, and their company Contractor's Specialty Service Co. have been presenting sponsors of the fundraiser and Fryar continues to volunteer with the organization.
"She loved Teal Light Night," says Fryar about her daughter. "She felt like a princess because she was the youngest one and everyone doted on her."
Teal Light Night is from 7-10:30 p.m. Friday, Sept. 7, in the Great Hall of the Clinton Presidential Center. Tickets are $50. For more information about the event or to learn more about the Arkansas Ovarian Cancer Coalition visit arovcc.org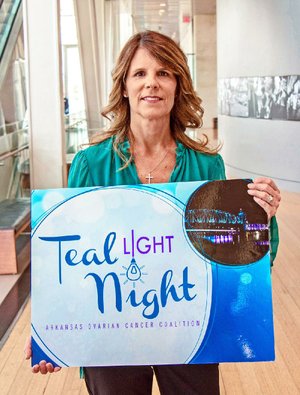 Photo by Cary Jenkins
The yearly fundraiser of the Arkansas Ovarian Cancer Commission — Teal Light Night — raises money to increase awareness and distribute education information to Arkansas women about ovarian cancer. The Sept. 7 event will be at the Clinton Presidential Center.
High Profile on 08/26/2018
Print Headline: Ovarian Cancer Coalition to turn town teal for night
Sponsor Content