Arkansas breweries produced more than 1.2 million gallons of beer in 2017, a better than 35 percent increase over 2016, according to data from the state's Alcoholic Beverage Control Division.
Breweries operating under the state's small-brewery permit made 784,398 gallons of beer or the equivalent of 25,303 barrels in 2017, according to state data, compared with 539,315 gallons or 17,397 barrels in 2016, an increase of 45 percent. A barrel of beer equals 31 gallons. Operations working under microbrewery restaurant permits made 430,381 gallons of beer or 13,883 barrels in 2017, up 25 percent from 345,535 gallons or 11,146 barrels in 2016.
All told, Arkansas breweries made 1,214,779 gallons of beer, or 39,186 barrels, in 2017, up 37 percent from 884,850 gallons or nearly 28,550 barrels from the previous year. The tally comes from a total of 31 active small-brewery permits and 16 microbrewery restaurant permits, according to the documents.
The state's top three breweries kept the same rankings as 2016.
Little Rock-based Lost Forty Brewery, working under a microbrewery restaurant permit, kept the top spot for beer production for the second year running, making 12,075 barrels of beer, nearly a third of the state's total beer produced in 2017. Lost Forty's production was up nearly 30 percent from the year earlier. Core Brewing Co. in Springdale held on to its second-place spot with 4,409 barrels, up 4 percent from 2016. Rogers-based Ozark Beer Co. kept its third-place spot with 3,918 barrels, up 29 percent from 2016. Both Core and Ozark beer report their production under small-brewery permits.
North Little Rock's Flyway Brewing Co. ranked fourth, producing 3,847 barrels of beer in 2017, up 318 percent from 920 barrels in 2016. Diamond Bear Brewing Co. of North Little Rock was fifth, with 2,667 barrels in 2017, down 22 percent from 3,438 barrels in 2016.
Combined, the state's top five breweries made 26,916 barrels of beer or 69 percent of the state's total production figure.
Lost Forty owner John Beachboard said the brewery will continue to increase production in 2018 but not to the level seen in recent years. He projects a 10 percent to 20 percent increase for 2018 with the brewery concentrating on adding new beers to the company's offerings.
He added the brewery plans to maintain its strategy of distributing its beer only in Arkansas. He said limiting distribution to inside the state helps ensure quality and freshness, two aspects he attributed to Lost Forty's ongoing success.
The Brewers Association, a trade group supporting craft breweries, ranked Arkansas 38th in the nation in the number of craft breweries per capita for 2017. U.S. craft breweries produced 25.4 million barrels of beer in 2017, up from 24.5 million in 2016. There were 6,266 craft breweries in operation in 2017 employing a little over 135,000 workers, according to the association.
In 2017 the total value of craft beer sold in the U.S. stood at $26 billion, according to data from the Brewers Association. That represents an 8 percent growth over 2016. For 2017, total beer sales were down 1 percent but craft beer saw a 5 percent volume increase for the period and represented 12.7 percent of all beer production.
Julia Herz, craft beer program director with the Brewers Association, said newer craft breweries are responsible for most of the recent production growth nationwide. She noted production at breweries founded from 2014 through 2017 represented 52.6 percent of production gains in 2017.
She said Arkansas production numbers indicated the state's brewers have a lot of room to grow.
In early 2018, Lost 40 Brewing added capacity to produce more beer and in May, the company won two bronze medals at the World Beer Cup competition in Nashville, Tenn.
In April, Fayetteville-based Fossil Cove said it is leasing space just around the corner from its taproom and brewery and plans to use the new location to produce more beer. In 2017, Fossil Cove made 1,384 barrels of beer, down slightly from 1,403 in 2016.
Last month, Core signed a distribution deal with Dallas-based Glazer's Beer and Beverage. Prior to the deal, Core distributed its own beer in Arkansas and parts of Oklahoma and southwest Missouri. In addition to its sale of beer in cans and kegs, Core operates nine Core Public Houses throughout the state.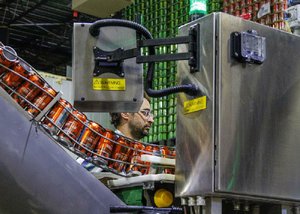 Photo by John Sykes Jr.
Lost Forty production manager Dylan Yelenich keeps an eye on cans of beer flowing off the line at the Little Rock brewery earlier this month.
SundayMonday Business on 08/26/2018