If you have yet to make your way to the new art galleries at the Windgate Center for Art + Design at the University of Arkansas at Little Rock, now's the time.
Two very different, very involving contemporary art exhibits occupy the center's two galleries. And, yes, there's a parking lot right in front of the main entrance. No excuses now.
Art
"Memory/Commitment/Aspiration: The Pierrette Van Cleve Collection"
"Water Memory"
Through Sept. 28; Hours: 9 a.m.-5 p.m. Monday-Friday. Starting Sept. 4, 10 a.m.-5 p.m. Monday-Friday, 10 a.m.-1 p.m. Saturday, 2-5 p.m. Sunday
Brad Cushman Gallery and Level 1 Gallery, Windgate Center of Art + Design, University of Arkansas at Little Rock, 28th Street and East Campus Drive, Little Rock
Admission: Free
Information: (501) 569-8977
Reception: 5-7 p.m. Sept. 5
Lectures: Pierrette Van Cleve will speak in Room 101 of the Windgate Center at 12:15 p.m. Sept. 4 and 6.
"Memory/Commitment/Aspiration: The Pierrette Van Cleve Collection" draws us in with ravishing beauty even as its content confronts the viewer. Created in response to societal and social upheavals, this exhibition wields a power that feels ripped out of today's headlines, and the circumstances -- war, political and social oppression, et al. -- that force people to leave their homes. Though some of the upheavals that sparked much of this art are decades old, they are threads in the fabric of today's realities.
The exhibition fills the Brad Cushman Gallery with works by artists from Cambodia, Vietnam, Thailand, Tibet, China and India. Van Cleve, a California resident, traveled throughout Southeast Asia; the art she bought reflects what the artists witnessed and experienced. They were displaced physically and psychologically from home and culture; their responses reflect fear, grief, defiance, courage and hope. Some risked their lives to paint their truth.
Nowhere is all this clearer than in the work of several Cambodian artists, whose art is informed by the Khmer Rouge genocide in the mid- to late-1970s that killed an estimated 1 million to 3 million people.
Amy Lee Sanford was born in Phnom Penh in 1972. A story published by the Trans-Asia Photography Review stated that her father sent her to the United States at age 2; he disappeared shortly after the Khmer Rouge took power in 1975.
Full Circle, a digital print, is an overhead view with Sanford in the center, surrounded by a circle of clay pots she made from the soil of her father's home village. In Phnom Penh just before her 40th birthday in 2012, she spent six days dropping and shattering each pot, then reassembling it with glue and string. It's an apt metaphor for the shattering of a society and its people and the movement toward rebuilding personal and national psyches. The exhibit includes one of the repaired pots and a video of the street performance.
Other Cambodian artists also created startling works. Anida Yoeu Ali's unsettling digital C print Enter the Red Wind Naga #1 is a portrait of a woman in a red throne-like seat, dressed in red with a long train that flies away and upward. Set in a lush, green landscape, the powerful work suggests she may be exorcising demons and ghosts that haunt the land and people.
Four works by Oeur Sokuntevy are richly textured and folkloric; they are a testament to astounding creative growth in a relatively short period of time. You Khin's oil on canvas, Untitled (Woman scarecrow 2), is a heart-rending metaphor for a people forced into the Khmer Rouge's vision of an agrarian and communal society.
Also memorable is Chinese artist Liu Yan's exquisite, scroll-like Loves Temptation, Chinese ink and mixed media on Chinese book paper. It is a contemporary take on sexual identity through the lens of a very traditional art form.
Vietnamese artists Phan Thanh Minh's My Surrounding People, a 2009 oil on canvas, and H.M. Thang's anguished acrylic portrait Untitled (emerging) are thoughtful and absorbing.
This exhibition is an unsettling, yet magnetic mix of great beauty and intense emotion.
. . .
"Water Memory," an art installation by Jowita Wyszomirska in the Small Gallery at UALR, offers a cool, almost meditative experience.
The glorious drawings on Mylar were inspired by the beauty of Kennicott Glacier and Wrangell-St. Elias National Park and Preserve near McCarthy, Alaska.
It's a very immersive experience; the drawings are 9 feet tall and 36 inches wide and hang from the ceiling in a staggered arrangement that creates an alcove of sorts for the viewer. Approaching it gives viewers a sense of the awe the artist must have experienced. Glass containers of water are at the foot of many of the drawings. All that's missing is the sound of the original environment.
Working with ink, graphite, varnish, acrylic and other materials, the Polish-born artist has impressive drawing skills. Her images show some abstraction, which serves to heighten our awareness of her experience of the glacier and its landscape. In addition to the tall works in the installation, there are other drawings near the entry. Melt 3 is also a multimedia work that, as does the main installation, mesmerizes.
Email:
ewidner@arkansasonline.com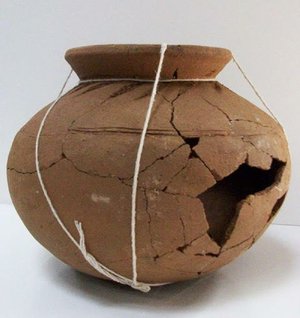 Full Circle: Day 3 (Pot No. 20) is one of the rebuilt pots Amy Lee Sanford shattered to symbolize the impact of the Khmer Rouge genocide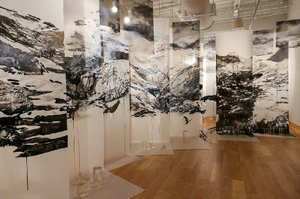 The installation "Water Memory" is on exhibit at the University of Arkansas at Little Rock's Small Gallery in the Windgate Center for Art + Design
Liu Yan's Leisurely and Carefree Mood (Dreamland Series) hangs as part of the "Memory/Commitment/Aspiration" exhibition in the Brad Cushman Gallery at the University of Arkansas at Little Rock.
Style on 08/26/2018