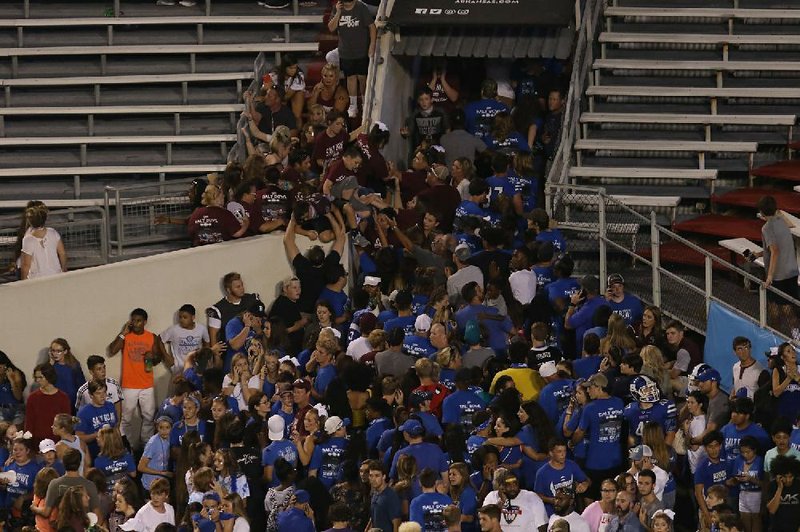 Fans rush to leave War Memorial Stadium on Saturday night after a fight set off a panic in the stadium during the Salt Bowl. ( Mitchell PE Masilun)
A day after crowds of people fled the stands fearing a possible gun threat, parents cheered football at War Memorial Stadium in Little Rock.
While two peewee teams played flag football on the field Sunday, employees moved among the seats to collect trash, discarded blankets and personal belongings after a fight Saturday night had led to rumors of gunfire, causing a panic and a stampede of people fleeing the Salt Bowl, a rivalry game between Bryant and Benton high schools that drew a crowd of about 38,000.
When people ran, they left everything.
Discarded backpacks, cellphones, wallets and keys sat in neat piles in a small cupboard in a stadium office, ready for pickup whenever their owners returned. A couple of rows up from the south end zone, a discarded, half-eaten hamburger sat a few yards away from a blue-and-white baby shoe that was left behind in the panic.
No one had claimed the baby's sandal -- or several other shoes like it -- by Sunday afternoon.
"It goes from 'That'll never happen to me,' to 'It could have been me,'" said Steve Jackson, who had gone to the stadium Saturday to see his stepdaughter, Kya Postlethwait, who plays in the Bryant High School band.
"We were in panic mode. People kept saying, 'Gun, gun, gun,' but was it a single shooter? Was it a mass-murder situation?"
Jackson said he first heard the concern about a gunman from Postlethwait, who ran from the band section to join him and her mother, Annisa Jackson, within minutes. When huge groups of people began running for the exits, Jackson said, they knew something was really wrong.
The family initially hid behind the concrete wall surrounding the football field, believing that if a shooter were nearby, they were at least somewhat protected.
"Then someone said, 'What if it's a bomb?'" Jackson said.
The family crawled beneath a set of bleachers and waited, wondering if they were safe, wondering if they could make it to an exit in time, he said.
The problem was, Jackson said, that no one knew exactly where -- or what -- the threat was.
A day later, state and local authorities gathered in the stadium to try to answer that question: What happened?
After hours of reviewing footage, Arkansas State Parks Director Grady Spann said he had yet to find a video of the fight that reportedly sparked the fans' flight.
The investigation is primarily the responsibility of the Arkansas park rangers, who are working closely with the Police Department to determine who -- if anyone -- is responsible for the panic, Little Rock police spokesman Steve Moore said. The Arkansas Department of Parks and Tourism runs the stadium.
Several people were injured, including one who was trampled by the crowd, another who injured a leg while jumping over a wall and at least five people who were hospitalized for heat-related trauma, according to a Police Department statement.
Gallery: Fight, panic clears War Memorial Stadium
Despite the rumors of gunshots, no evidence of gunfire was found in the stadium and no one was shot during the melee, Moore said.
Instead, the noise people heard was likely that of falling metal barricades, many of which were knocked over during the panic, or noise from a stun gun that was deployed at least twice during the panic, he said.
Meg Matthews, a spokesman for the Department of Parks and Tourism, said Sunday that a security officer confiscated the stun gun from an individual in the stadium's concourse. Matthews said the stun gun had been "dry fired" at approximately 9 p.m.
A dry fire is when the metal prongs of the weapon do not make contact with anyone, Matthews said.
Park rangers know the stun gun was "dry fired," she said, because the weapon makes a certain noise when it is not pressed against anyone. That noise, she said, could have been mistaken for a gunshot.
Matthews said it was not yet clear who saw or heard the stun gun being fired, but that the parks department will pursue charges if suspects are identified.
Law enforcement authorities arrested a woman Saturday on unrelated disturbance charges, Moore said, but people in the fight that reportedly caused the panic got away.
Whatever the cause, Salt Bowl committee member Shane Broadway said the result was a stampede of frightened families rushing from a threat they did not understand.
Audio by Mickey Doyle
"There are images I have from last night of the eyes and the sheer horror of people not knowing where their child or grandchild was that I will never forget," Broadway said. "Unfortunately, our students have been trained for this, and when they saw what they thought was a threat, they ran."
Though many of the images are frightening or disturbing, Broadway said, there were moments of heroism Saturday night, too.
"I saw Benton players putting their helmets on Bryant cheerleaders," Broadway said. "I saw Bryant players shielding kids with their pads, their bodies. It makes me really proud of my community. It makes me proud to be from where I am from."
Gathered in the upper luxury boxes in the stadium Sunday, Broadway said he, Spann, Arkansas Parks and Tourism Executive Director Kane Webb and law enforcement officers from multiple agencies discussed what happened Saturday night and how authorities might better respond in such a situation.
The first step, Broadway said, is ensuring that all staff members and security and law enforcement officers followed stadium evacuation protocol.
The written evacuation protocol, Spann said, includes identifying the threat, neutralizing the threat, calming fans and reuniting families. In this situation, however, with no threat to be found and a huge majority of fans already evacuating themselves, Spann said, staff and security workers had to adjust quickly.
Spann said he is considering a clear-bag policy -- similar to that imposed at Arkansas Razorback football games -- and is looking at other possible security precautions.
"What can you do to be the best prepared?" Broadway said. "That's certainly something we will spend a lot of time determining and walking through. You learn something from every situation, and we learned some things last night."
The stadium, which has 40 seating sections, 32 portals and 12 gates, has an abundance of exits and wide, open ramps. Webb said he thought the design of the stadium could have played a factor in the low number of people who were injured.
"If you get to the ramp, you're basically out," Webb said. "I think that could have been a big help. There are so many exits."
In the scramble, Spann said, families were separated and lost within the crowd. Law enforcement officers spent approximately 30 minutes reuniting families after the ruckus finally calmed.
One child separated from her mother met Jessica Ross, who was fleeing the stadium herself.
Ross said she and her husband, Christopher Ross Sr., saw the 13-year-old girl crying outside the stadium while they were running to their vehicle.
"She had lost her mom," Ross said. "I was on the phone with my mom -- I wanted to just tell her we were OK -- so I hung up and let her call."
She wondered later whether her children would know their phone number or address in case of an emergency.
"We sat down at the kitchen table this morning, and I made them write out their home address," Ross said. "I told them I was going to quiz them. It's sad, but that's just how the world is now. You can't trust anyone anymore."
Ross had gone to the arena Saturday to see her cousin play the first game of his senior year -- and his last in War Memorial Stadium.
"It's such a shame we had to cancel," Broadway said. "It was the right thing to do, but it was a good game. I just hope it doesn't overshadow all the good they did."
Since it began in 2000, the Salt Bowl has become the biggest stage many high school players will ever get to perform on, Broadway said, and for a whole senior class, that night was ruined.
"That's when I teared up last night -- thinking about the seniors," Broadway said. "We do this to create a memory they can always have. I really wish this wasn't what they will remember."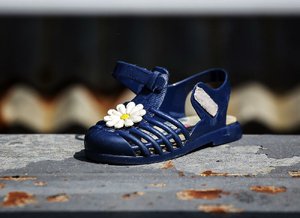 Photo by Mitchell PE Masilun
A child's shoe lies abandoned at War Memorial Stadium in Little Rock on Sunday. A fight during Saturday night's Salt Bowl triggered a panicked exodus from the stadium, prompting people to leave their belongings behind.
Metro on 08/27/2018
Print Headline: Panic's end leaves little relief
Sponsor Content