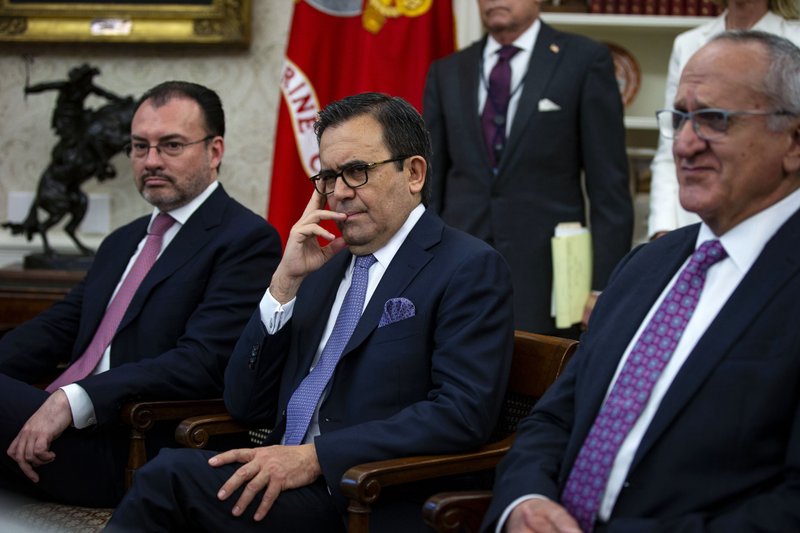 Luis Videgaray, Mexico's foreign minister, left, Ildefonso Guajardo Villarreal, Mexico's secretary of economy, center, and Jesus Seade, chief negotiator for Mexico's president-elect Andres Manuel Lopez Obrador, listen during a phone conversation between U.S. President Donald Trump and Enrique Pena Nieto, Mexico's president, not pictured, in the Oval Office of the White House, on Monday, Aug. 27.
MEXICO CITY -- When President Donald Trump announced a new trade deal with Mexico on Monday, Mexican stocks jumped, the peso gained strength and the country's grueling, 18-month slog through contentious trade talks appeared to be nearing an end.
Mexico, its top officials said with visible relief, had made it through to the other side.
"Today, we have ended a very important uncertainty," Foreign Secretary Luis Videgaray told reporters. "That is the great value of the announcement that we're making today."
The relief, however, has been accompanied by fresh questions about the exact nature of the agreement and how this North American treaty might work if Canada is not a part of it. Videgaray and other top officials said they would do everything they could this week to have Canada included but that Mexico would have a trade agreement with the United States even if Canada opted out.
"The strength of NAFTA is that it is a pact between three countries. We must not lose sight of that," said Alejandro Ramirez Magana, chief executive of Cinepolis, a chain of movie theaters, and one of Mexico's prominent business executives advising on the trade talks.
Antonio Ortiz-Mena, who led the economic affairs section at the Mexican Embassy in Washington for several years, said that negotiating separate deals between Canada, Mexico and the United States would undermine the economic strength of North America and make the continent less competitive against China.
"It's not a minor issue," said Ortiz-Mena, who is now a senior vice president at the Albright Stonebridge Group. "That would significantly disrupt the supply chains that have been established over a quarter century."
With the fine print unavailable, Mexican trade experts and business executives remained uncertain about how the deal might impact the economy. They questioned what would happen to steel and aluminum tariffs that Trump imposed on Mexico. And how Mexico's car industry, a key sector driving the country's economic growth in recent years, would incorporate the new requirements about using North American parts and paying higher wages.
"There are many questions, and we don't have many answers," said Jonathan Heath, an economist in Mexico City. "We still have to see who has conceded what, and I'm a little scared to find out."
Among the key revisions that have been announced is an increase of the percentage of an automobile that would need to be made in North America to qualify for tariff-free trade; the new agreement also requires a certain percentage of cars to be made by workers earning at least $16 an hour. Mexico would be required to take steps toward strengthening its labor unions, although the details are unclear.
Mexico successfully fought off a Trump administration demand that the free trade agreement expire in five years and instead they reached a 16-year deal that comes up for review in six years. Mexico didn't want a treaty that ended every five years because that could discourage long-term investment.
That concession from U.S. negotiators contributed to the sense of relief on the Mexican side.
Jose Manuel Lopez Campos, president of the Confederation of National Chambers of Commerce, Services, and Tourism, said the U.S.-Mexico agreement removes some of the anxiety about the cross-border economic relationship.
"There is certainty, and it alleviates the fear of the possibility of exchange rate volatility, of inflation, or that the volume of sales to the United States diminishes," he said.
During a news conference on Monday, Mexican diplomats and trade negotiators congratulated one another for long hours of strenuous work under the threat of losing a treaty that has been fundamental to the growth of its exports and important sectors of its economy over the past 25 years.
But there was even confusion about the treaty's name itself. Trump coined a new name for the deal, the United States-Mexico Trade Agreement.
"I think it's an elegant name," Trump said.
Mexico quickly shot that down.
"There is still not an agreement on the name," Videgaray said in a news conference later. "If anyone has any good ideas for a new name for the treaty that would be most welcome."
Information for this article was contributed by Gabriela Martinez of The Washington Post.
A Section on 08/29/2018
Print Headline: Mexico praises trade deal
Sponsor Content