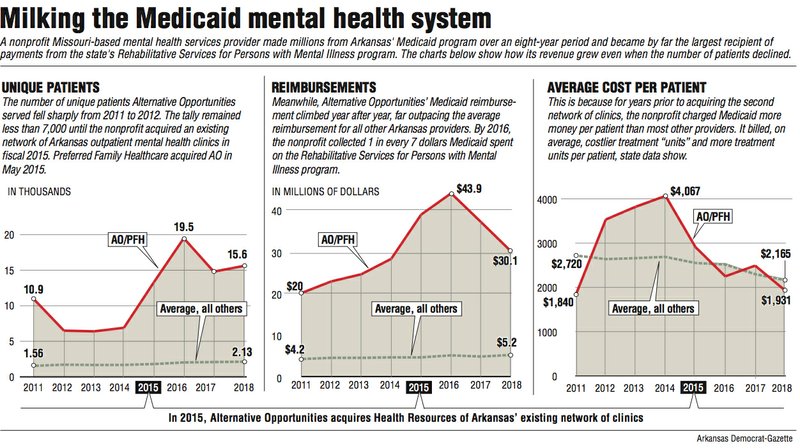 Milking the Medicaid mental health system
A Missouri-based nonprofit became Arkansas' largest provider of state-funded mental health services by milking a flawed system that has drawn the attention of federal prosecutors, an Arkansas Democrat-Gazette investigation found.
The state's Rehabilitative Services for Persons with Mental Illness (RSPMI) program rewarded service providers with handsome reimbursement rates, limited competition and little oversight.
Preferred Family Healthcare Inc. of Springfield, Mo., previously known as Alternative Opportunities Inc., collected $43.9 million from the RSPMI program in 2016 -- one in every seven dollars Arkansas spent on the program that year.
From fiscal 2011 to 2018, Preferred Family/Alternative Opportunities received $245 million in Medicaid payments, a third more than the state's second-largest provider over that span, according to state data.
Now, the nonprofit's former executives are targets of a federal political corruption investigation. And Preferred Family sold its Arkansas subsidiaries in October.
State officials already had identified the RSPMI program's weaknesses in 2008, when they adopted a moratorium on new clinics to try to curb ballooning costs.
But they failed to resolve fundamental problems that made the program susceptible to abuse, the Democrat-Gazette found.
For instance, Arkansas' outpatient mental health program allowed providers to decide which treatments and how many a client received without requiring that a third party meet directly with the patient to verify that the care was needed.
The state paid firms like Preferred Family based on the number of treatments they provided rather than the quality or necessity of care.
Working within this system, Preferred Family Healthcare/Alternative Opportunities billed taxpayers for costlier treatments and more treatments per patient on average than other providers, the newspaper's investigation shows.
That way the company boosted its income even while seeing fewer clients.
The company's Arkansas lobbyist and state director, Milton "Rusty" Cranford, worked to preserve the system by bribing key legislators to introduce friendly legislation or block bothersome rule changes, according to court records.
He also worked closely with state officials to keep rules favorable to his employers -- including the RSPMI moratorium that barred new competitors. He helped the company deliver campaign contributions at key moments, the newspaper found.
Cranford pleaded guilty in western Missouri federal court in June to bribing Arkansas legislators to increase the nonprofit's revenue.
Two other former Preferred Family executives admitted to stealing more than $4 million each from the nonprofit. Federal court filings implicate two other top executives in widespread wrongdoing, but no charges have been filed against them.
Four former Arkansas lawmakers linked to Cranford and Preferred Family/Alternative Opportunities have been convicted of federal public corruption charges since January 2017.
The Democrat-Gazette's report is based on more than 25 interviews with current and former state officials, mental health care providers, advocates and lawmakers. It draws from thousands of pages of public documents -- including state agency emails, court records, Medicaid spending data, tax returns, campaign finance reports, legislative records and archived web pages.
Initially, Arkansas' 2008 RSPMI moratorium, which blocked outside companies from providing mental health treatment to Medicaid patients, was set to expire in one year.
Instead it lasted 10 years, until July, when a program overhaul finally took effect.
A state Department of Human Services fact sheet about the overhaul notes that the RSPMI program suffered from "long wait times for treatment, limited services, and a small group of providers owning the whole system."
John Selig, who was director of the Human Services Department from 2005-15, declined to comment for this article.
Former state officials said the ban stood so long because influential provider groups blocked their proposals to change the system.
Federal charges first publicly referred to the RSPMI program and moratorium in February, in the guilty plea of former Arkansas Rep. Eddie Cooper, D-Melbourne, who also worked for Alternative Opportunities as a regional director.
Federal investigators also questioned former Arkansas Department of Human Services deputy director Steven Jones about the moratorium and seemed "very interested," Jones said in an interview. Jones, who did not oversee RSPMI, pleaded guilty in 2014 to accepting bribes in a separate federal investigation.
U.S. Attorney Duane "DAK" Kees, of the Arkansas Western District, said in an interview that prosecutors in western Missouri are looking into the RSPMI moratorium. A spokesman for the Missouri Western District declined to comment.
'UNMANAGEABLE'
For decades, only 15 or so state-designated "community mental health centers" were certified to provide Medicaid-funded mental health services in Arkansas.
The state set high reimbursement pay rates because it required the centers to provide mental health treatment to low-income and indigent residents not covered by Medicaid or other insurers, said Charlotte Carlson, who worked for decades in Arkansas' mental health field before joining the Department of Human Services to oversee clinic certification.
But in 2000, a coalition of private mental health treatment providers accused state officials of allowing community centers to monopolize the Medicaid market. Arkansas' system was illegal, they claimed. They threatened a lawsuit.
In response, state officials opened the RSPMI program to all private providers, including for-profit companies from out of state. And they kept the high payment rates.
In 2007, the Missouri nonprofit then called Alternative Opportunities entered Arkansas' outpatient mental health treatment market for Medicaid patients.
The company agreed to pay $4.1 million to acquire Dayspring Behavioral Health Services, according to the purchase agreement. An Oklahoma-based for-profit company, Dayspring had been one of Arkansas' Medicaid mental health providers for about five years. About two dozen Dayspring clinics operated in the state by mid-2008.
Alternative Opportunities was only part of the rush into Arkansas' newly opened marketplace.
The state's Medicaid mental health treatment program expanded from 15 to 52 providers, with 300 sites, by 2008.
"Pure profit," said Tom Petrizzo, former chief executive for the provider Ozark Guidance, when asked why so many flocked to Arkansas.
State Medicaid spending on outpatient mental health swelled from $197 million in fiscal 2006 to $254 million in 2008, up 29 percent, according to a Human Services Department analysis.
"Literally, it was unmanageable," said Carlson, who was in charge of clinic and provider certification from 2007 until 2013.
The Human Services Department enacted the moratorium in late 2008 in response to the rapid growth. It was set to expire on Dec. 31, 2009.
The agency later extended that freeze, which allowed for exceptions in cases of client hardship, until the end of 2010, records show.
During 2010, the department also asked experts and providers for guidance in cutting costs, an effort it called "Bending the Arkansas Medicaid Cost Curve."
In a letter, the state chapter of the American Academy of Pediatrics harshly criticized the RSPMI program and state officials' "preferential treatment" of providers like Alternative Opportunities.
The group pointed to exploding costs of antipsychotic medications and inpatient psychiatric care. If RSPMI outpatient counseling services "are providing any benefits to patients, their impact is not obvious," the group said in its March 8, 2010, letter. It questioned whether the outpatient mental health treatment system's "services delivered are achieving any desirable, measurable outcome."
The pediatric group also highlighted inequities in how much Medicaid paid RSPMI providers, saying those rates were closer to "fair market" than rates for primary care doctors.
Those high rates for RSPMI provider companies were no accident, the group suggested: "The providers with the most concentrated economic power have successfully lobbied DHS and the legislature for preferential treatment."
Meanwhile, the moratorium on new RSPMI providers did have an important effect. Growth in Arkansas' Medicaid spending for mental health slowed dramatically, the Human Services Department analysis shows.
Spending rose just 3 percent between fiscal 2008 and 2010, to $264 million.
'AN EXPLETIVE'
Alternative Opportunities and other providers already doing business with the RSPMI program in Arkansas wanted to keep the moratorium in place to protect their pieces of the pie.
In this environment in mid-2010, Cooper sounded an alarm. Relaying a rumor, the lawmaker said the moratorium was in jeopardy.
Federal court records describe an email Cooper sent to Cranford on Tuesday, Aug. 24, 2010, saying he had heard "from a source" that then-Gov. Mike Beebe "was going to lift the moratorium on RSPMI providers."
Cooper also wrote that the source was going to "snoop around" to learn more.
Cranford forwarded Cooper's email to Tom Goss, the nonprofit's chief financial officer, "whose email response consisted of an expletive," according to court documents.
Within 48 hours, the nonprofit delivered $22,000 in campaign contributions to Beebe's re-election campaign.
Nonprofit's campaign cash
The money arrived in $2,000 checks from 11 people who were connected to the nonprofit -- including executives, lower-ranking employees and their family members, the Democrat-Gazette determined.
Four of the donors were Tom Goss, Bontiea Goss and two of Tom Goss' sons. Tom Goss' wife, Bontiea, was Alternative Opportunities' chief operating officer.
Three of the 11 donors never reported another contribution to a state or federal candidate, according to searches of FollowTheMoney.org and Federal Election Commission databases. A fourth gave to other candidates outside Arkansas but never again in this state, the searches show.
The $22,000 single-day total from Alternative Opportunities contributors made up about 5 percent of the $375,000 Beebe raised in that reporting period, but was meager compared with his $5 million total over the entire election cycle.
The Aug. 26 donors did not include Cranford, who had already given the governor's campaign $3,000 -- individually and through one of his lobbying firms. A second Cranford lobbying firm contributed another $1,000 on Aug. 31.
Tom and Bontiea Goss' attorneys, in an emailed joint statement, said the Gosses never discussed the RSPMI moratorium with Beebe. They declined to answer several specific questions, including whether the donations were motivated by Cooper's email.
During an interview at his Searcy home in September, Beebe said he did not remember the donations and strongly denied that they could have been made in exchange for favorable action.
"I have no specific recollection of those checks, or who they were from, or what their amounts were," Beebe said, adding that he didn't know who the Gosses were at the time.
"No one has ever thought, in my opinion, nor has anyone ever approached me, in my opinion, [believing] that giving any money would in some way effectuate a decision I would make," Beebe said.
Morril Harriman, who was Beebe's chief of staff, said contrary to Cooper's email mentioned in court documents, Beebe's support of the RSPMI moratorium did not waver.
"Obviously it was working" to cut Medicaid costs, Harriman said of the freeze, and "obviously that's why it was extended and continued to be extended."
One month after the Alternative Opportunities-connected campaign contributions to Beebe, Human Services Department officials started the process to extend the moratorium further, through the end of 2011.
'END RESULT'
A year later, Cranford again intervened when the moratorium seemed at risk.
He lobbied other mental health treatment companies to help keep the freeze and reported his efforts to Human Services officials, according to agency emails obtained under an Arkansas Freedom of Information Act request.
In September 2011, then-deputy Human Services director Janie Huddleston emailed Cranford after missing his phone call.
"Do I need to call you tonight?" she asked.
Cranford's reply, 20 minutes later, said, "we have" four other providers "so far on board helping us with the extended moratorium."
"Great," Huddleston said. "Thanks."
Huddleston declined interview requests.
By December 2011, efforts to extend the RSPMI moratorium encountered legislative opposition.
One lawmaker on the joint public health committee -- one of two legislative panels tasked with deciding whether to sign off on rule changes -- wondered: Is it "limiting free enterprise," according to a Human Services Department email describing the meeting.
How about a three- to six-month extension, another legislator suggested.
Agency officials argued for the full one-year extension, based largely on their unfinished work recertifying existing providers under new rules, emails show.
The joint public health committee approved the extension, but three lawmakers objected, according to the emailed account.
After that vote, Cranford told Carlson by email that "we were text messaging [committee] members during the meeting."
As she prepared for a second joint legislative committee vote on extending the freeze, Carlson told Cranford to "do it again today." The panel on administrative rules and regulations approved the extension.
Cranford also worked at that time for the state behavioral health care providers' association and represented multiple individual firms.
"Our interest in keeping the moratorium in place may have been different, and I imagine it would have been different," Carlson said of the lobbyist's position. "But the end result would have been the same."
Carlson and other agency officials responsible for controlling Medicaid spending said they were reluctant to lift the moratorium without first changing the "incentives" that rewarded number of treatments rather than quality of services. So they defended the freeze to lawmakers.
But the state agency's efforts to change the incentives repeatedly ran into influential providers and their lobbyists, according to former officials and legislative records. Often, resistance happened outside of public view.
State Rep. Dan Sullivan, R-Jonesboro, the former president of the Arkansas Behavioral Health Providers Association, said companies fought such efforts because the proposals were unnecessary, costly and ineffective. Existing rules were rigorous enough to root out fraud, he said.
"There was always push and pull from provider groups," Carlson said. "Everything that has been done has been done in a negotiated process -- which is our bureaucratic way and our political way."
Aside from working to preserve the moratorium and the RSPMI program's flaws, providers won other battles to water down or eliminate rules they didn't like.
Former state Rep. Hank Wilkins, D-Pine Bluff, in 2013 introduced a "shell bill" that was used as a negotiating tool to eliminate a Human Services agency-proposed scoring system that rated providers like Alternative Opportunities, according to charges filed against Cranford.
Cranford addressed the strategy in an email to his Alternative Opportunities bosses. First, the House would pass the bill. Then, state officials would meet with Wilkins, Cranford and others to negotiate in exchange for ultimately killing the bill in the Senate.
That's exactly what happened, according to prosecutors, who called the resulting "brokered agreement" beneficial to Cranford, the nonprofit and other Cranford clients.
State agency officials viewed the color-coded scoring system as easier for consumers to understand. But their efforts to implement the measure died as part of the agreement.
Wilkins pleaded guilty in April to a federal conspiracy charge and admitted that Cranford and Alternative Opportunities paid him $83,000 in bribes.
'THE FULL MENU'
Alternative Opportunities/Preferred Family's share of Arkansas' Medicaid reimbursements grew steadily during the RSPMI ban.
By fiscal 2011 the company became the state's third-largest recipient of those funds, state data show. The firm reported $3.9 million in revenue over expenses -- or profit -- from its Dayspring outpatient mental health clinics in its fiscal 2011 IRS Form 990.
A year later, Alternative Opportunities ranked No. 1 in Arkansas Medicaid reimbursement and was still growing, even as its client roster fell from 11,000 to 6,500, according state data.
Dayspring profits hit $6.3 million in 2012 and swelled to $11 million in fiscal 2014, according to the tax forms. Its profits become difficult to track in later years because it didn't break out figures after acquiring a second group of Arkansas clinics.
In 2014, Alternative Opportunities reported $4.2 million in total revenue over expenses, including Dayspring and other subsidiaries. Without the Arkansas Medicaid profit, it would have showed a $7 million deficit.
Dayspring also operated in Oklahoma, but its Arkansas Medicaid revenue accounted for about 7 of every 10 dollars that year.
Alternative Opportunities saw another income boost after it acquired Health Resources of Arkansas, a struggling community mental health center, in 2014. Its RSPMI client list rose to 13,000, the data show.
In May 2015, Alternative Opportunities merged with Preferred Family Healthcare of Kirksville, Mo., which had no previous Arkansas presence.
The Preferred Family name survived, but Alternative Opportunities executives assumed key roles at the united firm.
A statement from the Gosses' attorneys noted that the nonprofit's rapid growth provided "much needed services" to parts of rural Arkansas, "which had previously received little or no coverage."
"Obviously, this expansion resulted in increased billing and revenue for Alternative Opportunities."
Preferred Family's board fired the Gosses and other members of its executive team early this year as the federal investigation into bribery and corruption in Arkansas broadened.
Plea agreements that prosecutors reached with Cranford and others implicated Bontiea and Tom Goss in schemes to embezzle from the nonprofit. The Gosses have not been charged.
Preferred Family has sought to distance itself from the former leaders. It filed suit in September against several former employees, including the Gosses, alleging "a series of fraudulent acts, embezzlements, and improper self-serving transactions" amounting to tens of millions of dollars.
Arkansas in June suspended the company from receiving Medicaid reimbursement after Arkansas Attorney General Leslie Rutledge's office charged another former executive, Robin Raveendran, with Medicaid fraud in state court.
Preferred Family in October sold its Arkansas mental health clinics to Hot Springs-based Quapaw House Inc.
Arkansas' moratorium on new mental health providers ended in July,after 10 years, when the state finally overhauled its Rehabilitative Services for Persons with Mental Illness program and renamed it Outpatient Behavioral Health Services.
Among the most significant changes was a requirement that patients undergo an "independent assessment" with a third party before providers bill Medicaid for the costliest treatments.
Previously, "you had this menu of services, so everyone who came in the door got the full menu because that's human nature," said Paula Stone, a deputy director in the Division of Medical Services.
Preferred Family and other mental health providers wielded a lot of power in the Arkansas Legislature when the state adopted the RSPMI moratorium in 2008 and for years afterward, said former Rep. John Burris, R-Harrison.
"Everybody kind of trusted the experts. And the providers were thought to be the experts. I realize now how silly that was," Burris said.
As chairman of the House committee in 2013 that voted on Medicaid legislation, Burris says he had an awakening.
"When you have providers running the system and government writing the checks, there's a problem," he said. "It's too much money and not near enough accountability."
Information for this article was provided by Doug Thompson of the Northwest Arkansas Democrat-Gazette.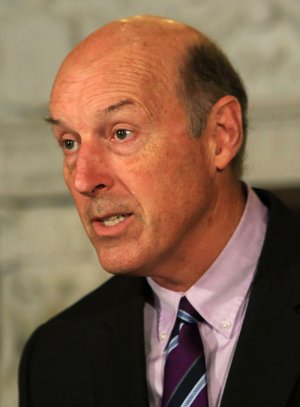 Photo by Democrat-Gazette file photo
John Selig, who was director of the Human Services Department from 2005-15, is shown in this file photo.
SundayMonday on 12/02/2018
Print Headline: Nonprofit cashed in using Arkansas program for mental services
Sponsor Content