Frank Scott Jr. has been elected Little Rock's next mayor.
His opponent, Baker Kurrus, conceded shortly after 8:30 p.m.
At that time, unofficial results from the Pulaski County Election Commission showed Scott with 9,590 votes and Kurrus, with 5,025 votes. Only early and absentee votes had been counted. With all precincts counted, unofficial results at 9:42 p.m. were: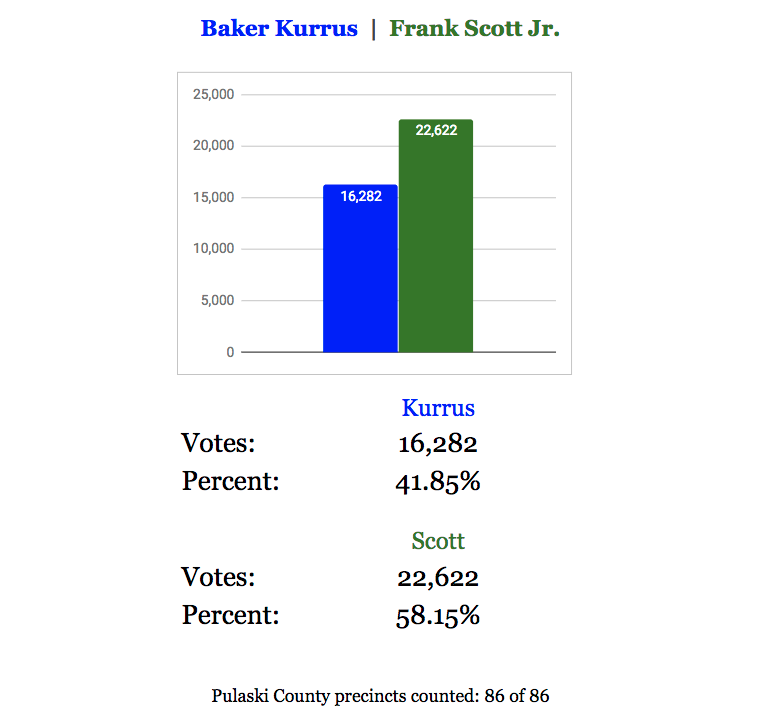 Little Rock mayor results as of 9:42 p.m.
Scott, an adviser to former Gov. Mike Beebe who served on the state Highway Commission, becomes the first African American elected mayor of Little Rock, where divisions linger long after nine black students were escorted past an angry white mob into Little Rock Central High School in 1957.
The city has had two black mayors, but both were elected city directors later chosen for the post by fellow board members.
Scott spoke to a crowd of cheering supporters at his watch party at Cajun's Wharf.
"We started this journey making certain we were going to directly engage each and every voter," he said. "So I thank every volunteer, every team member, every donor, every voter, anybody that shot up a prayer or a positive vibe, we just want to say thank you."
Scott thanked his parents, his supporters, Kurrus and anyone who cast a ballot in the race "whether you voted for me or not."
"For the voters that did not vote for us, I want to earn your support," he said. "Because our mission and vision started on September the 12th, 2017. People thought it was funny, but we wanted to talk about unifying our city."
Kurrus is a 64-year-old attorney and businessman who was superintendent of Little Rock schools after the district was taken over by the state.
Kurrus' contract with the school district wasn't renewed after he opposed the expansion of charter schools in the district, a move that rallied Democratic lawmakers and community leaders to his defense.
Kurrus had also called unifying the city one of his goals in the campaign.
"Let's don't give in to the things that divide us. Let's get together, work hard and make this a better place," Kurrus told supporters after conceding the race.
Scott and Kurrus advanced to the runoff from the general election, where five candidates vied for the position. Scott will succeed Mayor Mark Stodola, who didn't seek reelection.
Read Wednesday's Arkansas Democrat-Gazette for full details.