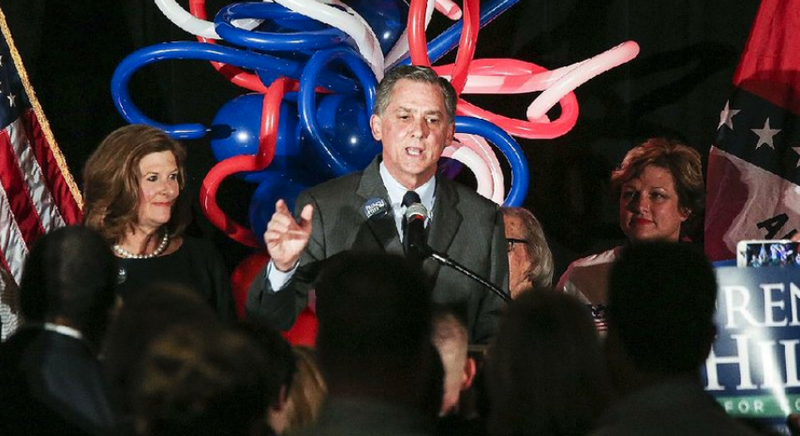 U.S. Rep. French Hill, center, gives his acceptance speech during the Republican watch party at the Embassy Suites in Little Rock Tuesday, Nov 6, 2018. - Photo by Mitchell PE Masilun
WASHINGTON -- The two top candidates in Arkansas' 2nd Congressional District together spent more than $5.6 million on their campaigns, according to forms filed this week with the Federal Election Commission.
The central Arkansas contest was the most competitive House race in Arkansas; national Democratic Party officials had portrayed it as winnable.
U.S. Rep. French Hill, a Republican from Little Rock, reported spending more than $3.3 million on his successful re-election bid.
State Rep. Clarke Tucker, a Democrat from Little Rock, ended up spending more than $2.3 million, his post-election FEC report states.
Hill lost Pulaski County, the state's most populous, but won the other six. He finished with 52.1 percent of the vote. Tucker, who had the backing of the Democratic Congressional Campaign Committee, received 45.8 percent. Libertarian Joe Swafford of Maumelle was third with 2.0 percent.
The election was Nov. 6.
The spending totals surprised University of Arkansas, Fayetteville political science professor Janine Parry.
"That seems like a staggering amount for an Arkansas U.S. House race," she said.
Campaign spending seems to be accelerating nationwide, she noted.
"The floodgates have opened," she said. "[There's] almost unlimited money from almost unlimited sources."
Money poured in to both campaigns during the closing days of the 2018 campaign.
Between Oct. 18 and Nov. 26, Tucker had net contributions of $395,942. During the same period, Hill collected $203,593, the forms show.
At this point, Hill's campaign war chest is nearly depleted. He reported just $92,350 cash on hand as of Nov. 26.
The other three U.S. representatives from Arkansas have deeper reserves to draw upon.
Third District U.S. Rep. Steve Womack, a Republican from Rogers, spent nearly $1.1 million to win re-election. There's plenty available for 2020, however. His campaign reported cash on hand totaling nearly $1.2 million as of Nov. 26. His Democratic opponent, Josh Mahony of Fayetteville, spent $259,712. He reported cash on hand of $201 and debts totaling $46,666.
[2018 ELECTION: Full Democrat-Gazette coverage of Arkansas races]
Fourth District U.S. Rep. Bruce Westerman, a Republican from Hot Springs, spent almost $1.2 million, leaving him with $676,692. His Democratic opponent, Hayden Shamel of Hot Springs, spent $144,655 and finished with $4,037 in the bank.
In the 1st District, U.S. Rep. Rick Crawford, a Republican from Jonesboro, spent $575,070. His opponent, Democrat Chintan Desai of Helena-West Helena, spent $135,769. Crawford's cash on hand on Nov. 26 totaled $323,643, FEC reports show. Desai had no money left over, but also reported no campaign debts.
The leftover funds in the incumbent Republicans' bank accounts may be enough to scare off potential competitors in 2020, Parry said.
The figures may also be a source of comfort for current officeholders.
"The more intimidating the size of the war chest is, the more safe the incumbent feels," Parry added.
Metro on 12/08/2018
Print Headline: $5.6M spent by top candidates in Arkansas' 2nd Congressional District race; contest was most competitive House race in state
Sponsor Content