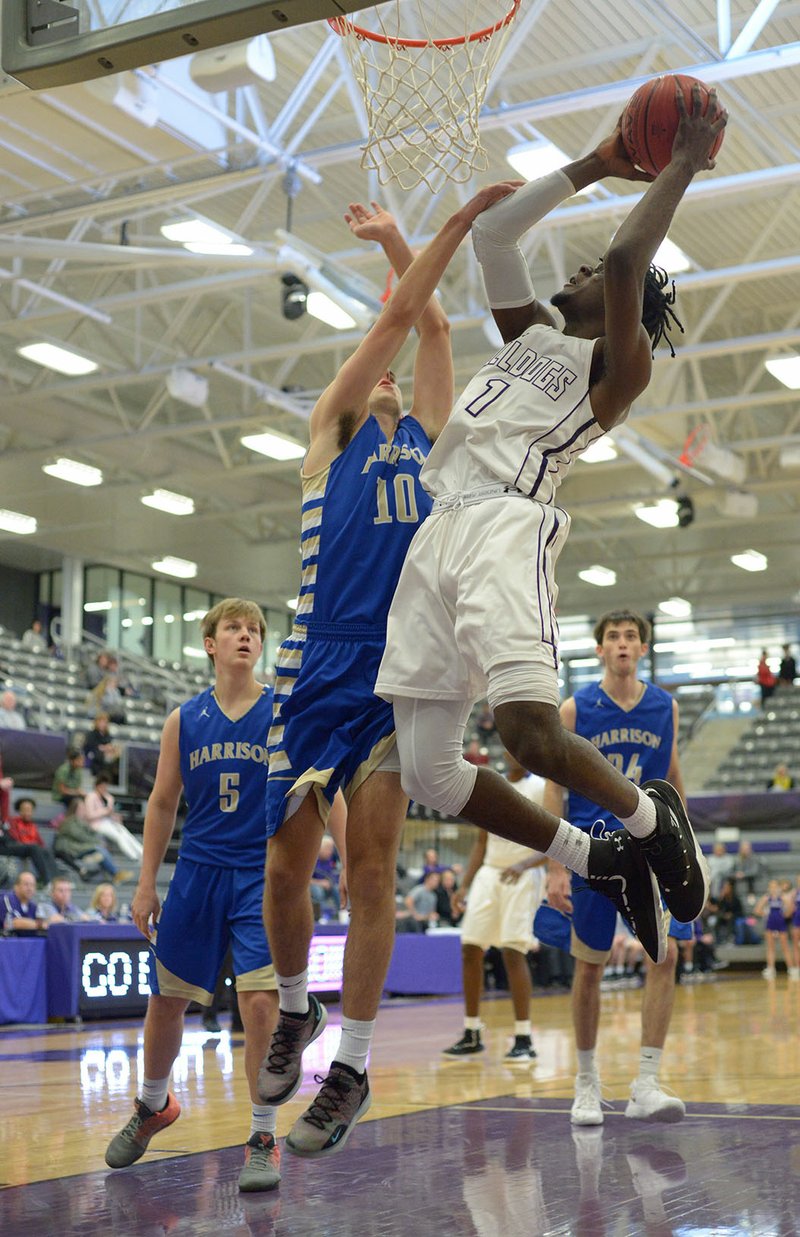 NWA Democrat-Gazette/ANDY SHUPE Fayetteville forward Austin Garrett (1) reaches to score over Harrison forward Carson Journagan (10) Friday, Dec. 7, 2018, during the first half of play in Bulldog Arena. Visit nwadg.com/photos to see more photographs from the game.
FAYETTEVILLE -- Fayetteville received major contributions from its bench Friday to win its second game in the Fayetteville Bulldog Classic.
Hank Gibbs sparked a second-quarter surge and freshman Isaiah Releford played like a veteran in the fourth quarter to help Fayetteville to a 58-46 victory over Harrison at Bulldog Arena. Collin Cooper led the way for Fayetteville with 15 points after he eclipsed 1,000 points for his career during a 67-57 victory over Hot Springs on Thursday.
Fayetteville Bulldog Classic
at Bulldog Arena, Fayetteville
Boys
Friday's results
Fayetteville 58, Harrison 46
Hot Springs 80, Lee's Summit (Mo.) West 62
Blytheville 52, Conway 45
Jacksonville 56, Springdale 54
Today's games
All games cancelled
Fayetteville badly outscored Harrison in the second (15-6) and fourth quarters (16-7) while posting its fifth consecutive victory. Gibbs provided a spark in the second quarter with five points, including a 3-point basket after scoring inside on an assist from Isaiah Releford.
In the fourth quarter, Gibbs took an inside feed from Darius Bowers for a basket to put the Bulldogs ahead 50-46. Gibbs also teamed with Tamaury Releford to help contain Harrison's Carson Journagan, who scored 26 points for Harrison during a win over Lee's Summit (Mo.) West on Thursday.
"Hank had a big impact in the game and he and Darius continue to get better and better," Fayetteville coach Kyle Adams said of the two athletes who played quarterback for the football team at Fayetteville. "They're still getting in basketball shape, which is different from football shape."
Class 4A Harrison (5-2) mounted a comeback in the second half and tied the game on a basket by Journagan with six minutes, 10 seconds left to play. But Isaiah Releford made two steals in the fourth quarter and connected on six consecutive free throws to help Fayetteville secure the victory.
"We're experimenting and playing different lineups to see what works," Adams said. "Isaiah and that second group came in and settled in, and did a good job."
Jacob Shrum added nine points for Harrison while Tamaury Releford had nine points and three blocked shots for Fayetteville (6-1).
"Their inside presence was strong and they went right to it, which was smart," Harrison coach David Stahler said. "We also missed some wide open 3s that hurt."
In other games Friday, Hot Springs defeated Lee's Summit (Mo.) West 80-62, Jacksonville edged Springdale 56-54, and Blytheville beat Conway 52-45.
Fayetteville 58, Harrison 46
Harrison 14 6 19 7-- 46
Fayetteville 14 15 13 16-- 58
Harrison (5-2): Journagan 13, Shrum 9, Elliott 7, Saylors 7, Gundry 6, Martin 4.
Fayetteville (6-1): Cooper 15, I. Releford 11, T. Releford 9, Gibbs 7, Garrett 7, Barrett 3, Bowers 3, Wright 3.
Sports on 12/08/2018
Print Headline: BOYS BASKETBALL Bench play helps Fayetteville top Harrison
Sponsor Content