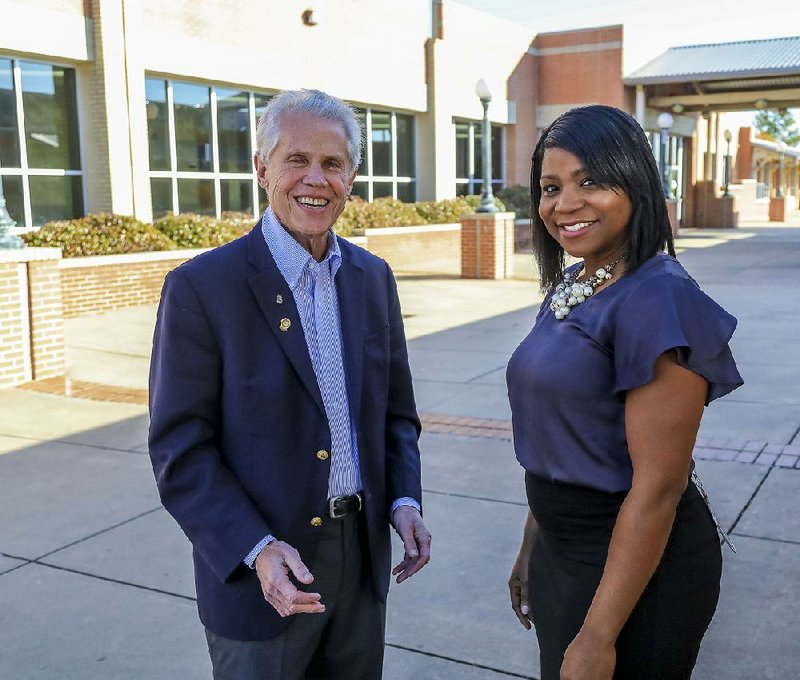 Bright Futures board member Aaron Lubin works closely with Amy B. Cooper, principal of Forest Heights STEM Academy and Bright Futures board chairman, to ensure that they successfully con- nect the needs of Little Rock School District students with existing community resources. "I think that we're going to see more people step up to help Bright Futures, to make donations or contributions of their time, of their resources," Lubin says. ( John Sykes Jr.)
As a semiretired executive coach, Aaron Lubin helps owners and managers of companies grow their businesses, develop their staffs and find talent. He also does some life-skills coaching, professional and personal, and does corporate training and speaking.
Lubin also works with young people, as a mentor and friend. As he's in his 21st year as a volunteer at Gibbs International Magnet School, and as he has also mentored at Pulaski Heights Middle School and Central High, it's only natural that Lubin would be tapped as a board member and volunteer for the Little Rock School District arm of Bright Futures.
Bright Futures is a program designed to ensure future success for students by nurturing the whole child -- not just meeting academic needs but physical, social and economic ones by connecting student needs with community resources. As explained on the program website: "The Bright Futures model brings together businesses, human service agencies, faith-based organizations, and parent groups and partners them with schools in a way that helps them to quickly and efficiently meet students' basic needs -- often within 24 hours. This enables students and teachers to focus on education and achieving success."
When Little Rock Superintendent Mike Poore introduced the program two years ago, he tapped Lubin because of his ongoing school-volunteer experience.
"Bright Futures really is a great title [for the program], because it's about kids having bright futures," Lubin says. "It's what parents are interested in and kids are interested in. Part of your educational process is, 'What is my future going to look like?' You need an education -- not just book learning but social skills."
When he went to school, Lubin recalls, it was all about the "three R's."
"Now there's focus on 'Hey, it's a big world out there, you've got to be able to get along with a diverse population' ... so you've got to be able to have the social skills, the communication skills." And these days, he adds, "we've got both parents working -- didn't have that before. Or you have the single parent ... or you have no parent. It's a lot different today. So they come with different issues outside of the school. Well, if you have those, [it] makes it difficult to learn.
"One of our missions is to help them with these outside challenges so when they come to school, they can be focused on being good students, getting an education, learning good social skills, becoming good citizens."
Amy B. Cooper, principal of Forest Heights STEM Academy and board chairman of Bright Futures, concurs.
"Bright Futures wants to make sure that they [meet needs] within a timely manner to ensure that there's no time lost academically for our students," she says. Being well socially and emotionally is a help to students academically.
Under the umbrella of Bright Futures USA, Bright Futures Little Rock is conducted though Goodwill and Valerie Nix Robinson, who works with both organizations. Requests for help for students go out on Facebook, which is managed by Robinson; the donor picks up the request. Robinson serves as the middleman who makes sure the items get to the family in need.
What types of requests are being filled? Lubin gives scenarios, all of which had resolutions within the organization's 24-hour-window goal. The first week of school, a recently laid-off parent was unable to provide a child with school uniforms. Bright Futures did a call-out on its Facebook page; a donor stepped up, and they were able to provide uniforms for the student.
Another student lost everything in a house fire. Through a partnership with Duck Duck Goose Consignment, Bright Futures was able to provide bedding and clothing. When a school nurse reported an increase in accidents -- students were falling into mud and spilling food on themselves -- a donor responded to a request on the Bright Futures Facebook page, providing undergarments and socks for the students.
Five students needed help obtaining physical-education clothing; program officials met the donor at an area store where the items were bought, then delivered to the students' school. When an unemployed parent needed $500 for a child to participate in a cheer drill team, a Facebook post prompted an anonymous donor to provide most of the money. And when a middle-school student came to school wearing a sleeveless top on a cold day, Bright Futures was able to provide a hoodie.
RAISING AWARENESS
"We have a very generous community," Lubin says. "Our mission is to make people aware of these needs because people step up when they know that there's needs out there."
With Bright Futures, however, providing the students with moral support is just as vital as providing clothing.
"A part of mentoring is to give these kids some confidence and self-worth, because it's very difficult to learn and take on new challenges that you'd have in the school if you don't have some confidence and self-worth," Lubin says.
Being a mentor through Bright Futures involves some rules, but offers fluidity, too. "When you're working with a young student, you've got to be able to ebb and flow," Lubin says. "You have to be able to adjust. If they have something on their mind, or a problem, you want to be able to listen to them and help them through."
One essential thing mentors provide a child with is consistency. "We want our mentors ... to stay with the kids," says Lubin, who has mentored particular children for as long as 12 years. "You see [by] the smile when a mentor comes in and meets with that child, that that kid has been looking forward to that. It's a big part of their day ... seeing their mentor."
Mentors often attend the children's school activities -- plays, musicals, field days -- as well as having lunch with them at the school. Mentors also help teach children such things as how to deal with conflict. "That's a very important social skill to learn," Lubin adds, recalling the time he counseled a child who had a fight with another, urging him to mend the relationship with the other child.
MORE BLESSED TO GIVE
Lubin says he gets more out of mentoring than his mentees do.
"That's what's satisfying," he says. "You've got to deal with all those student problems. But [there's] that satisfaction when a student comes up to you and gives you a hug and you see the smile on that child. And then you see the smile on that teacher or the coach ... That's worth a million bucks."
Bright Futures is a best-kept secret that, Lubin says, he's determined to reveal. He not only suggested setting up a Bright Futures booth at the district's recent magnet school fair, he also manned it -- "it was fun work," he says. He talked to parents who'd not heard of the organization and handed out request forms in case they need help.
"What I've been doing is trying to get the word out to business people in the community about Bright Futures because a lot of business people aren't aware of it," he says. "And they want to help, because they know that ... good schools [and] good kids are going to make good employees for their organizations." With that in mind, Bright Futures is planning an early 2019 breakfast with community organizations, business owners and banks to let them know the mission of the program, share Bright Future stories and give attendees a chance to tap in as donors.
Lubin believes that Bright Futures has, well, a bright future. Very bright.
"I guess I won't use the old expression about a village. But it takes a team today. It takes a team now when you're working with a child. It takes a whole team to be involved in their educational process."
For more information about Bright Futures Little Rock, visit Lrsd.org/content/bright-futures-little-rock or Facebook.com/BrightFuturesLittleRock.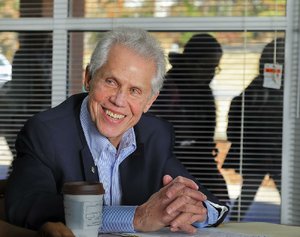 Photo by John Sykes Jr.
Aaron Lubin, a longtime school volunteer who now serves on the board of Bright Futures Little Rock, says he has found that people want to help. That's advantageous to Little Rock School District students who have needs that go beyond the classroom and who benefit from the program, which connects them with donors to help meet those needs.
High Profile on 12/09/2018
Print Headline: Bright Futures mentor aids students in achieving success
Sponsor Content