Everyone eats food. What makes Italians special is that they also live food.
Their cultural identity is wrapped up in tagliatelle, sprinkled with Parmigiano-Reggiano and paired with a Barolo. They talk about food even when they're not talking about food. To say "cool" in Italian, you can use the word "fico," which also means "fig." (That's so fig, you guys!)
This language lesson is particularly important before a visit to FICO Eataly World, an enormous theme park on the outskirts of Bologna, Italy, that's dedicated to understanding and experiencing all of the delicious ways you can stuff your face. In this case, the word has another meaning: It's an abbreviation of Fabbrica Italiana Contadina (basically, "Italian Farming Factory"). In the logo, the "O" is designed to resemble a plump, purple fig. A cutesy, anthropomorphized version of the fruit is FICO's mascot. Think Mickey Mouse, but edible.
Since its grand opening last year, the place hasn't gotten the greatest press. Mostly, people don't understand why anyone going to Bologna — which arguably has the best eats in all of Italy — wouldn't just learn about food by meandering through markets and tucking into local specialties in a trattoria or enoteca. But as an American who has been in the country for more than two years and still feels like a bit of a dummy about Italian cuisine, I figured I could use extra instruction. Plus, I heard there was miniature golf.
So, early one Wednesday morning, I'm across the street from the Bologna Centrale train station boarding the FICO bus, a 20-minute shuttle that zips passengers directly to the 328,000-square-foot complex.
10 a.m.: It's free to enter, so I march through the doors — along with a throng of Italian retirees — and survey my overwhelming surroundings. FICO Eataly World bills itself as "the largest agri-food park in the world," but I'd describe it as a mega food court and food production facility combined with a farm, school, museum, shopping mall and recreation center. As I devour a pistachio-cream-filled pastry from Bell'Italia (one of more than 40 on-site restaurants), I enjoy the motley view, including a promotional display advertising "Calabria: Longevity Trendy Land."
10:30 a.m.: Next stop, info desk. A guy at the counter with impeccable English hands over a map and a catalog of course offerings. I'm all set to sign up for truffle hunting when he sadly informs me: "There is a problem with the dogs today. They are not well." So I register instead for a morning cheese-making lesson ($24) and pick up keys for a FICO Bike. There's no charge to borrow the blue tricycles — designed specifically for the park by Italian manufacturer Bianchi to carry hefty purchases.
10:40 a.m.: Unlocking from the outdoor rack is a cinch. And I'm soon steering myself along the dedicated bike lanes that cut through the middle of the complex, which you can pedal across in a couple of minutes. Bike parking is plentiful, so I pick a spot conveniently located near a gleaming bathroom. Then I hoof it to the dairy.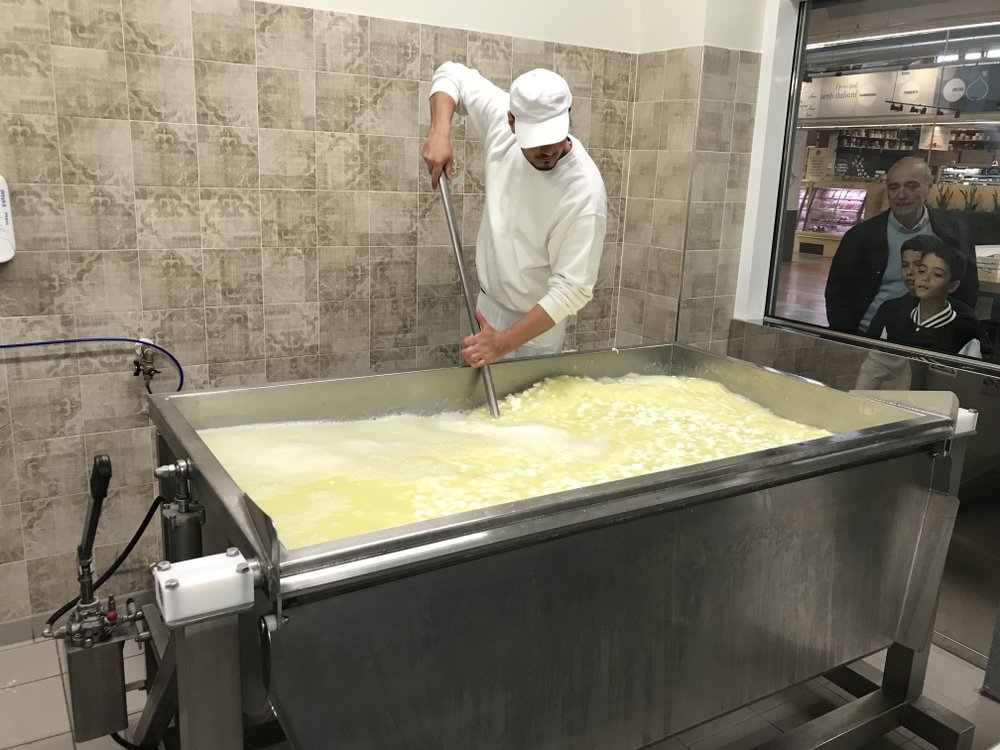 Visitors press up against the windows of an on-site dairy, Caseificio Valsamoggia, to see how cheese is made inside FICO Eataly World.
11 a.m.: As with all of the production facilities here, Caseificio Valsamoggia is set behind big windows so anyone can watch what's happening. But for class, my two classmates and I are invited to the other side of the glass and offered gauzy coats, hairnets and blue slipcovers for our shoes. The cheery cheesemonger takes us on a detailed tour of the equipment and explains that we're making squacquerone, a soft, spreadable variety that is typical of the Emilia-Romagna region. While he lectures, he and his assistant do most of the actual work — stirring a huge milk tank, checking acidity levels — but we novices get to flip some cheese molds. Then we're ushered to a seating area for a tasting that's more like a feast: squacquerone plus two other cheeses (raviggiolo and caciotta), pear jam and fried bread strips. Yum.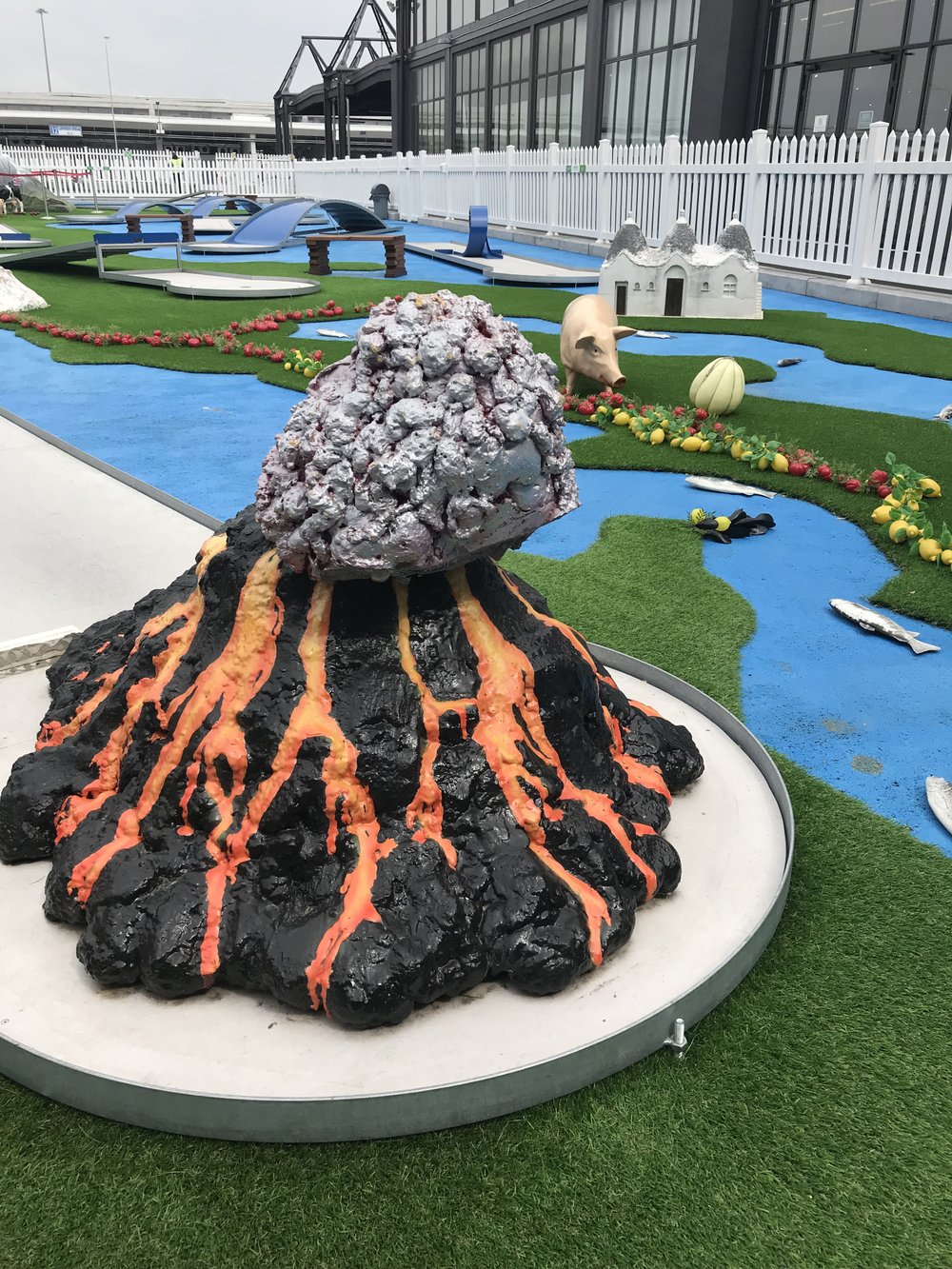 The Italy-theme miniature-golf course at FICO Eataly World is dotted with familiar sights from across the country, including Mount Vesuvius near Naples and Puglia's trulli buildings, with their conical roofs.
12:45 p.m.: Since I'm already feeling cheesy, I figure it's time for that miniature golf ($8). On this drizzly day, no one else agrees. So I get the outdoor 18-hole, Italian-theme course to myself. Tiny versions of the Colosseum, the Leaning Tower of Pisa and trulli (the conical-roofed huts of Puglia) dot the greens. Other embellishments include wheels of cheese, strings of lemons and sheep statues that look particularly disapproving when I miss a shot.
1:15 p.m.: Just beyond a picket fence is where FICO's very real farm animals live. I wander by the free-range geese, and check in with some muscular draft horses. As I peruse the stalls — all of which appear to offer ample living space, but a somewhat depressing parking lot view — I take in the accompanying signs. I learn that the Bergamasca sheep with adorably droopy ears are "considered the best Italian breed for meat production," and that the Nero di Calabria in the pigpen are "typically used for traditional products such as sopressata Calabrese."
1:45 p.m.: That's probably why I avoid the many, many restaurants inside with prosciutto legs hanging from the ceiling, and instead wind up eating lunch at Giardino (it means "Garden"), which boasts an all-vegetarian, Mediterranean menu among a tasteful jungle of plants. On my way to seek dessert, I pause at the nearby beach bar, which welcomes visitors to relax — and recharge their cellphones. I run my fingers through the sand, marvel at the indoor volleyball and soccer pitch and think about how much my kid would dig that slide and balance beam. Down the hall, I find something she would like even more: gelato! The treats ($3) are beside an outpost of Carpigiani Gelato University, Bologna's famed frozen dessert school, where I spy a sorbet class in action.
3:15 p.m.: Back at the info desk, I make afternoon plans, including buying a $12 wristband granting access to FICO's six "carousels." They're not rides, but rather enclosed rooms featuring interactive, multimedia experiences exploring the history and culture of food. How does that work? Bizarrely! That's what I learn upon entering "Man and Fire," which starts with a circular chamber that holds a timeline depicting important moments in burning stuff, from the Big Bang to Apollo 11. Just past a virtual hearth is the cinema, where the audience perches on fake tree stumps to watch a series of fire-theme shorts. In the back are touch-screen quizzes asking questions such as which country exports the most matchsticks. (It's Sweden.) On my way to another carousel — "Man and Earth," which similarly celebrates vegetables — a rep from rice brand Grandi Riso pulls me toward a display of various grains and gives me an unexpected but awesome lecture on when to use arborio vs. Carnaroli.
4:30 p.m.: My education continues at a one-on-one tutorial all about extra-virgin olive oil ($24). Mattia, the guide, ushers me into the full on-site production facility and dives into a theatrical interpretation of the entire process, emphasizing steps where things could go horribly wrong. Then it's on to the olive grove, part of an outdoor ring of agriculture that also includes orchards and vineyards, to see an open-air museum of antique harvesting equipment and a variety of trees brought to FICO from across the country. Finally, it's sample time, with extra attention to olives grown in different climates: beach, valley, forest. And I learn proper tasting technique, which requires keeping your mouth open and your tongue up while you inhale. According to Mattia, "it's like whistling backwards."
6 p.m.: Evening brings in a whole new crowd of visitors. Elementary school kids buzz around the amphitheater for a cooking competition. A bunch of dudes in gym shorts have taken over the functional fitness-training area. After I duck into another carousel, "Man: From Soil to Bottle," which traces the development of olive oil, wine and beer, I realize what I really need is a drink.
7 p.m.: I grab a stool at Birreria Baladin, an outpost of Italy's foremost craft brewer, and order an Isaac, a citrusy wheat beer ($6). Just after I finish up, I pass by a wine store, where I'm offered a complimentary glass of FICO prosecco. That may explain why I find myself really enjoying the final trio of carousels. In "Man and Sea," I take the helm of a ship in a videogame that involves sailing around the coast of Italy to discover a variety of seafood. "Man and Animals" translates each visitor's height into creatures: I'm four chickens, three rabbits and two snails. And "Man and Future" is a hydroponics project that gets visitors to plant a seed in a small box on a conveyor belt. I can track my basil's progress online.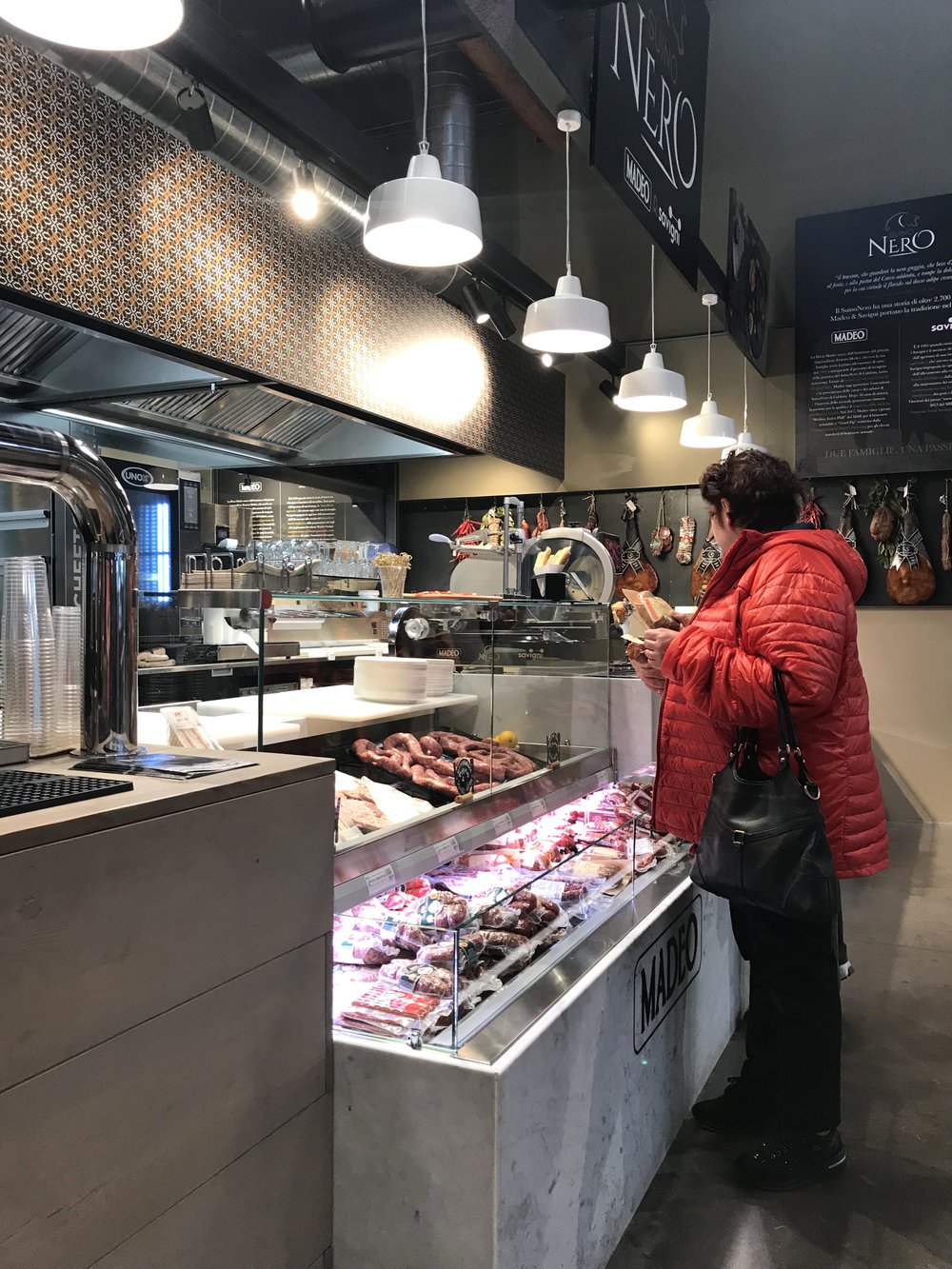 A shopper peruses the sausages at Suino Nero. The products there are all made from Nero di Calabria and Cinta Senese pork.
8:30 p.m.: After crisscrossing FICO Eataly World for hours, I've seen every possible aspect of Italian cuisine -- Neapolitan pizza, an all-potato joint, truffle everything, fried seafood, Mortadella World. So what to get for dinner? It's inevitable as soon as I lay eyes on the menu for Sfogliamo, which specializes in handmade fresh pasta: cappellacci stuffed with candied figs and ricotta, in an orange sauce with toasted almonds.
9:30 p.m.: My plate is finished and so am I. So I ride my nearly forgotten bike back to the entrance, head to the shuttle stop and ponder the last 12 hours. It has been a nonstop smorgasbord of delicious and fascinating things, and although not every element was exactly to my taste, there's plenty to like. And there's still so much I didn't sample — the movie theater, Zumba classes, balsamic vinegar.
Leaving me wanting to go back for more. That's pretty authentically Italian.
FICO Eataly World, Via Paolo Canali 8, eatalyworld.it/en, 10 a.m.-midnight daily, free admission. The shuttle bus from the downtown Bologna train station operates 9:30 a.m.-midnight, every 30 minutes weekdays and 20 minutes weekends, $8.50, ficobus.it/en.
For more information, visit bolognawelcome.com/en.
Travel on 12/16/2018