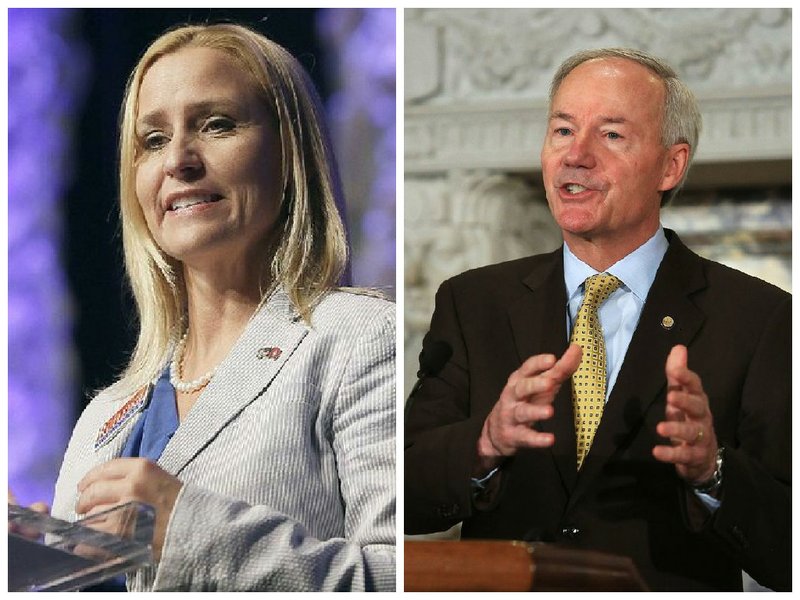 Attorney General Leslie Rutledge, left, and Gov. Asa Hutchinson
Arkansas Gov. Asa Hutchinson and Attorney General Leslie Rutledge were issued public letters of caution by the Arkansas Ethics Commission on Friday for unlawful contributions made to their re-election campaigns this year.
The letters were made public in records released by the Ethics Commission. The commission determined that both Republicans' violations were unintentional.
Hutchinson, who won a second four-year term in November, accepted campaign contributions from two individuals in excess of the $2,700 allowed under Arkansas law. The campaign, which had retained an accounting firm to handle finances and reporting, issued refunds to both individuals.
"The Ethics Commission acknowledged this as an unintentional error that was corrected as soon as it was brought to the attention of the campaign," said Jon Gilmore, Hutchinson's chief political strategist. "The Ethics Commission has little discretion on these reporting errors, and the commission handled the matter appropriately in accordance with their rules."
Rutledge, who also won a second four-year term last month, received the letter of caution for accepting $2,700 from the Republican Attorneys General Association Arkansas PAC before the group had registered with the Arkansas secretary of state's office.
[2018 ELECTION: Full Democrat-Gazette coverage of Arkansas races]
The group faxed the secretary of state's office a copy of its registration form the same day as the donation to Rutledge, but the submission wasn't accepted because it wasn't made online.
"As the Consent Order notes, the unintentional error occurred when the campaign accepted a contribution from the Republican Attorneys General Association PAC after RAGA PAC faxed their registration to the Secretary of State but before the PAC filed online under the new requirement. The full amount of the contribution was returned before the election," a statement provided by spokesman Amanda Priest said.
Both complaints were made to the commission by Matt Campbell, a left-leaning attorney and blogger. However, the Hutchinson campaign self-reported one of the excessive contributions, according to the commission's letter.
Metro on 12/22/2018
Print Headline: Donations earn Arkansas AG, governor ethics hits; gifts to campaigns deemed unlawful
Sponsor Content