Catalans protest Spain Cabinet session
BARCELONA, Spain -- Thousands of pro-independence protesters angry about Spain's Cabinet holding a meeting in Catalonia blocked roads across the region Friday and clashed with riot police in its capital.
A dozen protesters were arrested, and scores were injured during the clashes, the regional Mossos d'Esquadra police said after the meeting in Barcelona finished.
Spain's center-left government announced a series of gestures, including steps to reverse the conviction of a Catalan president executed in 1940, and infrastructure works for the northeastern region, along with the highest increase in the national minimum wage in four decades.
But the most radical protesters seemed unimpressed, confronting police in anti-riot gear in the streets of Barcelona, angry at Prime Minister Pedro Sanchez's presence in the city.
The Catalan regional government, formed by a coalition of pro-secession parties, had called on people to protest peacefully despite an agreement with central authorities to find a way out of the political crisis that has festered since Catalonia's failed secession attempt last year.
After their encounter on Thursday -- the second since both took power earlier this year -- Sanchez and Catalan President Quim Torra issued a joint statement calling for dialogue to settle the conflict over the future of Catalonia.
The Mossos police force said that 43 people, including 28 agents, were injured.
Israelis kill boy in car, 3 Gaza protesters
JERUSALEM -- The Israeli military on Friday confirmed the fatal shooting of a Palestinian car passenger in the West Bank, while a second Palestinian teenager was killed in a weekly border demonstration in the Gaza Strip.
The army said it opened fire on the car after it broke through a West Bank checkpoint. The military said it was on high alert in the area after shots were fired from a Palestinian village late Thursday. It said soldiers fired warning shots in the air when the driver ignored orders to halt and sped up instead. The army said it responded with live fire, killing one passenger.
The Palestinian Health Ministry identified the dead passenger as Qasim Abbasi, 17, from east Jerusalem.
His cousin, Mohammed Abbasi, said he, Qasim, and a friend were driving out of the Palestinian city of Ramallah when an Israeli soldier told them the road was closed. Mohammed Abbasi said that when the driver tried to make a U-turn, a soldier fired at their car, shattering the rear window and striking Qasim in the back.
Abbasi said he and his friend, who was driving, were not injured. He said they were released after being interrogated by police.
Meanwhile in Gaza, health officials said that Israeli gunfire killed a 16-year-old during a weekly protest in east Gaza City near the Israeli border.
Mohammed Jahjouh was shot in the neck, Gaza's Health Ministry said, adding that 70 other protesters were wounded.
In the evening, the ministry announced that two more Palestinians, aged 28 and 40, died of wounds they suffered earlier in the day. It said they were hit by Israeli fire.
Djibouti nets suspect in '15 Paris attack
PARIS -- French authorities confirmed on Friday the arrest of a suspected extremist linked to the 2015 attack on the Charlie Hebdo satirical magazine where 12 people were killed.
The Paris prosecutor's office confirmed the arrest after French media outlets reported that French citizen Peter Cherif, also known as Abu Hamza, had been arrested in Djibouti.
Speaking to RTL radio, the minister for the armed forces, Florence Parly, welcomed "very good news because this terrorist played an important role in organizing the Charlie Hebdo attack."
On Jan. 7, 2015, brothers Cherif and Said Kouachi killed 11 people at Charlie Hebdo's office, and a police officer in a nearby street. In the days after, their associate, Amedy Coulibaly, killed an officer outside Paris and four people during a hostage-taking at a kosher supermarket. The three attackers were killed in shootouts with police.
A judicial official who is not authorized to speak publicly said Cherif is not being held at the request of French authorities.
Bus in Nepal goes off hill; 21 riders die
KATHMANDU, Nepal -- A bus carrying college students and their instructors back from a botany field trip drove off a highway Friday in a mountainous area, leaving 21 dead and 15 injured, police said.
The bus plunged down a mountainous slope and rolled about 1,640 feet, police said.
The Nepalese students and instructors from Krishna Sen Ichhuk Polytechnic Institute had been visiting a farm in a nearby district.
Rescue operations were difficult at the crash site near Ramri village, about 250 miles west of the capital, Kathmandu, because the crash happened in a remote area and the wreckage was scattered.
-- Compiled by Democrat-Gazette staff from wire reports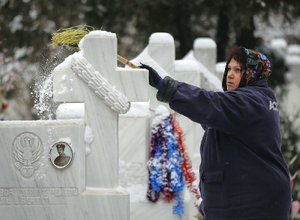 Photo by AP/VADIM GHIRDA
A woman clears snow from a grave before a memorial service Friday in Bucharest, Romania, for victims of an anti-communist uprising in 1989. More than 1,000 people were killed in the revolt that ended the rule of dictator Nicolae Ceausescu.
A Section on 12/22/2018