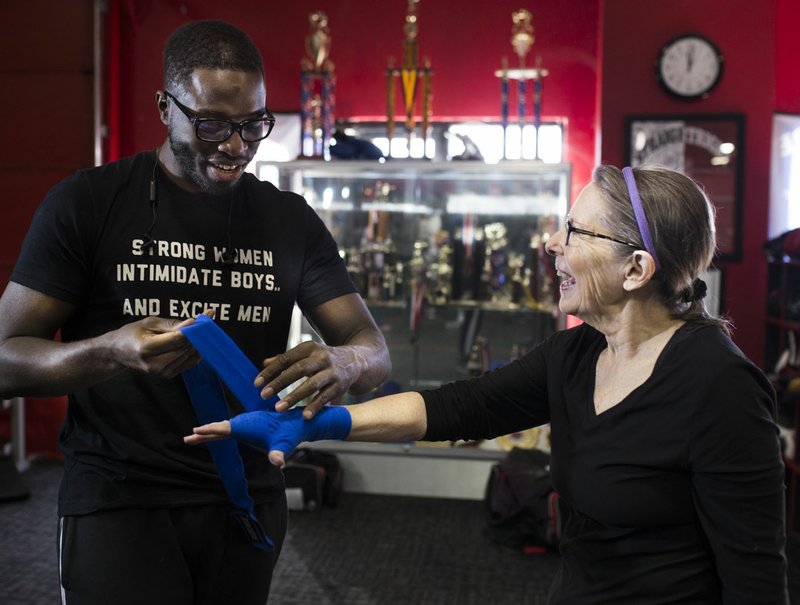 NWA Democrat-Gazette/CHARLIE KAIJO Strightright boxing coach Bernard Oliver puts hand wraps on the hands of Jonelle Lipscomb (from left) during a boxing class geared towards people with Parkinson's disease, Monday, December 10, 2018 at Straightright Boxing and Fitness Springdale.
SPRINGDALE -- Jonelle Lipscomb stood up when she heard the bell and pounded her gloved fists together with a pop.
It was go-time for another round. She wore a determined look on her face as she walked toward her opponent, a 150-pound punching bag hanging from the ceiling on chains. She set her feet, raised her lime green leather boxing gloves to face level and prepared for the fight of her life.
"I never thought boxing would be part of my life," she said.
Lipscomb, 65, of Fayetteville, is one of an estimated 7 to 11 million people worldwide affected by Parkinson's Disease. The disease can affect motor skills and cause symptoms like uncontrollable tremors, difficulty in maintaining balance and stiffness of the limbs because of a reduction in dopamine levels in the brain.
On a Monday afternoon, Lipscomb was part of a group of eight boxers from Health South Rehabilitation Hospital in Fayetteville that partners with Straight Right Boxing and Fitness in Springdale to provide a unique program for those with Parkinson's.
Straight Right started its Springdale Parkinson's program about a year ago, and more are planned for their other gyms in Little Rock and Siloam Springs, owner Kevin Lightburn said.
In the boxing program, participants wrap their hands and wrists and pull on a pair of boxing gloves. They move their way through a vigorous hourlong workout two days per week that consists of punching a heavy bag, cardio exercises and strength training. They also play memory games that stimulate their ability to think and react quickly.
While Lipscomb may not have envisioned a career in boxing, she pummeled the bag with fists of fury.
"I really like that they push you, not beyond what you can do, but they push you to really do your best," Lipscomb said during a break. "I'm not even sure how to describe it, but it's like a total release of energy to hit these bags. And that feels great because with Parkinson's you tend to pull in and restrict yourself. So that is just an explosion of energy.
"It feels good to explode."
Lipscomb was diagnosed with Parkinson's in 2011. She reports marked improvement in her strength and balance in just six months in the boxing program, adding she also participates in another exercise program and is also a hiker.
"This program has made me feel like I am capable of continuing to grow physically as a person as opposed to shrinking as a person," she said. "I am moving forward."
USE IT OR LOSE IT
Dr. Tuhin Virmani is an assistant professor of neurology at the University of Arkansas for Medical Sciences in Little Rock and is director of the Movement Disorders Program.
Virmani said studies have shown people with Parkinson's benefit from exercise, particularly strenuous exercise like boxing and cycling. He said a number of his patients at UAMS are currently in the Rock Steady Boxing program.
Rock Steady Boxing programs are found all across the world, but until about a year ago none existed in Arkansas. Now there are more than five, with the first opening in North Little Rock. The program was founded in 2006 by Scott Newman, an attorney in Indiana who was diagnosed with Parkinson's at the age of 40. The Straight Right programs are not affiliated with Rock Steady.
"I don't know if we know entirely how the physiology works, but in the last several years there have been a number of published studies that have compared strenuous exercise vs. less strenuous exercise and no exercise vs. some exercise and definitely any exercise is better than no exercise," Virmani said. "It appears more strenuous exercise patients who are on it for a period of time do better on scores that we check on our movement disorders exam. Overall, they feel better, they feel their quality of life has improved, and they have more energy to do more and want to do more."
The repetitive exercise of boxing, like repeatedly hitting a bag in a punching or kicking sequence helps the participants with autonomy, Virmani said. Those repetitive movements have a direct correlation to simple daily tasks like buttoning a shirt or cutting food, things that require dexterity are often forgotten as the disease progresses.
"Doing the same thing over and over seems to be able to retrain the brain a little better," Virmani said. "These things become an automatic movement. The repetitive movement seems to bring back those automatic circuits that are being impaired in the disease."
Virmani stressed that regardless of the exercise program they choose, the most important thing for those with Parkinson's is to remain active.
"Keep moving for as long as possible," he said. "If you quit using it, you lose it."
ROPE-A-DOPE
It's somewhat ironic that boxing is benefiting those with Parkinson's disease considering perhaps the most famous Parkinson's patient was also one of the greatest boxers in history.
Muhammad Ali was diagnosed with Parkinson's in 1984, and he lived with the disease until his death in 2016. Dr. Dennis Cope, who was Ali's physician in the 1990s, said in an interview on 60 Minutes in 1996 that it was his belief that repeated blows to the head in the boxing ring is what triggered Ali's Parkinson's Disease. Other doctors have disputed that claim, as did Ali.
"Rope-A-Dope" is a phrase coined by Ali in the mid-1970s when he famously leaned against the ring ropes in a fight against George Foreman and let Foreman fire harmless punches at Ali's arms and torso. When Foreman tired, Ali attacked. The strategy worked as Ali won the fight.
That same phrase could apply to the boxers in these Parkinson's programs today, but for an entirely different reason.
Dopamine is a chemical found in the brain that serves as a messenger. Parkinson's slowly decreases the amount of dopamine over a period of time, which in turn causes brain cells to die. This can trigger symptoms like tremors, slowed motor skills and issues with balance.
In a small upstairs room in a nondescript building in Rogers, four members of Gabrielle Weber Campbell's Rock Steady Boxing class have their own motivational phrase.
"I scream, you scream, we all scream for dopamine," they chanted in unison.
"Usually, by the time someone starts to notice symptoms, they've had the disease for a period of time," Campbell said, adding that usually by then, more than 60 percent of dopamine levels in the brain are already lost.
Virmani said there are no studies that support the replenishment of lost dopamine through vigorous exercise, but there are studies where doctors are trying to determine if strenuous exercise could invigorate what dopamine remains in the brain of those with the disease.
In Campbell's class, the participants not only boxed, but they also kicked a small ball around the room and hopped and stepped through ladder drills that focused on balance and footwork.
"In this program, we try to take them out of their comfort zone," Campbell said. "We teach them things they normally would not do."
SOCIAL BENEFITS
Mike Brown speculates he'd had Parkinson's for four years before he was actually diagnosed in 2013 after experiencing numbness on his right side. He said he learned about the Rock Steady Boxing program from friends who saw it on television.
Brown, who lives in Missouri, said initially he drove to Springfield for almost a year, which at the time was the closest Rock Steady program until Campbell started the Rogers program in November.
When Brown first heard of the program, he did not envision the high level of intensity it required, he said.
"I was thinking it was going to be more of a social thing than a workout," Brown said, wiping perspiration from his brow. "I've noticed a big difference in my balance since I started about a year ago. We work a lot of the small muscles, and that's helped me. I'm not shuffling when I walk like I used to.
"I've also developed friendships in the program. You develop friendships rapidly when you have something in common."
Virmani said that is one of the major benefits of the boxing program.
"That is the one thing that almost all my patients report is they really like the fact that they are exercising with a group who have similar problems to them," he said. "So they are not just going to the gym with all sorts of conditions; they are in a program where there are only Parkinson's patients with them, so they feel less self-conscious, and they kind of do more and push themselves more."
Campbell said she expected only two or three participants when she opened the Rogers gym, but there was twice that number in the first month and more looking to join, she said.
TIPS FROM A PRO
Bernard Oliver understands firsthand how a medical diagnosis can turn a person's life upside down, as a heart condition derailed his college football career before it ever got started.
He was a walk-on at Arkansas but failed his pre-season physical. With football no longer an option, he turned to boxing. He has since been cleared of any heart issues and has fought in several Golden Gloves bouts.
On this day, Oliver is conducting the boxing class at Straight Right Boxing and leading the Parkinson's group through a tough set that included push-ups, squats and memory tasks while they pounded the heavy hanging bags.
"One, three, one!" Oliver barks. "Two, three, two."
The members repeat the number sequence, which correlates to certain punches. Left jabs are one, right crosses are two and so on. The members of the class not only have to loudly call out the number sequence, but they also have to hit the bags with the correct combinations.
The success stories are what motivates Oliver. He relates a story about a class member who was missing this day. Before a recent workout, he was wrapping her hands and wrists as protection before putting on boxing gloves when she asked if he noticed anything different.
"I'm oblivious to what she's talking about," Oliver said. "I was just looking at her hand, and she said, 'Bernard, I'm not shaking.' I kind of teared up a little bit. And that is because of boxing and what she's gotten from this class.
"That's why we started this class, to help people with their health."
STAGES OF PARKINSON'S
Parkinson's disease (PD) impacts people in different ways. Not everyone will experience all the symptoms of Parkinson's or experience them in the same order or intensity. There are typical patterns of progression in Parkinson's disease that are defined in stages.
Stage One
During this initial stage, the person has mild symptoms that generally do not interfere with daily activities. Tremor and other movement symptoms occur on one side of the body only. Changes in posture, walking and facial expressions occur.
Stage Two
Symptoms start getting worse. Tremor, rigidity and other movement symptoms affect both sides of the body. Walking problems and poor posture may be apparent. The person is still able to live alone, but daily tasks are more difficult and lengthy.
Stage Three
Considered mid-stage, loss of balance and slowness of movements are hallmarks. Falls are more common. The person is still fully independent, but symptoms significantly impair activities such as dressing and eating.
Stage Four
At this point, symptoms are severe and limiting. It's possible to stand without assistance, but movement may require a walker. The person needs help with activities of daily living and is unable to live alone.
Stage Five
This is the most advanced and debilitating stage. Stiffness in the legs may make it impossible to stand or walk. The person requires a wheelchair or is bedridden. Around-the-clock nursing care is required for all activities. The person may experience hallucinations and delusions. The Parkinson's community acknowledges that there are many important non-motor symptoms as well as motor symptoms.
Source: Parkinson.org
Sports on 12/23/2018
Print Headline: The Fight Club
Sponsor Content