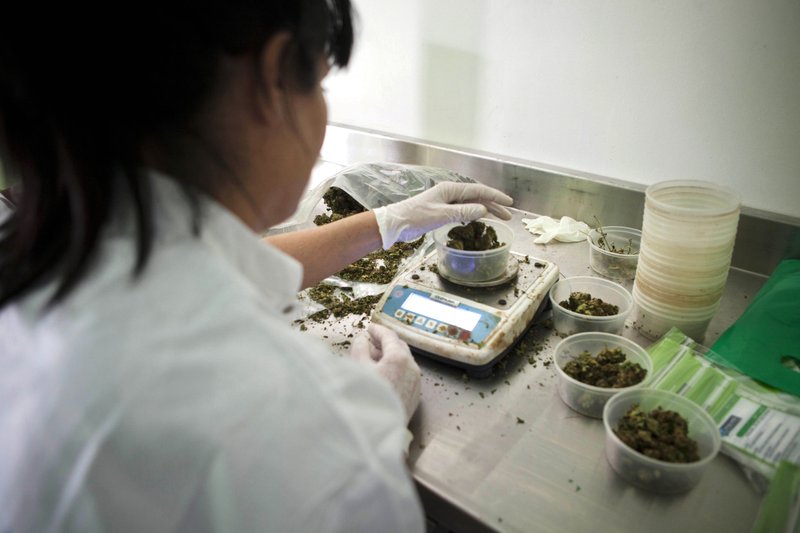 In this Nov. 1, 2012 file photo, an Israeli woman works at Tikkun Olam medical cannabis farm, near the northern Israeli city of Safed, Israel. (AP Photo/Dan Balilty, File)
Organic-grain scam defrauds thousands
CEDAR RAPIDS, Iowa -- Prosecutors say thousands of individuals and businesses were victims of a large-scale scheme in which ordinary corn and soybeans were fraudulently marketed nationwide as "certified organic."
The U.S. attorney's office in Cedar Rapids, Iowa, said in a filing Wednesday that potentially "tens of thousands" were defrauded by Randy Constant and his associates into paying a premium for products that they didn't want.
Constant of Chillicothe, Mo., and three others have pleaded guilty and are awaiting sentencing. Constant, who owned an Iowa grain brokerage, acknowledged that he sold $142 million worth of corn, soybeans and wheat over a 7 ½ year period that wasn't organic despite his representations.
Constant was aware that most of his product was grown using nonorganic methods. The buyers included companies who processed the grain into other products that were marketed as organic.
-- The Associated Press
Chesapeake Energy shares jump 26%
Chesapeake Energy Corp. shares rose 26 percent Wednesday, the most since February, after board member Archie Dunham, former chief executive of ConocoPhillips' predecessor company, bought more than $4 million in additional stock.
The driller rose 46 cents to close at $2.19 a share in New York.
Dunham purchased 2.1 million shares Friday, according to a filing with the U.S. Securities and Exchange Commission, nearly doubling his position this month to more than 1 percent of the company.
The company's shares have fallen 36 percent since the end of November, cutting its market capitalization to $1.9 billion. Despite a recent surge in natural gas prices, the whole sector has felt the weight of falling crude prices and the broader equities rout. Chesapeake is in the midst of a strategy change, focusing more on oil production to become less reliant on gas. It agreed to buy WildHorse Resource Development Corp., a crude driller in Texas and Louisiana, in October for $2.27 billion.
Dunham is the former chief executive officer of Conoco Inc., the predecessor to ConocoPhillips. He was appointed non-executive chairman of Chesapeake in 2012 over concerns about the company's debt and spending under then-CEO and co-founder Aubrey McClendon. Together, Dunham and Chesapeake Chairman R. Brad Martin have bought shares several times in December.
Gordon Pennoyer, a spokesman for Chesapeake, didn't immediately return a call seeking comment.
-- Bloomberg News
Israel to allow exports of medical pot
JERUSALEM -- Israel's Parliament has unanimously approved a law to permit exports of medical marijuana, allowing Israel to tap the lucrative global market.
Israel will become the third country, after the Netherlands and Canada, to take its medical cannabis global.
The Israeli medical cannabis company iCAN predicts the global industry will reach $33 billion in the next five years, as stigma fades and demand grows for the few countries certified to export.
The law was approved late Tuesday, sending cannabis company shares rising by about 10 percent.
The law was stalled for years over fears from security officials that medical marijuana would leak into the black market. To assuage concerns, the law empowers police to supervise licensing.
The Israeli Cabinet must give final approval -- a step seen as a formality.
-- The Associated Press
Gap to close its Fifth Avenue site in NYC
Gap Inc. plans to shutter one of its major New York City stores next month.
The clothing retailer, which said in November that it may close hundreds of underperforming Gap stores, will shutter a three-story location at 680 Fifth Ave. on Jan. 20, the company confirmed in an email. Chief Executive Officer Art Peck also said last month that the value of some flagship locations is being scrutinized.
Gap, which also operates the Old Navy and Banana Republic chains, has seen sales slide at its namesake brand amid broader struggles for some brick-and-mortar clothing retailers. It's hoping that shuttering weak stores will boost the bottom line. The Fifth Avenue store is just south of Trump Tower in an area with high rents that is frequented by tourists, particularly during the holiday season because of its proximity to Rockefeller Center.
Gap shares, which rose 4.6 percent Wednesday, have lost about a quarter of their value in 2018. Peers such as American Eagle Outfitters Inc. and Abercrombie & Fitch Co. have posted gains this year.
CNBC earlier reported the store's closing.
-- Bloomberg News
Nissan updates cross-shareholding code
Nissan is updating its corporate governance code, a month after the arrest and indictment of former Chairman Carlos Ghosn brought differences with partner Renault out in the open after a two-decade partnership.
As part of the new code, Nissan clarified its policy on cross-shareholdings, in which two companies hold stakes in each other. The board will examine whether the purpose of each such shareholding is appropriate and whether the benefits and risks cover the cost of capital.
A Nissan spokesman said Wednesday that the exchange filing on Christmas Day was routine and mandatory to comply with Japanese corporate governance code requirements. The deadline for such submissions was the end of the calendar year and therefore the timing of the release wasn't unusual.
"The policy itself has not changed in any way, and the clarification does not refer to alliance partners, but rather to the company's holdings in certain other listed companies," Nissan said in an email. "Nissan is one of hundreds of listed companies in Japan issuing an update at this time in this manner."
Renault is the largest shareholder in Nissan and the Asian company in return is the second-largest shareholder in the French carmaker. The two companies also have minority shareholdings in Germany's Daimler AG. Nissan said it also has minority cross-shareholding with other companies.
Nissan's exchange filing comes at a time when Renault asked the Japanese company to call a shareholder meeting to discuss corporate governance issues. Bloomberg News reported earlier that Nissan was shoring up cash to build its firepower amid tensions with Renault.
The move comes as the two longtime partners have differed over how they approach the issue of Ghosn's arrest. While Nissan immediately sacked the official as its chairman, Renault chose a different option by naming a deputy for the chief executive officer role he played at the French carmaker.
-- Bloomberg News
Business on 12/27/2018
Print Headline: Business news in brief
Sponsor Content