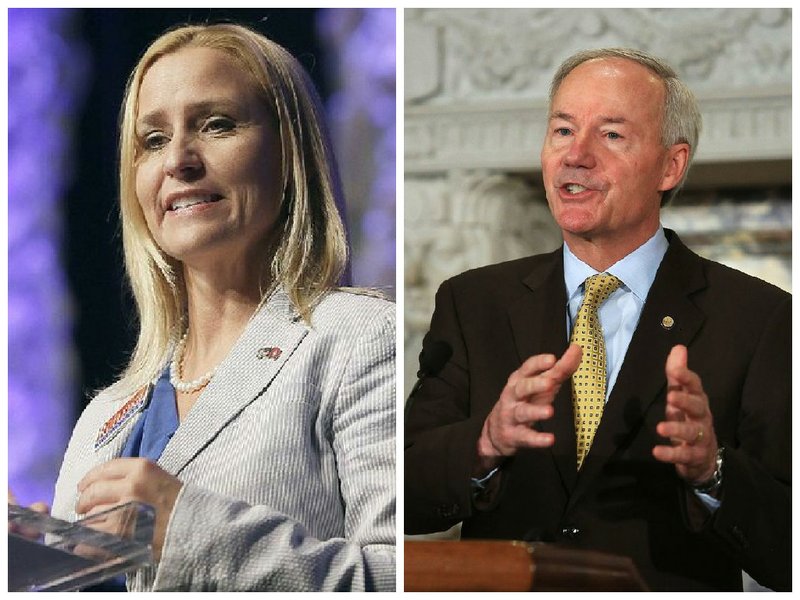 Attorney General Leslie Rutledge, left, and Gov. Asa Hutchinson
Gov. Asa Hutchinson and Attorney General Leslie Rutledge each received more than $50,000 from outside groups for trip expenses last year, according to financial disclosure reports filed Wednesday.
Wednesday was the deadline for certain officials to file the reports.
The bulk of the two Republicans' reported food, lodging and travel expenses were paid by various governors and attorneys general associations for national meeting attendance. Rutledge and Hutchinson serve in leadership roles on the Republican Attorneys General Association and Republican Governors Association.
Hutchinson, for instance, received expense reimbursements for attending meetings of the Republican Governors Association and National Governors Association. The Rogers Republican chairs standing committees for both groups.
The governor and his wife reported receiving more than $35,000 in travel expenses from the Arkansas Economic Development Foundation for trade trips to Europe, Asia and Mexico.
J.R. Davis, a spokesman for the governor, said those overseas trips are important for positioning Arkansas as a desirable trade partner.
"The fruits speak for themselves," Davis said, noting that Hutchinson's three trade trips to Asia since taking office in 2015 have helped draw more than 1,600 jobs to Arkansas and more than $1.6 billion in economic investment.
The trips are mostly funded through private dollars, Davis added.
"Which is great news for taxpayers," he said.
The Republican Party of Arkansas paid for $18,822 of Hutchinson's travel, lodging and food fees for several political appearances, including $3,852 for President Donald Trump's inauguration and $12,290 for a flight from Charleston, S.C., back to Arkansas to attend the events honoring the 60th anniversary of Little Rock Central High School's desegregation.
In addition to his governor's salary, Hutchinson reported receiving more than $12,500 in income from the federal government for retirement and from B2G Global Strategies Inc., an international consulting and investigations firm, where he sits on the board of directors.
Hutchinson also received an honorary membership to Pinnacle Country Club in Rogers, valued at $2,772.
State officeholders and a variety of appointees and agency directors were required to file their yearly statements of financial interest with the Arkansas secretary of state's office on Wednesday. The reports shed light on public officials' business interests, funded travel and gifts.
The Republican Attorneys General Association, which Rutledge, of Maumelle, chairs, paid her travel, food and lodging costs for national meetings and training on 15 occasions in 2017, totaling about $38,980.
She also went on a $4,685 trip to Israel funded by the America-Israel Friendship League.
The Rule of Law Defense Fund paid for $2,438 for Rutledge to attend national meetings and training, and the Conference of Western Attorneys General spent $5,150 for meetings and training, she reported.
The trips, as well as leveraging her relationships with Trump administration officials, help her best serve Arkansans, Rutledge said in a statement through a spokesman Wednesday.
"Just as I meet with leaders in every one of our 75 counties each year, I believe face-to-face meetings with leaders in other states, our nation's capital, and our allies across the globe such as Israel are important to ensure that Arkansas is at the forefront of job creation, combating violent crimes, stopping cyber attacks against children and the elderly and working collaboratively to end the opioid epidemic," she said.
In other reports, the leaders of both chambers of Arkansas' General Assembly reported receiving a combined $25,853 in travel, lodging and food expenses from outside groups in 2017.
National groups for state legislators paid most of that money ($23,715) to House Speaker Jeremy Gillam, R-Judsonia, for trips to various conferences and forums, including trips to Cuba, Germany and China.
The State Legislative Leaders Foundation paid $8,042 for Gillam to attend the U.S.-China Subnational Legislatures Cooperation Forum in September and $2,175 for a legislative leadership symposium in Germany in October, Gillam reported.
The Southern Legislative Conference spent $2,894 for Gillam to be the group's presiding officer of a delegation to Cuba in November.
The foreign trips, Gillam said, offered the chance to establish a trade relationship with overseas partners. In China, Gillam gave a presentation about trade in Arkansas.
"The trade trip, hopefully, brings a new era of economic development to Arkansas," Gillam said Wednesday.
Gillam reported receiving more than $12,500 in income from five sources. He received compensation for serving as a state representative; from his farm; from Sunset Ridge Retreat and Meeting Center in Judsonia; from LexMin LLC, a company he created with his brother to receive natural gas royalties; and from Arkansas State University-Beebe, where his wife works.
The State Legislative Leaders Foundation funded two trips for Senate President Pro Tempore Jonathan Dismang, the Republican from Searcy reported. In April, the foundation paid $1,337 for Dismang to attend a conference in New York City about addressing the opioid crisis in America. The foundation spent $799 for a conference in Los Angeles in October on technology and governance, according to Dismang's report.
Dismang's report indicates five sources of income. He reported earning more than $12,500 from the state of Arkansas for serving as a state senator; from Rylwell LLC in North Little Rock, where he is the chief financial officer; from Dismang Consulting Services of Searcy, an accounting firm; from Arkansas Memorial Gardens of North Little Rock, where he provides accounting services; and Health Corp. of Searcy, where his wife works.
Lt. Gov. Tim Griffin, a Republican from Little Rock, received $1,779 from the Republican Lieutenant Governors Association for a pair of meetings, he reported.
Treasurer Dennis Milligan, a Republican from Benton, reported receiving a $240 ticket to a luncheon and reception from the State Financial Officers Foundation, reports show.
None of Arkansas' other constitutional officers reported receiving any gifts or travel expenses.
Metro on 02/01/2018
Print Headline: Groups' aid for governor, AG trips tops $100,000
Sponsor Content