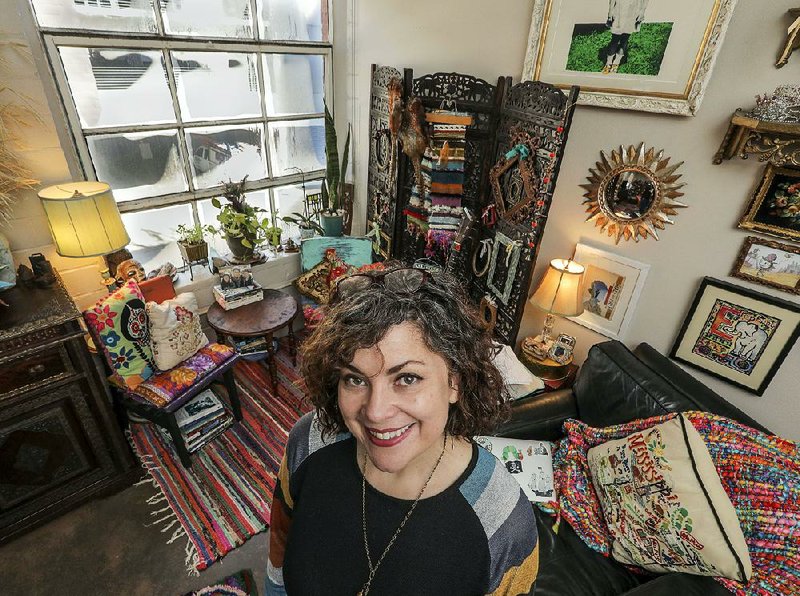 Dondi Warren in her favorite space. ( John Sykes Jr.)
Dondi Warren
Where I live: The Little Rock River Market District in a historic warehouse conversion. The building has wonderful contrasts between its former commercial purpose and modern amenities. It is also a thriving micro-neighborhood under one roof. Before moving to Little Rock a few years ago I spent several months driving through different areas of the city and even created a spreadsheet to compare location variables! I enjoy having immediate access to activities within walking distance while also being very close to my magnificent SoMa neighbors.
Occupation: Research sabbatical (a Little Rock study) and artist.
My favorite space is: My colorful, sunny, happy corner.
Why? Windows! The large, oversize, industrial windows bring in lots of natural northern light. They open out to the vibrancy of the city: energetic sounds of urban vitality, breezes blowing through the street corridor, raindrops dancing on the panes, and delicious smells from the many nearby restaurants. The windows are dynamic conduits that deliver a sensory feast that changes daily. I love nesting in my oversize chair to work on my laptop or illustrate a drawing while enjoying a feeling of connection to the city's animations.
If I could make one change to improve this space, I would: Extend the room, adding more windows and space for my library (books are stacked in so many random spaces!) and an art studio.
HomeStyle on 02/03/2018
Print Headline: Personal Space
Sponsor Content