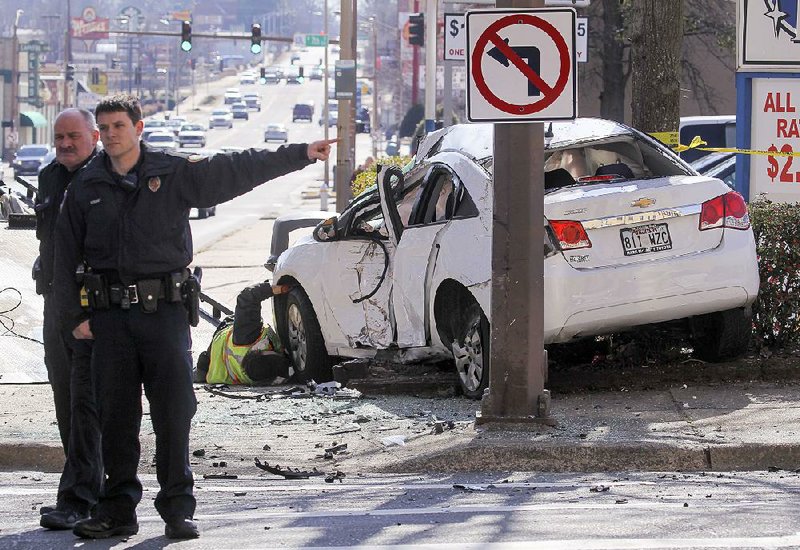 Arkansas Democrat-Gazette/BENJAMIN KRAIN --2/5/18-- Little Rock police direct traffic away from an accident at 6th and Broadway where a woman was killed after a two vehicle collision at the intesection ended up on the sidewalk where she was standing while waiting to cross the street. The impact of the crash moved the cars off the road and struck a pedestrian, knocking her into the air about 20 feet down the sidewalk. ( Benjamin Krain)
Police on Wednesday identified a pedestrian who died after being struck during a crash at a downtown Little Rock intersection.
Officers responded around 10:50 a.m. Monday to the intersection of West 6th Street and Broadway, according to a Little Rock Police Department report.
When authorities arrived, they found Maria Borja, 47, of Alexander lying on the ground.
Borja was then transported to UAMS Medical Center in Little Rock, where she was pronounced dead at 12:42 p.m. that day.
Two vehicles — a Nissan Sentra and a Chevrolet Cruze — had collided and hit Borja as she stood on the sidewalk at the intersection's southwest corner, police said.
The impact caused Borja to land about 80 feet away on the south sidewalk of West 6th Street, according to the report.
The Nissan, driven by 25-year-old Kaleb Abram of Little Rock, was traveling south on Broadway while the Chevrolet, driven by 23-year-old Robert McFarlane of North Little Rock, was traveling west on West 6th Street, an officer noted.
The two drivers did not report any injuries. Both were taken to the 12th Street substation for drug and alcohol testing.
Test results were pending at the time of the report.
An investigation is ongoing, and no citations had been issued as of Wednesday afternoon.
Sponsor Content