WASHINGTON -- Senate leaders, disregarding President Donald Trump's threats to shut down the government, struck a far-reaching agreement Wednesday that would add hundreds of billions of dollars to military and domestic programs over the next two years, breaking the cycle of fiscal crises that have bedeviled the Capitol since last summer.
The accord between Sens. Mitch McConnell of Kentucky, the majority leader, and Charles Schumer of New York, his Democratic counterpart, would raise strict caps on military and domestic spending that were imposed in 2011 as part of a deal with President Barack Obama that was once seen as a key triumph for Republicans in Congress.
The deal also includes an increase to the federal debt limit, according to Rep. Chris Collins, R-N.Y., though Senate leaders did not immediately announce that piece of the agreement.
The deal would raise the spending caps by about $300 billion over two years, according to a congressional aide. The limit on military spending would be increased by $80 billion in the current fiscal year and $85 billion in the next year, which begins Oct. 1, the aide said. The limit on nondefense spending would increase by $63 billion this year and $68 billion next year.
The deal will cause federal budget deficits to grow even larger, on top of the effects of the sweeping tax overhaul that lawmakers approved in December. But because the agreement gives both parties what they wanted most, the deficit impact appears to be of little concern. Defense Secretary James Mattis, White House press secretary Sarah Huckabee Sanders and House Speaker Paul Ryan all quickly embraced it.
Trump himself tweeted that the agreement "is so important for our great Military," and he urged both Republicans and Democrats to support it.
From the increase in domestic spending, Schumer said the deal includes $20 billion for infrastructure, $6 billion for the opioid crisis and mental health, $5.8 billion for child care and $4 billion for Veterans Affairs hospitals and clinics. It also includes disaster relief for areas hit by last year's hurricanes and wildfires.
The deal also includes $4.9 billion -- two years of full federal funding -- for Medicaid in Puerto Rico and the U.S. Virgin Islands, helping to avoid a looming Medicaid shortfall. There is additional money to repair infrastructure, hospitals and community health centers severely damaged by Hurricanes Irma and Maria.
The relief aid also includes $28 billion in community development block grants, including $11 billion for Puerto Rico, with $2 billion of that going to repair the power grid. About 30 percent of Puerto Ricans -- more than 400,000 customers -- still don't have electricity more than four months after Hurricane Maria. Puerto Rico requested $94.4 billion in aid after the storm.
The agreement includes an additional four-year extension of funding for the Children's Health Insurance Program, on top of the six-year extension that Congress approved last month, according to Schumer.
"I hope we can build on this bipartisan momentum and make 2018 a year of significant achievement for Congress, for our constituents and for the country that we all love," McConnell said.
Schumer was similarly effusive.
"After months of legislative logjams, this budget deal is a genuine breakthrough," he said. "After months of fiscal brinkmanship, this budget deal is the first real sprout of bipartisanship."
Ryan urged his members to vote for it: "America will be safer and stronger because of this agreement."
IN THE HOUSE
Ryan's embrace boosted its chances in the House, where conservatives were cool to it, if not hostile.
"This is a dead-end path that will cause great hardship to Americans," said Rep. Mo Brooks, R-Ala., a member of the House Freedom Caucus. "And if you really look at it out long term and see the cascading effects, it is going to cost a lot of Americans their lives."
"It's too much," said Rep. Scott Perry, R-Pa., a fiscal hawk.
"This is a bad, bad, bad, bad -- you could say 'bad' a hundred times -- deal," said Rep. Jim Jordan, R-Ohio, a co-founder of the Freedom Caucus.
The deal also sparked opposition from the leader of House Democrats, Rep. Nancy Pelosi, who said she could not agree to any budget deal that was not accompanied by a debate over legislation to protect the fate of young people brought to the U.S. as children but who now live here illegally.
"Without that commitment from Speaker Ryan, comparable to the commitment from Leader McConnell, this package does not have my support, nor does it have the support of a large number of members of our caucus," Pelosi said on the House floor, where she spoke for more than eight hours about the young people, known as Dreamers, on Wednesday.
She was referring to a promise by McConnell to begin debate on immigration soon, a commitment not matched by Ryan.
In her speech, the 77-year-old Pelosi spoke of the fate of the young illegal aliens in moral terms, reading multiple personal stories from Dreamers and citing Bible passages. Her speech ranked as the longest given by a member of the House of Representatives in at least a century.
"Why should we in the House be treated in such a humiliating way when the Republican Senate leader has given that opportunity in a bipartisan way to his membership? What's wrong? There's something wrong with this picture," Pelosi said.
Still, Ryan did not rush to offer the assurance that Pelosi sought.
"Speaker Ryan has already repeatedly stated we intend to do a DACA and immigration reform bill -- one that the president supports," said a spokesman for Ryan, AshLee Strong, referring to the program that shields Dreamers from deportation, Deferred Action for Childhood Arrivals, established under Obama. Trump set the program to expire March 5.
Pelosi is facing immense internal pressure from immigrant supporters in her caucus, who have pushed relentlessly in recent months to use what little leverage they have in the House minority to secure protections for the deferred-action beneficiaries. Of 193 voting House Democrats, only 45 supported the deal that reopened the government after a three-day shutdown last month.
Rep. Nanette Barragan, D-Calif., a member of the Congressional Hispanic Caucus, said the Hispanic community thinks Senate Democratic leaders have "turned their back."
Angel Padilla, policy director for the liberal group Indivisible, said of the Democratic leaders: "What are they thinking? They're giving up their leverage. ... All of these votes will matter come November."
Meanwhile, members of the all-Republican Arkansas congressional delegation said they would be studying the budget proposal.
"It's a lot to digest and the language hasn't been released yet," U.S. Rep. Bruce Westerman of Hot Springs said in a text early Wednesday afternoon. "I've got to get into the details before I can commit one way or the other."
A spokesman for U.S. Sen. John Boozman said the lawmaker from Rogers "is still looking at all the details."
"He's glad to see that a deal's coming together because everybody wants to avoid a shutdown," said the spokesman, Patrick Creamer.
TRUMP'S THREAT
The House on Tuesday passed legislation to keep the government running through March 23, marrying the stopgap spending measure with a $659 billion Pentagon spending plan, but the Senate plan would rewrite that measure.
It was not immediately clear if enough Democrats would oppose the new deal to imperil its passage in the House, given the likely opposition from at least some fiscal conservatives. If lawmakers cannot pass a temporary funding measure by the end of today -- either by itself or tied to a budget pact -- the government would shut down for the second time this year.
The budget agreement would also negate the president's demands to broadly reorder government with deep cuts to domestic programs like environmental protection, foreign aid and health research that were to offset large increases in military spending.
Trump is to release his second budget request on Monday, but the deal -- sealed by members of his own party -- would effectively render many of his demands null and void.
If the deal passes, lawmakers would put together a long-term spending package over the coming weeks that would fund the government through September, granting a measure of peace to Washington as attention turns to the midterm elections in November. By setting overall spending levels through September 2019, the deal would ease passage of spending bills in the next fiscal year as well.
On Tuesday, Trump threatened yet another government shutdown if his hard-line demands on immigration were not met.
"I'd love to see a shutdown if we don't get this stuff taken care of," Trump said at a meeting with lawmakers and law enforcement officials to discuss gang violence. "If we have to shut it down because the Democrats don't want safety," he added, "then shut it down."
But budget negotiators seemed to pay him little heed.
"While President Trump threatens shutdowns and stalemates, congressional leaders have done the hard work of finding compromise and consensus," Schumer said.
He added, "At the end of the day, I believe we have reached a budget deal that neither side loves, but both sides can be proud of."
Information for this article was contributed by Thomas Kaplan of The New York Times; by Andrew Taylor, Alan Fram, Kevin Freking, Luis Alonso Lugo, Jill Colvin and Steve Peoples of The Associated Press; by Ed O'Keefe, David Weigel and Paul Kane of The Washington Post; and by Frank E. Lockwood of the Arkansas Democrat-Gazette.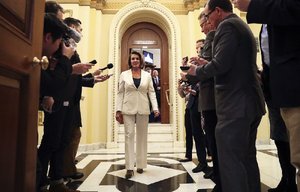 Photo by AP/PABLO MARTINEZ MONSIVAIS
House Minority Leader Nancy Pelosi leaves the House chamber Wednesday after a speaking for eight hours in support of young illegal aliens, known as "Dreamers." Her speech, in which she demanded debate on immigration, was the longest given by a member of the House of Representatives in at least a century.
A Section on 02/08/2018