Behind the noisy aerobatic flight displays and lines of visitors ogling fighter jets and missiles on the tarmac, the future of aviation is on display in a cavernous exhibition hall at the Singapore Airshow, Asia's largest aeronautical event. And that future is drones.
Among the crowds of media, military and marketing execs, there's a drone, or unmanned aerial vehicle, at almost every turn. From Northrop Grumman's monster spy plane Global Hawk, which flew in from the U.S. Air Force base on Guam, to a small, battery-powered quadcopter from Singapore startup AeroLion Technologies that can fly through underground tunnels without GPS, there's a drone for everything.
Well, almost everything. Executives at the big airliner makers are still coy when it comes to pilotless passenger jets. Autonomous travel has a long way to go before most members of the public will be happy to get on a plane with no one in the cockpit.
"There are many steps to be taken before Boeing can fly an autonomous airplane, but we are taking the first steps," said Charles Toups, vice president and general manager of research and technology at Boeing Co., which last month unveiled a huge unmanned air-refueling plane for the U.S. Navy.
But as long as there aren't too many passengers in the back, it's clear that everyone in the aviation business knows UAVs are up next. There are stands touting drones to deliver packages, film 4K panoramic video, dust crops, get commuters to work, spy on neighbors, bomb terrorists, fight fires and dozens of other tasks. Airbus exhibited its Skyways octocopter, saying it would begin testing an automated package delivery system in Singapore in the first half of this year.
"Autonomy will completely reshape the world economy," Guillaume Thibault, partner at management consultant Oliver Wyman, told a packed conference room at the show titled "The Autonomous Revolution -- The Race Is On."
With all these pilotless craft in the air, a lot of talk was about how to manage the coming onslaught, particularly around airports. Thibault pointed out that in 2015 there were about 320,000 planes in active use around the world, while customers bought 4.5 million drones. The media announcements coming out every day are, he said, "just the tip of the iceberg."
A favorite and somewhat chilling catchphrase among military and civilian show attendees was "drone swarms" -- fun if the idea is to light up the night sky over a rock concert, not so much fun if they're carrying bombs.
British company Aveillant, bought by Thales last year, offered its Gamekeeper "holographic radar" for those worried about armies of airborne robots. Unlike the usual rotating radar, Aveillant's system uses an always-on, scanned array that the company says can spot a device the size of a sugar cube 5 kilometers away.
For those more concerned with privacy, or providing portable security, Singaporean company TRD Consultancy drew attention to its tiny stand with a rifle-shaped device that can electronically jam an unwanted drone. Its Orion system can disable an unmanned vehicle and either bring it down or send it home, according to business-development director Ben Heng. The device costs around $20,000, but as more companies enter the market, expect drone-zappers to top Christmas shopping lists for the next few years.
For piloted and autonomous craft, the show dedicated plenty of space to how to power all these new aircraft. Like the automotive industry, aerospace is grappling with how to steer away from petroleum, and more than one company was touting electric or hybrid aircraft, usually with vertical takeoff, that could be used as an air taxi or corporate plane.
For most of these companies, these plans are either still on the drawing board or in scale prototype. Samad Aerospace, in the show's "What's Next?" section, has a one-tenth size prototype of its Starling vertical takeoff plane, the full-version of which would carry 10 passengers up to 1,000 miles.
Chief Executive Officer Seyed Mosheni said the potential clients are "high-net-worth individuals, politicians, big corporations -- whoever owns business jet and helicopters." His U.K. company is developing three models, ranging from the hybrid electric-turbofan jet to an unpiloted battery-powered vehicle with a 10 kilogram payload.
At a small corner of the hall, in a space dedicated to startups, 31-year-old Jogjaman Jap has an alternative solution. His company, Spectronik, offers a hydrogen fuel cell that can power a small drone for about 10 times as long as a typical lithium battery model and can be refueled in a few minutes.
"We are scaling it up for the automotive industry," he said.
Hand in hand with the rise of unmanned vehicles is the growing reach of surveillance and security, with more than one exhibitor stressing the use of its systems in border control.
The large, densely packed stand of Singapore government-controlled ST Engineering showed that those problems aren't just focused around airborne spy devices. No show in 2018 could be complete without a wall to keep out unwanted visitors, and unit ST Electronics had one in the middle of the exhibition hall. Clipped to sections of metal fence is its AgilFence security system, which retrofits a fiber-optic wire to any perimeter and can identify precisely where a miscreant is trying to get in.
Tucked away at the back of ST's stand, among the counter-drone and cybersecurity systems, however, is a black box that may offer a glimpse of the future everyone could use. Called the Black Computer, it promises to guard against "any exploitation such as ransomware."
Information for this article was contributed by Kyunghee Park of Bloomberg News.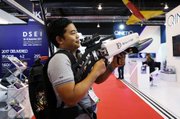 Business on 02/09/2018