Women were there at the beginning of cinema -- Alice Guy-Blache, a Frenchwoman of Chilean descent was there when brothers Auguste and Louis Lumiere first demonstrated film projection in Paris on March 25, 1895. She was not only probably the first woman to direct a film, but one of the first film directors -- period.
And Pennsylvania-born Lois Weber was her protege, an actress and musician who went on to rival D.W. Griffith as the most important and prolific auteur of the silent era. Though only about 20 of her films have been preserved, she may have made as many as 400 films, most of which addressed social justice and political concerns. In 1915, she made the anticlerical religious film Hypocrites, which featured the first full-frontal female nude scene. Her 1916 film Where Are My Children? took as its theme birth control and abortion.
"[Not] only was she a woman who was certainly the most important female director the American film industry has ever known," silent film historian Anthony Slide wrote in his 1996 book Lois Weber: The Director Who Lost Her Way in History, "but unlike many of her colleagues up to the present, her work was regarded in its day as equal to, if not a little bit better than, that of most male directors. She was a committed filmmaker in an era when commitment was virtually unknown, a filmmaker who was not afraid to make features with subject matter in which she devoutly believed."
Yet she died, almost penniless and nearly forgotten, in 1939. Variety ran a two-paragraph obituary.
"There is this idea that Lois Weber should be celebrated because she is a woman, and that her films have morals and are tony and are boring," laments Milestone Film & Video co-owner Dennis Doros.
Milestone's new Blu-ray reissues of the silent movie director's 1916 movies Shoes and The Dumb Girl of Portici, demonstrate that Weber deserves to be seen, not out of political correctness, but because she was as good or better than the men who sat behind the camera.
She also handled material that seems decidedly "un-girly."
The Dumb Girl of Portici, for example, features battle scenes that rival the overwhelming spectacles that D.W. Griffith staged in The Birth of a Nation or that Steven Spielberg realized in Saving Private Ryan. Not only does she convincingly re-create a 1647 Italian revolt with countless fighters against Spanish occupiers, but her moving camera gracefully captures all of the excitement and terror.
During the 1910s, the heavy cameras frequently stayed put.
"It was shot six months before The Birth of a Nation came out. The fact that these tracking battle shots are equal to anything in The Birth of a Nation, and she had not even seen it boggles your mind about what she could have done with bigger budgets," Doros says.
"She was brilliant with her camerawork. For example, in Shoes, when the poor girl with the cardboard soles is walking in the rain, all you see is the back of her shoes in a shot that's not even used today."
The Female Gaze
If Weber's movies could match the spectacle for her male peers, the subject matter in her movies sometimes offered a different perspective.
With Shoes, Weber follows a teenage shop clerk named Eva Meyer (Mary MacLaren in her first leading role) who desperately wants to buy a $3 pair of shoes from the department store next-door because her own footwear consists of little more than rags. Eva can't afford them because she's supporting her mother, two sisters and a father who seems averse to work. Eva's ability to do her job becomes increasingly difficult because she has to walk to work, and the shoes are hardly a fashion statement.
"There was a lot of literature back then about shop girls who would prostitute themselves to have the luxuries of the day," Doros says.
"In Shoes, [Weber] reverses that. The shoes that she sees in the department store window are $3. We looked it up.... In 1916, the audience would have recognized that these were cheap work day shoes. Luxury shoes were $15 or $20. She's not prostituting herself for luxury; she's prostituting herself to live."
Two of a Kind
Because of her skill and her sensibilities, Weber was actually the go-to director at Universal Pictures, where she helmed 10 movies in 1916 alone. If Shoes is an intimate, contemporary urban story, The Dumb Girl of Portici was the studio's most expensive production to date.
The acting style is a lot broader than in Shoes, which might be due in part to the fact that the historical drama is adapted from Daniel Auber's 1828 opera, La Muette de Portici. The story follows how a fisherman named Masaniello (played by Rupert Julian, who later directed 1925's The Phantom of the Opera), who leads anti-tax riots against the Spaniards.
The main character, however, is his sister Fanella, who inadvertently sets the tale in motion. She's an unusual heroine for the silent era because she rescues herself from captivity and because she's mute. That's tricky to convey in a silent movie.
Just as Weber had demonstrated a radar for talent with the unknown MacLaren, she found the ideal person to play Fanella by casting probably the most famous performer of the era, Russian-born ballerina/choreographer Anna Pavlova. The epic film needed a big star, even if she was a big screen novice.
"I grew up with the understanding that she was really the greatest influence on ballet today as she was truly the first world famous ballerina to be seen around the world," says Evelyn Hart, who has been a principal dancer for the Winnipeg Royal Ballet, the national Ballet of Canada and other dance companies.
"From my perspective as a young and now retired ballerina, Pavlova represents the highest ideal in ballet, the highest sense of dedication to this art form but also the highest belief in its power to change lives through beauty and inspiration. She was fascinating because what set her apart was her ability to move an audience through her expressive ability to show her soul."
Like MacLaren, she was a screen newcomer, but The Dumb Girl of Portici is the only big screen acting role Pavlova ever had. The ballerina died in 1931, so the movie, which is book-ended by two extended dance sequences, is a rare chance to see her performances firsthand. The Blu-ray also includes extras that cover Pavlova.
"As a young ballet student, there was no YouTube, very little video and little dance on TV, so I went to the library and discovered all the greats from books!" Hart says. Having performed Pavolva's "The Dying Swan" herself, Hart says, "Pavlova told a story and drew her audience in, and that is a far greater challenge to find the emotional power of the great Pavlova, for without that there really is no Dying Swan."
Doros also says that she made the most of her only performance as an actress. "How do you have a mute woman in a silent film when everyone else is silent as well? (Weber) developed with Pavlova an acting style that is unique to this film. These were two women who took their careers in hand and made themselves."
Unburied Treasures
Milestone has made several rare treasures such as Weber's films more widely available. They've distributed I Am Cuba, which features sequences Paul Thomas Anderson retooled for Boogie Nights, and they've also distributed Charles Burnett's 1977 Killer of Sheep.
While Weber's movies are now easier to catch and Burnett has just won a Lifetime Achievement Oscar, Doros cautions, "We did not discover Charles Burnett; Charles Burnett was already Charles Burnett. All we did was release his films. It wasn't hard. It was hard to release. No distributor should take credit for the film because they didn't make it."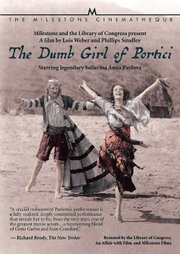 MovieStyle on 02/09/2018