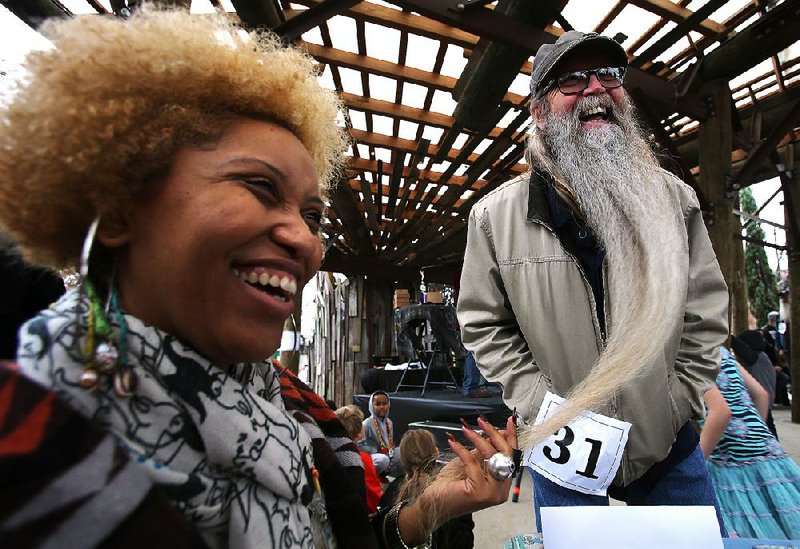 Judge Crystal C. Mercer (left) checks out contestant Alan Sears' beard Saturday during the sixth annual Beard and Mustache Contest at The Bernice Garden in Little Rock. Sears won an honorable mention in the Best Beard Over Six Inches category. ( Arkansas Democrat-Gazette / Thomas Metthe)
Not a trace of peach fuzz could be found on faces in The Bernice Garden of Little Rock's South Main neighborhood Saturday.
Amid dreary weather, more than 60 people partook in the sixth annual Little Rock Beard and Mustache Contest.
The contest was sponsored by The Root Cafe and the Arkansas Times.
Competitors could enter eight categories, including most original beard, best mustache and "DIY crafted beards," an option for the follicle-challenged or for children.
Men sported twists and curls, battled "bed beard" and overcame a major obstacle to any good hair day: humidity.
Justin Roseberry, an antique car restorer from Malvern, began growing his 15-inch-long dark-brown beard more than two years ago.
"I told my wife before it turned gray, I was just going to let it go," Roseberry said.
"You better enjoy it while you've got color in it," quipped Willard Harkins, who wore a flat-ironed and hair-sprayed white mustache.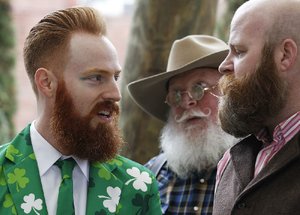 Photo by Thomas Metthe
Contestants Jason Shivers (from left), Rick Sublett and Sean Conrad wait to take the stage and show off their facial hair Saturday during the sixth annual Little Rock Beard and Mustache Contest.
For grooming, Roseberry keeps it simple. He rinses out his facial hair three or four days a week.
Roseberry travels to beard competitions all over, including the most recent world championship. His wife loves the trips, but hates the beard, he said.
"But it's a manly thing, you know?"
Thurman Gray of Romance has had his thick mustache for more than 40 years, much to the approval of his wife.
"She loves it, because she loves me, primarily," he said.
Gray said he competed Saturday because he "actually had illusions that I might win something." That is, until he arrived and saw the beards and mustaches of his rivals.
One man wove Mardi Gras beads into his overgrown goatee for the contest, which took place the same day as the annual SoMa Mardi Gras Parade on South Main Street. Another competitor, Jason Shivers, sported a shock of red hair, a red mustache, a red beard and a green suit patterned with clovers.
Others, like Mark McCluskey, arrived with confidence.
Last year, McCluskey tied rubber bands around his burly beard in a style he described as "pegs everywhere."
This year, he sported five large, hairy polka dots around his jawline, plus a mustache.
McCluskey wore a sport coat and a T-shirt with the slogan, "This beard is my spirit animal." On his bald head, he had donned a blond wig.
Last year's wig was darker to match the color of McCluskey's facial hair, and everyone, including the judges, thought it was real, he said.
When he revealed the locks to be fake, it "broke the entire crowd's heart," McCluskey said, a golf tee balanced between his teeth.
He thought of the costume when he was "up late last night watching Skinemax," McCluskey told the crowd during his turn onstage.
Contestants were rated by four judges, one of whom was Crystal C. Mercer, a graduate school student who works at the Esse Purse Museum.
Mercer described herself as a facial hair fan.
"I rock an afro. I just like a lot of hair," she said.
She was most excited for the natural beard categories where men let it all grow, unencumbered by products.
"I've been growing it. I've been living with it. I've been dropping my cereal in it. We are one," Mercer said, remarking on the relationship between a man and his beard.
Each of the eight categories announced a winner, including a woman who constructed her bristles from kale sprouts.
But the most coveted prize was the overall "Best in Show," earned by Blake Bradford.
Bradford said he works as an ophthalmic technician, a job that requires him to keep his lush and long beard neat and trim. That's how he got started competing.
Plus, "it keeps me warm," he said.
After he was announced the winner, Bradford posed for pictures, displaying his new trophy with a manly motto printed at the bottom:
Grow it and Show it.
Metro on 02/11/2018
Print Headline: 60 competitors meet face to face; They vie to be cut above other mustache, beard growers
Sponsor Content