JERUSALEM -- In its most serious engagement in neighboring Syria since fighting there began in 2011, Israel shot down an infiltrating Iranian drone Saturday and struck Iranian targets deep in Syria before one of its own jets was downed.
Saturday's confrontation occurred amid Israeli warnings that it won't let Syria become an Iranian base and will intercept weapons shipments bound for Iran-backed Hezbollah militants in Lebanon.
The Israeli Cabinet last week held a meeting near the Syrian border to highlight the new threats, which it attributes to Iran's growing confidence given the success of the government of Bashar Assad in the Syrian civil war thanks to Iran's support.
Israel called the drone infiltration a "severe and irregular violation of Israeli sovereignty" and warned that Iran would be held accountable for its meddling, raising the specter of a larger confrontation in an area that has remained largely stable since a monthlong war between Israel and Hezbollah in Lebanon in 2006.
"This is a serious Iranian attack on Israeli territory. Iran is dragging the region into an adventure in which it doesn't know how it will end," Israel's chief military spokesman, Brig. Gen. Ronen Manelis, said in a statement. "Whoever is responsible for this incident is the one who will pay the price."
Prime Minister Benjamin Netanyahu and Defense Minister Avigdor Lieberman convened the top brass at military headquarters in Tel Aviv for long hours of emergency consultations throughout the Jewish Sabbath.
The events risked escalating the intensifying crisis in Syria, where forces from Russia, Turkey and the United States are also on the ground in a war with multiple fronts and multiple factions, including the remnants of the Islamic State and other Islamist militant groups.
Netanyahu said he spoke with Russian President Vladimir Putin on Saturday, as well as U.S. Secretary of State Rex Tillerson, and that the Israeli and Russian militaries would continue their coordination to avoid inadvertent confrontation in Syria.
"Iran seeks to use Syrian territory to attack Israel for its professed goal of destroying Israel," Netanyahu said. "Israel holds Iran and its Syrian host responsible for today's aggression. We will continue to do whatever is necessary to protect our sovereignty and our security."
Israel also appealed to the U.N. Security Council to denounce Iran's aggression and "put an immediate end to Iranian provocations."
Israel would not confirm whether its aircraft was actually shot down by enemy fire, which would mark the first such instance for Israel since 1982 during the first Lebanon war.
ISRAELI STRIKES
Israel fears that Iran could use Syrian territory to stage attacks or create a land corridor from Iran to Lebanon that would allow it to transfer weapons more easily to Hezbollah -- an Iranian-backed political party and militant group sworn to Israel's destruction. Though Israel has largely stayed out of the Syrian conflict, it has struck weapons convoys destined for Hezbollah -- which is fighting alongside Syrian forces -- almost 100 times since 2012.
But Israel has refrained from striking Iranian sites directly, and Syria has repeatedly said it will respond to Israeli airstrikes but has rarely returned fire. Both of those trends came to an abrupt end Saturday as a rapid escalation played out in the early morning hours.
At dawn, Israel said, it shot down an Iranian unmanned aircraft that penetrated its airspace. Israel then destroyed the Iranian site in central Syria that it said launched the aircraft. Upon their return, Israeli jets came under heavy Syrian anti-aircraft fire, and the pilots of one of the F-16s had to eject before the plane crashed in northern Israel. Both pilots were wounded, with one of them suffering serious injuries.
The Israeli military said that in subsequent attacks, it struck four additional Iranian positions and eight Syrian sites, causing significant damage. The Israeli jets again faced a heavy barrage of anti-aircraft missiles but returned home safely, as large explosions were reported in Syria and warning sirens blared in northern Israel.
Israel said the strikes destroyed the main command and control bunker of the Syrian military and marked its most devastating assault against Syria in decades.
Iran denied Israel's allegations about shooting down an Iranian drone, with Foreign Ministry spokesman Bahram Ghasem calling the account "ridiculous." The joint operations room for the Syrian military and its allies insisted the drone had not violated Israeli airspace and said it was on a regular mission gathering intelligence on Islamic State militants.
Regardless, the downing of the aircraft marks "the beginning of a new strategic stage that puts an end to violations of Syrian airspace and territory," Hezbollah said in a statement. "Today's formulas mean the old formulas have fallen."
Former Syrian lawmaker and political commenter Sharif Shehade said the anti-aircraft fire marked a political decision in Syria to respond to Israeli strikes, adding that tensions would continue to rise unless Washington and Moscow intervened to calm the situation.
"It is a decisive decision to confront the Israeli air force and its careless behavior," he said. "I think what happened today is a lesson for Israel."
However, a former Israeli air force pilot, retired Lt. Col. Reuven Ben-Shalom, said the fierce Israeli response actually sent "very clear messages" to the other side, showing Iran how deep Israel's knowledge was of its activity in Syria.
"The fact that a drone like this is identified, tracked and intercepted so smoothly by the Israeli air force demonstrates our capabilities, demonstrates our resolve not to allow the breach of Israeli sovereignty," he said.
Military spokesman Lt. Col. Jonathan Conricus said Saturday's incident marked the most "blatant and severe violation of Israeli sovereignty" yet.
"The Syrians are playing with fire that they are allowing the Iranians to attack Israel from their soil," he said. "The [Israel Defense Forces] is ready and capable to inflict a heavy price on anyone that attacks us."
TURKISH COPTER CRASHES
Meanwhile, Turkey's president announced that a Turkish military helicopter had been "downed" in northern Syria on Saturday during Ankara's offensive against Syrian Kurdish militia members there.
Speaking in Istanbul on Saturday, President Recep Tayyip Erdogan didn't mention by name the Syrian Kurdish People's Protection Units but said that those responsible will pay for their actions.
The country's prime minister walked back on the comments soon after, saying the cause of the helicopter's crash was not yet clear and that investigations were ongoing.
"We don't have exact evidence or documents to determine that it went down with any outside interference," Binali Yildirim told reporters in the western province of Mugla.
The Turkish military said in a statement that two soldiers were killed when its attack helicopter crashed and was destroyed about 1 p.m. local time. A technical team launched an investigation.
A spokesman for the Kurdish militia, Mustafa Bali, said his fighters downed the helicopter in Raju, a town in Afrin district.
Turkey began a military offensive Jan. 20 to oust the People's Protection Units from Afrin, citing national security concerns. Turkey considers the group a terrorist organization and an extension of an insurgency within its own borders that has fought for Kurdish autonomy for more than three decades.
The helicopter is the first aircraft Turkey announced it has lost since the offensive began. The Turkish president said that "We might lose a helicopter, but they'll pay the price for this."
In three other statements, the army announced that nine more Turkish soldiers were killed and 11 wounded Saturday, bringing the military death toll to 30 since Jan. 20.
"We are in a war. We will have losses, but we will also cause losses," Erdogan said in Istanbul.
Information for this article was contributed by Aron Heller, Sarah El Deeb, Zeina Karam, Albert Aji, Amir Vahdat and Zeynep Bilginsoy of The Associated Press; by Isabel Kershner of The New York Times; by Donna Abu-Nasr, Gwen Ackerman, Nadeem Hamid, Anatoly Medetsky and David Wainer of Bloomberg News; and by Loveday Morris, Ruth Eglash, Louisa Loveluck, Erin Cunningham and Anton Troianovski of The Washington Post.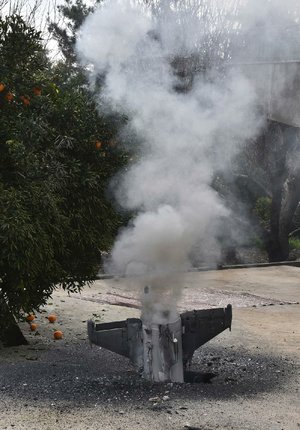 Photo by AP
The tail of what Lebanese news reports said was part of a Syrian air-defense missile, which was fired at Israeli warplanes, smolders Saturday in the village of Hasbani in southwest Lebanon.
A Section on 02/11/2018