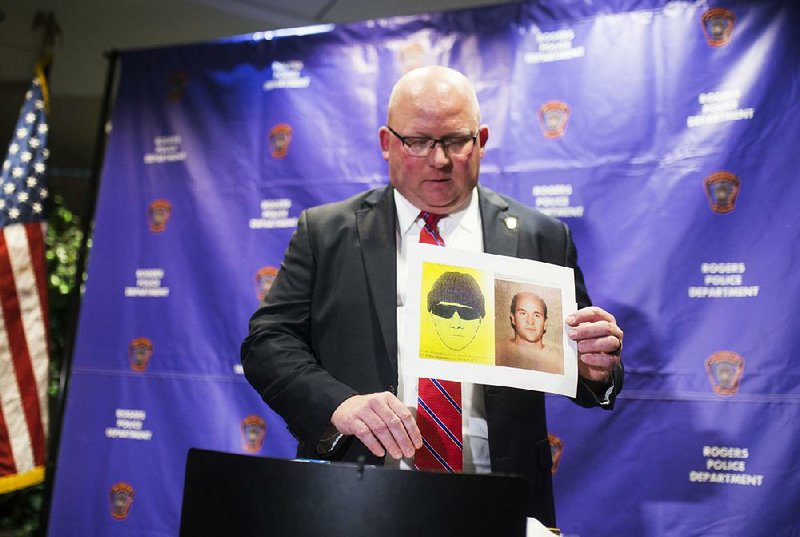 Rogers Police Chief Hayes Minor holds up a picture of Grant Hardin, suspect in a cold case, during a news conference Monday at the Rogers police station. ( Charlie Kaijo)
ROGERS -- An emotional police chief announced Monday the arrest of a former police officer and convicted murderer in the 1997 rape of a Rogers schoolteacher.
"It's a great day for our victim," a tearful Rogers Police Chief Hayes Minor said. "It's a great day for the men and women of our department. They kept this case alive."
Minor said during a news conference Monday that DNA linked Grant Hardin, a former police chief for the community of Gateway in Benton County, with the rape of the teacher at Frank Tillery Elementary School in Rogers.
The state obtained a DNA sample from Hardin, 49, after he pleaded guilty to first-degree murder in October in the fatal shooting of 59-year-old James Appleton of Gateway. The sample matched DNA from the rape case, Minor said.
"The Rogers Police Department would like to thank first and foremost the victim in this case for standing beside us and never giving up after 20 years," Minor said.
Hardin, who is serving a 30-year prison sentence for killing Appleton, was arrested Monday in the rape and kidnapping. He made his first court appearance Monday in the rape case. Arraignment is scheduled for 8 a.m. March 19 in Circuit Judge Robin Green's court.
Green granted a request by Kevin Lammers, deputy public defender, that Hardin be held in the Benton County jail to better assist his attorneys in the case.
Minor and several of his detectives attended Hardin's bond hearing.
Minor said police notified the woman of the DNA match after receiving the news from the Arkansas Crime Laboratory.
The woman was at the school Sunday, Nov. 9, 1997, preparing for the week's classes while a church service was being held in the school cafeteria, according to the police. About 11:30 a.m., the teacher went to use the restroom. A man wearing a knit stocking cap and sunglasses brandished a pistol, raped her and fled, according to the news release.
The woman described the man as between 20 and 30 years old with reddish-blond facial hair, and between 5 feet, 6 inches and 5 feet, 9 inches tall. He also had a flat, wide nose and a protruding belly but was not "overweight," according to police.
Minor was one of the detectives called to the crime scene in 1997. He said many of the officers knew the victim, and the case remained important to members of his department.
Once a year detectives would set aside at least a week to concentrate on solving the case, Minor said. The case also was featured in 2015 on the television show Cold Justice: Sex Crimes.
Rogers police obtained a warrant in 2003 for a "John Doe" suspect in the case. A John Doe warrant is an arrest warrant for an individual whose name is not known. The statute of limitations for rape in Arkansas is six years, and the warrant was filed before time expired.
Minor said it was Arkansas' first John Doe warrant that was based on a DNA profile.
Benton County prosecutor Nathan Smith praised Rogers police for their efforts in solving the case.
"You can see from the chief today that the focus of the Rogers Police Department has been solely on the victim and solving this for her and gaining justice for her, and certainly the arrest of Mr. Hardin today is a huge step in that direction," Smith said.
Hardin admitted in court in October to shooting Appleton in the head Feb. 23, 2017. Hardin will not be eligible for parole in the murder case until Feb. 21, 2038. He was being held in a prison in Calico Rock.
According to Hardin's LinkedIn page, he worked as a police officer in Eureka Springs from 1993-97. Minor confirmed that Hardin had worked for the Eureka Springs Police Department, but he was not with the department at the time of the rape.
County records show that Hardin served two terms, from 2009-10 and 2013-14, as Benton County District 1 constable. He also has worked at the Northwest Arkansas Community Correction Center in Fayetteville, according to court documents.
Hardin was the police chief of Gateway from January 2016 to May 2016. He also worked for police departments in Fayetteville and Huntsville, according to his LinkedIn page.
State Desk on 02/13/2018
Print Headline: Ex-officer arrested in '97 rape of teacher
Sponsor Content