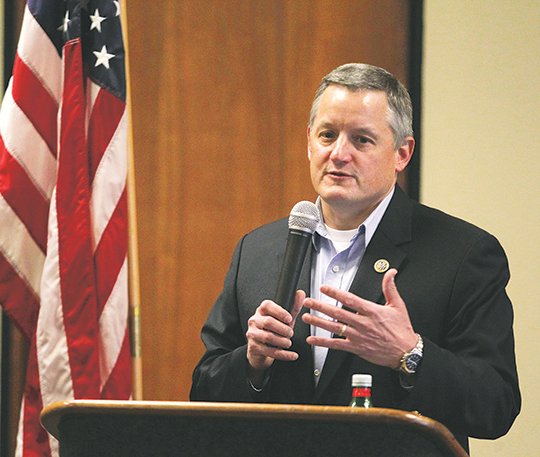 The Sentinel-Record/Richard Rasmussen COFFEE TALK: U.S. Rep. Bruce Westerman, R-District 4, of Hot Springs, speaks at a Coffee With Your Congressman event Monday at The Greater Hot Springs Chamber of Commerce.
WASHINGTON -- U.S. Rep. Bruce Westerman spent time along the southern border with Mexico this month, watching Border Patrol agents pursue drug and human traffickers in Arizona.
Many of the culprits got away, he said, in part because of the terrain -- much of it is mountainous and nearly uninhabited.
He also blamed what he views as excessive environmental regulations, saying they hamper the ability of Border Patrol agents to curtail illegal crossings and catch criminals.
On Thursday, the House Natural Resources Committee's subcommittee on oversight and investigations will hold a hearing on "The Costs of Denying Border Patrol Access: Our Environment and Security."
Westerman, a Republican from Hot Springs, is the subcommittee chairman.
Environmental laws make it hard for Border Patrol officials to build roads along portions of the 1,933-mile strip that separates Mexico and the United States, he said. They interfere with efforts to pump concrete into border-crossing tunnels that are discovered along the route. They prevent the use of wheeled vehicles in some areas.
[🆕: Sign up for the Arkansas politics and legislative updates email newsletter]
Much of the land is "very rugged, very remote," he said in an interview. "Helicopters [are] one of the only ways to access it. You can hike in or ride a horse in, but there's very limited access along the border on the U.S. side."
Westerman made the trip with the committee's chairman, U.S. Rep. Rob Bishop, R-Utah.
The lawmakers flew over the Tumacacori Mountains, roughly 50 miles south of Tucson. They soared over Cabeza Prieta National Wildlife Refuge, and they toured Coronado National Forest, home to bobcats and Gila monsters and Miller Peak, 9,466 feet above sea level.
They also saw vehicle barriers, fences and walls that divide the two nations. Some of them towered 18 feet high; others were short, porous and easy to cross.
"It was really an eye-opening experience," Westerman said. "I spent time out on patrol with the Border Patrol agents, and there was a group of 14 illegals that came across the border. ... They ended up catching five of them."
The aliens split up and spread out; nine of them found hiding places and avoided capture, he said.
"The five that they caught were all dressed exactly the same in camouflage gear," he said.
Their military-style apparel enabled them to blend into the landscape. The carpet they wore over their shoes helped them hide their tracks.
Later, the congressmen spent time in more populated areas, visiting a stretch of wall near Nogales. The population on the U.S. side of the border totals 20,407; more than 200,000 call the Mexican side home.
That evening, they watched law enforcement officials chasing drug smugglers. Two of the three made it back over the border, but they ditched their backpacks as they ran, leaving behind 75 pounds of marijuana, he said.
Some of the people smugglers and drug traffickers use renewable energy to recharge their telephones and radios. Westerman said he could see their solar panels from the helicopter. But they also leave a lot of trash, littering the desert landscape.
Environmental restrictions don't faze those who cross illegally, Westerman said.
"Our Border Patrol agents have to follow all the U.S. laws and regulations, and the drug and human traffickers could care less about our laws and regulations. I mean, they're breaking the law to start with," he said.
Asked if it's feasible to build a wall from coast to coast, Westerman said, "No."
But the border can be secured, using a combination of walls, fences and technology, he said.
After his visit, Westerman said he's convinced that legal barriers hindering law enforcement need to be removed.
A 2005 law gave the Department of Homeland Security authority to waive numerous state and federal laws that threatened to interfere with wall construction. But the law was subsequently amended and now requires the agency to try to "minimize the impact on the environment, culture, commerce and quality of life."
In a written statement, Bishop said current restrictions are excessive.
"Our Border Patrol agents need access to federal lands in order to do their jobs. Under the status quo, that access is being denied," he said. "It is unacceptable when it can take months for federal law enforcement to get permission to fill cross-border drug tunnels or to repair an access route to apprehend human traffickers."
Jesse Lasky, an assistant professor of biology at Pennsylvania State University, said the area Westerman visited is part of the "top ecotourism destination in the United States."
Waiving environmental laws would be cause for concern, he said.
"There's a lot of endangered species in the border region so it's potentially really impactful for the diversity of the ecosystems in those regions," he said. "These are some of the most biodiverse ecosystems in the United States along the border region. We shouldn't just throw out all the environmental law, which is what they were able to do in the past."
If lawmakers try to interfere with environmental safeguards along the U.S.-Mexico border, they'll face opposition, according to Jackelin Trevino, a McAllen, Texas, member of the Lower Rio Grande Valley Sierra Club Executive Committee.
"I strongly stand by our need and our right to have our local ecosystems preserved and intact," she said. "There's not room for destruction of these ecosystems and maintaining the integrity of our local economies and ways of life."
Metro on 02/13/2018
Print Headline: Visit to border termed edifying
Sponsor Content