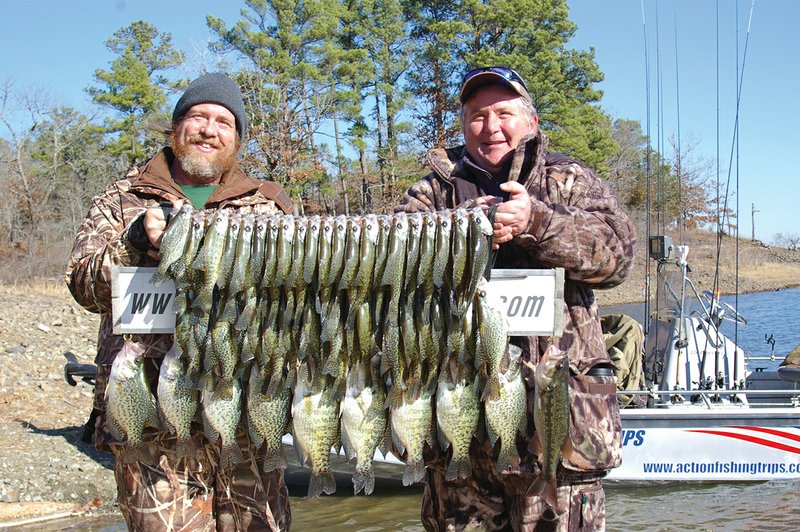 A late-winter fishing trip on DeGray Lake often produces big stringers of good-eating crappie for anglers like Keith Sutton of Alexander, left, and Alex Hinson of Paron.
Crappie can be caught year-round in Arkansas. My favorite fishing season, however, is the prespawn period in late February and early March.
Crappie are preparing to invade the shallows to reproduce this time of year, and they gather in sometimes astounding numbers along bottom creek channels and other structures that lead them from deep winter haunts to near-shore nesting areas. I'm usually getting the fishing itch after winter's cold months, and chasing crappie on my favorite Arkansas lakes provides a good way to scratch it.
I also like prespawn crappie fishing because fewer fishermen are on the water this time of year. It's like a banquet that was laid out just for a privileged few. Fresh air, bluebird skies and, if I'm lucky, a few crappie to bend my rod. What more could a crappie fan ask?
There are literally scores of Natural State lakes where a crappie fan can enjoy blue-ribbon, late-winter fishing. My own on-the-water visits indicate that the three described below are some of the best. With persistence and a little luck, a visit to one of these big lakes should be a visit to remember.
DeGray Lake
DeGray Lake near Arkadelphia and Bismarck in southwest Arkansas is a 13,800-acre hot spot that pumps out plenty of big prespawn crappie in February and March. Some of the best fishing is in the upper lake around the Brushy Creek area and where some other tributaries come in. Brushy Creek has a lot of crappie-attracting structure and a lot of timber, and crappie anglers have sunk a lot of brush piles, even around the wooded coves there.
There are also a lot of timbered, brushy coves where Big Hill Creek flows into the north-central part of DeGray. And from Point 15 on upriver, you have more riverine-type habitat than just open water. Anglers will find some pretty good crappie fishing in that stretch, too.
Keep in mind that when fishing for crappie on DeGray, you're not just fishing stumps and treetops; you're fishing a lot of structure underneath the lake, too. The underwater ridges and islands, especially where anglers have sunk crappie attractors, are excellent crappie habitat. In early spring, many fish will be found on the big flats out past the points where the river channel comes in fairly close. Where you can find shallow water breaking off quickly into deep water, you have an excellent chance of filling a stringer with a limit of fat crappie.
Up-to-the-minute fishing reports are available by contacting the folks at DeGray State Park Marina, where you'll also find a launch ramp, a fuel station, bait, tackle, fishing licenses, drinks, snacks, ice, boat rentals and more. Call (501) 865-5840 or visit www.degray.com.
Lake Maumelle
Lake Maumelle, 8 miles west of Little Rock, harbors scads of jumbo crappie in its 8,900 acres. Slabs usually hold in deep-water haunts in February and March, and many anglers entice them by vertically jigging small spoons or jig/minnow combinations around deep points, humps and creek- or river-channel drop-offs.
Nearly all the timber on the bed of the lake was cut before the Big Maumelle River was dammed in 1957, so anglers can't rely on visible cover like dead snags and brush when trying to pinpoint fish. A sonar fish-finder provides invaluable aid for locating underwater structure that concentrates schools of fish. Watch for signals indicating deep brush piles, humps of rocky rubble and stump fields on the bottom in 15 to 30 feet of water. This is where most big crappie are likely to be.
One of the biggest handicaps for Maumelle crappie anglers is the extremely clear water. To make the best of this situation, use only 4- to 6-pound-test monofilament, and remember that the best fishing is during low-light periods — at night, early and late in the day, and during periods of cloudiness and rain. Make long casts whenever possible, and keep a low profile on the water. This helps avoid spooking finicky fish.
Because of its status as a water-supply lake, Maumelle is governed by many unique regulations. Contact Central Arkansas Water in Little Rock (501-868-4390) before visiting to bone up on everything you need to know. Lake rules are also available in CAW's downloadable map brochure, available at www.carkw.com/wp-content/uploads/2011/07/Lake_Maumelle_Brochure_2010_web.pdf.
Lake Millwood
In the far southwest corner of the state, Lake Millwood offers outstanding prespawn crappie fishing. The lake has nearly every kind of crappie-holding structure imaginable: creek channels, points, drop-offs, underwater lakes and islands, and abundant dead timber and brush.
During February and early March, nearly any place with cover along the Little River and Saline River channels holds good numbers of nice crappie. That's not to say catching them will be easy. For one thing, they're often suspended as deep as 15 to 25 feet, a depth many fishermen feel uncomfortable fishing. Also, crappie may be scattered rather than bunched in tight schools, so locating them can be challenging. Finally, they may be in a very narrow depth zone, so lure or bait placement has to be extremely accurate in order to elicit a strike.
Begin your search in creek and river channels with the aid of a sonar fish-finder if possible. Crappie will usually be suspended and will appear as small blips on your screen.
Locate a major tributary, and troll back and forth across its mouth where it empties into the main lake. Junctions like this are first-rate late-winter
crappie hangouts. Move up the creek or river channel itself, staying in deep water and keeping an eye on your sonar. Pay close attention to channel bends and edges, timber lines and long points. Bends in the Little River channel between the 2- and 8-mile markers are especially good, as are the timbered areas along inundated lakes such as the Bee Lake area.
They're closed in January and February, but the folks at Millwood State Park marina are a great resource for up-to-date fishing information when the marina reopens March 1. Contact them by calling (870) 898-5334. For more information on the lake and state park, visit www.arkansasstateparks.com/millwood.
Sponsor Content