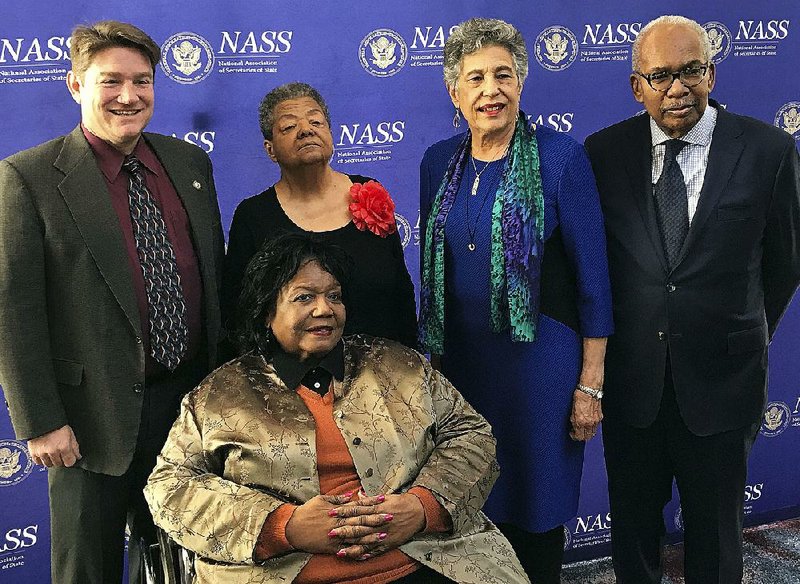 Arkansas Secretary of State Mark Martin (back, left) poses Sunday with members of the Little Rock Nine Elizabeth Eckford (left center), Carlotta Walls LaNier and Ernest Green, and Melba Pattillo Beals (front) in Washington, D.C. The four members of the Little Rock Nine received an award from the National Association of Secretaries of State. Martin had nominated them.
WASHINGTON -- The nation's secretaries of state Sunday honored members of the Little Rock Nine, recognizing them for a lifetime of leadership and public service.
Four of the nine -- Ernest Green, Elizabeth Eckford, Carlotta Walls LaNier and Melba Pattillo Beals -- were on hand to accept the Margaret Chase Smith American Democracy Award.
Arkansas Secretary of State Mark Martin, who nominated the Little Rock Nine, called them "giants of history" and "symbols of progress."
"There's a lot of heroes that come and fade. I've put on the stage today for you guys heroes that lived a lifetime of heroism," he said.
The Little Rock Nine were the first black students to attend Central High School, breaking the color line in 1957 after the 1954 Supreme Court ruling on segregated schools.
With then-Arkansas Gov. Orval Faubus defying the federal courts, then-President Dwight Eisenhower sent in federal troops so desegregation could commence.
The Little Rock crisis was "a moment of shame" for Arkansas, Martin said. "When you see what they ... went through as children, it will burn a hole through a loving person's heart."
Members of the National Association of Secretaries of State, in town for their winter meeting, gave each of the recipients standing ovations.
The Republican elected official kept his comments brief, telling the crowd: "I want to give you the honor of actually hearing from them and what they have to say. You may not like everything they have to say, but one thing I know for damn sure, they earned the right to say it."
The Margaret Chase Smith award is named after the first woman to serve in both houses of Congress and the first to actively seek the presidential nomination of a major political party.
It recognizes "individual acts of political courage, uncommon character and selfless action in the realm of public service," according to the National Association of Secretaries of State website.
Previous recipients include civil-rights activists Rosa Parks and Daisy Bates, former President Jimmy Carter and former Secretary of State Condoleezza Rice.
On Sunday, some of the speakers shared memories of their time at Central High.
Eckford recalled two students in her speech class at the end of the day "who made it possible for me to carry on."
The students would speak to her, engage in "ordinary conversation every day, and nobody in that class called me ugly names. That helped me continue," she said.
Now, Eckford said, she encourages young people to show kindness to those who are marginalized.
"Anybody can support someone who's being hurt. I don't ask them to defend them. That could be dangerous. But I do ask them to extend a hand of friendship, to acknowledge their humanity," she said.
Green recalled what it was like to attend schools that were separate but not equal.
"I knew that Central had facilities that we didn't have at the black high school. We had the hand-me-down physics books, and science labs were shortchanged. All of that was the impetus for us wanting to go and get a better education," he said.
LaNier said she viewed Central High as a way out of Little Rock.
"It was about having that opportunity to get the best education available and be able to apply to schools in the East, in the Midwest, in the West; for me to get above the Mason-Dixon line," she said.
LaNier quoted Smith: "The right way is not always the popular and easy way."
And she shared the words of abolitionist Frederick Douglass: "There is no progress without struggle."
"And we did struggle. But we made it," LaNier added.
Beals described how difficult it had been growing up black in the Jim Crow South.
"By the time I was 3 years of age, I hated Little Rock, Ark.," she said. "What I watched was my parents -- intelligent, educated people -- become kowtowing idiots at the white grocery store around the corner. 'Ya-sir, no-sir,' bowing their heads, not wanting to meet the eyes of the white people who owned that store."
The world is better now, she said, pointing to Martin as an example.
Beals praised Martin's hiring practices and his heart.
"The way you lived your life ... tears in your voice as you talked about our suffering and the smile on your face when you greeted me. That's my award. You tell me we've made some progress," she said.
Metro on 02/19/2018