Stephen Feinberg spent the past decade building America's leading firearms empire. Now, as the nation convulses after its latest gun massacre, he's plunging into what might just be one of the most politically fraught corporate bankruptcies in recent memory.
Amid anger over the Feb. 14 Florida school shooting, Feinberg's Remington Outdoor Co. is trying to pull off a swift trip through the court. The process will hand ownership of the guns-and-ammunition conglomerate from Feinberg's private investment firm, Cerberus Capital Management, to such well-known names as Franklin Resources Inc. and JPMorgan Asset Management and their broad customer bases.
The soon-to-be owners, who still must line up financing, won't operate the company for long, according to people with knowledge of the matter. They'll seek to sell it in whole or part soon after the reorganized firm emerges from bankruptcy court, the people said.
The deal is coming together even as investors' distaste for the gun trade is growing, said Kevin Cassidy, an analyst at Moody's Investors Service.
"It absolutely hurts them, being in this kind of industry," said Cassidy, who covers Remington. "Just like some funds no matter what won't invest in tobacco, there are investors now that feel the same about gun companies."
Cerberus will leave behind a cadre of advisers at Remington through June 30; the situation is touchy enough that in restructuring documents their names have been blacked out.
Liz Micci, an outside spokesman for Cerberus, declined to comment for this article.
It's a remarkable turn of events for Feinberg, a gun enthusiast whose firm owns a major defense contractor and briefly sought a national-security role in the Trump administration. His move into the consumer firearms trade made him among the biggest sellers of guns in a nation awash in them. But after the 2012 Sandy Hook school massacre in Connecticut, his investment became a burden he has struggled to shed, finally resorting to unusual steps to buy out big investors.
The company, and indeed the entire industry, thrived with President Barack Obama in the White House as firearms enthusiasts foresaw crackdowns. It was poised to continue its lucrative run under a Hillary Clinton administration. Instead, Donald Trump, a self-proclaimed "true friend" of guns, won the 2016 election and the urgency to purchase faded. Sales fell, and retailers found themselves holding unsold inventory.
Remington is America's oldest gun-maker, with a history that dates to 1816, when Eliphalet Remington II made a flintlock. It was later owned by DuPont, which sold it to the New York investment firm Clayton, Dubilier and Rice in 1993. In 2007, Cerberus paid $118 million for Remington, agreeing to take on $252 million in debt for the Madison, N.C., company. It rolled Remington into the Freedom Group, which included 13 industry giants such as Bushmaster Firearms, Tapco and Dakota Arms. Today, the company employs 3,500 people and is among the largest American manufacturers of ammunition and firearms.
Remington has a large ammunition plant in Lonoke.
In 2012, a Bushmaster rifle was used in the Newtown, Conn., shooting that killed 20 schoolchildren at Sandy Hook Elementary, and Cerberus said it would sell the company amid pressure from investors revolted by the carnage. It has taken years, and Remington's $1 billion debt has grown unsustainable.
Aside from its $60.4 million return on equity in 2012, Cerberus received $19.4 million in advisory and other fees from Remington during the duration of its ownership. It's unclear whether Cerberus ended up in the black on the deal.
Cerberus will have no equity in the firearms manufacturer, according to the restructuring agreement paving the way for court protection. First-lien lenders will receive the bulk of the ownership, 82.5 percent, in what's being called "Reorganized Remington." The remainder will fall to third-lien note holders.
The lenders include Franklin and JPMorgan. Franklin, which was the biggest holder of Remington's senior loan as of the company's bankruptcy announcement, according to Bloomberg data, has $450 billion under management.
Kristen Chambers, a spokesman for JPMorgan Asset Management, and Stacey Coleman, a spokesman for Franklin, declined to comment.
Lazard, one of the largest restructuring and merger advisers, was hired by Cerberus about five years ago to exit the Remington investment. The investment bank is working on the negotiations to transfer ownership for the gun-maker, said Judi Mackey, a Lazard spokesman.
After the Florida shooting, which has resulted in the strongest push for gun control in years, consumer-facing companies such as Avis and United Airlines swiftly became targets of criticism for affinity deals with the National Rifle Association. Global financial firms aren't immune.
Blackstone Group, which offers a variety of asset management services, has been reducing its weapons exposure for years, for instance offloading its stake in Colt Defense in 2013 by selling shares back to the company. This weekend, it verified that no gun investments remained in its portfolios, according to The Wall Street Journal. The investment giant BlackRock Inc. said it, too, was exploring ways to cull gun companies from the portfolios of clients who no longer wish to invest in them.
Information for this article was contributed by Steven Church, Sonali Basak and David Carey of Bloomberg News.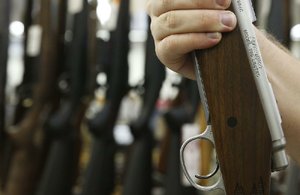 Photo by Bloomberg file photo
A shopper holds a Remington rifle at a gun store in Orem, Utah, in this 2016 photo.
Business on 02/28/2018