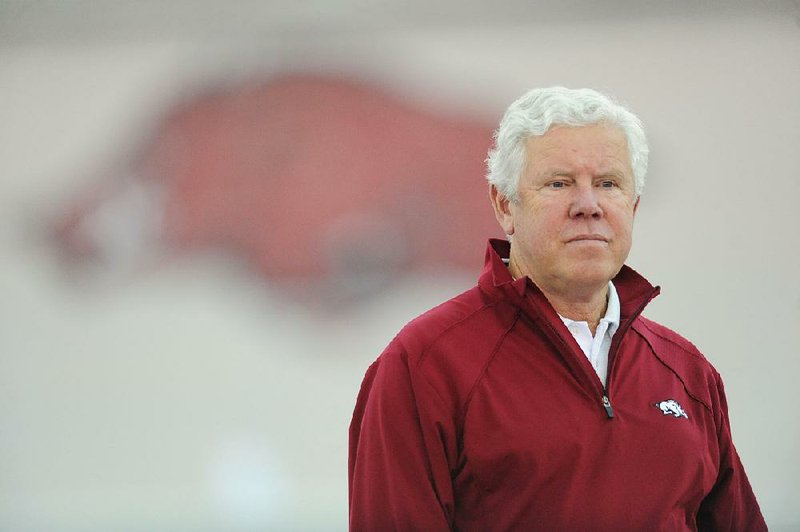 Arkansas women's track and field coach Lance Harter watches during the Arkansas Open Saturday, Feb. 21, 2015, at the Randal Tyson Track Center in Fayetteville. ( NWA Democrat-Gazette / Andy Shupe)
FAYETTEVILLE -- Just call them McHarter, McJohnson and McCompton.
They've earned the "Mc" of John McDonnell, Arkansas' retired 84 times men's conference champion indoor and outdoor track and cross country coach, have Arkansas women's head track/cross country coach Lance Harter and assistants Chris Johnson (sprints, hurdles and horizontal jumps coach) and Bryan Compton (the pole vault, high jump and throws coach).
At the completion of Sunday night's SEC Network live telecast of Harter's Razorbacks winning the two-day SEC Indoor SEC Women's Indoor Championships, ESPN's John Anderson said, "OK, that's four in a row."
"Actually that's 12 in a row," Harter corrected.
For while Harter's Razorbacks indeed had just won their fourth consecutive SEC Indoor, their string of SEC championships has reached a dozen starting with the 2014 SEC Outdoor and includes SEC Cross Country-Indoor-Outdoor triple crowns for 2014-15, 2015-16 and 2016-17. They have a good shot completing another triple at the SEC Outdoor on May 11-12 in Knoxville, Tenn.
A dozen consecutive titles, with eight achieved in by far the toughest track and field conference in the country. That is McDonnell-esque.
No wonder Harter blurted a correction.
"He was real nice about it," Harter said of surprising Anderson and himself by so rapidly setting the record straight. "That's hard for me sometimes to fathom that we were able to do that. We are just so proud that the legacy that was established years ago that these athletes never let us down. Credit to the coaching staff and those athletes to rise to the challenges."
With 108 points, Arkansas impressively surpassed second and third-placers Georgia (84.5) and Kentucky (74).
However, on the national level for the upcoming NCAA Women's Indoor Championships on March 9-10 in College Station, Texas, Georgia ranks first with three individual titles at the SEC, Arkansas second and Kentucky, also with three individual SEC champions, ranks third.
Arkansas won its two SEC individual crowns from its only seniors competing, pentathlon champion Taliyah Brooks, also scoring two seventh-place team points in the 60-meter hurdles, and miler Nikki Hiltz.
"Those two seniors did a fantastic job getting the ball rolling and keeping the confidence with our youth," Harter said. "Both of them lead by example more than verbally. They just set up the role model that I am going to take care of my job and you do the same."
Whether tried and true All-Americans like junior second and third-place pole vaulters Tori Hoggard and Lexi Jacobus, both known as the Weeks twin sisters from Cabot until each married just weeks apart last summer, or Jamaican freshman 60-meter hurdler Janeek Brown's stunning second in a UA record, 8.04, they did their job with meet winning proficiency.
So after calling this SEC Indoor preparation the one "I lost more sleep than ever" because he had to leave so many home injured including two All-Americans, Harter said, "We just had some young ones really rise and our stalwarts took care of business."
Sports on 02/28/2018
Print Headline: UA track coaches follow in McDonnell's footsteps
Sponsor Content