FAYETTEVILLE -- A resort that rents vintage campers will open this spring if county officials approve.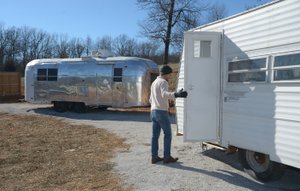 Photo by Andy Shupe
Zack Kraus leads a tour Thursday of his collection of vintage camper trailers that he and his wife, Laura, plan to open in Prairie Grove pending a decision by the Washington County Planning Board on Thursday.
"It will be like an RV Park where you don't bring your own RV -- you stay in one of theirs," said Nathan Crouch, Washington County Planning Department senior planner.
Flamingo Springs Trailer Resort will have eight trailers from the 1950s through the 1970s on about 20 acres at 15474 Greasy Valley Road in Prairie Grove. At least six should be available for reservations in April, said Zach Kraus, co-owner.
Planners have worked with Kraus and his wife, Laura, on the proposal for about five months. The project will go before the Washington County Planning Board and Zoning Board of Adjustments during a regular meeting Thursday. The Quorum Court must ratify the project as part of the planning process.
Staff members will recommend approving a conditional use permit and preliminary large-scale development plan, Crouch said.
The couple plan to live in a building on the property, Crouch said.
The Krauses have spent about two years remodeling old campers and designing themes for each one, Zack Kraus said. Themes include western, Christmas and the TV show Friends.
He said they got the idea after visiting a similar resort in Palm Springs, Calif.
"On our third anniversary, we decided we wanted to do something together, and that was one of our favorite things in the world," he said.
The resort will have a community bathroom, kitchen and entertainment area, a pool, grills and, eventually, a hot tub, Kraus said. Kraus said he hopes to see group retreats, such as those for yoga.
Prices will be between $95 a night for a small, two-person camper to about $150 for a larger one, Zach said.
The proposal has not garnered much opposition. Two property owners sent comments to the Planning Department. One neighboring property has sold and is no longer affected. Craig Jones, a neighbor, said the resort is OK as long as it doesn't expand. The area is beautiful, and he wants to keep the country setting, he said.
The community seems supportive, said Kraus, who filed his business with the secretary of state in March 2017. People have been calling, emailing or using social media platforms to contact the Krauses about reservations, he said.
"It's not a campsite, and it's not a trailer park," Kraus said. "We won't be allowing people to bring their own trailer and hookup. We are fairly intimate. We are trying to keep it upscale, but funky at the same time."
NW News on 01/08/2018